Commentary
Where the dream of soccer lives on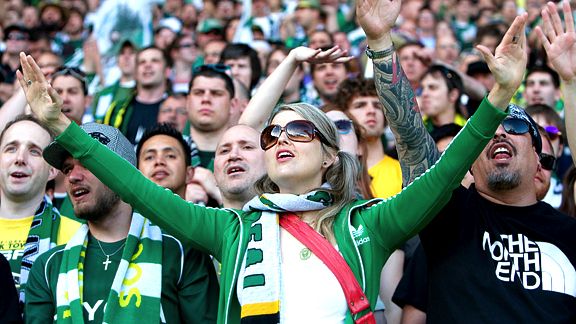 Jonathan Ferrey/Getty ImagesWith such a dedicated fan base and rich soccer tradition, Portland will have a memorable '11 season.
PORTLAND, Ore. -- When it comes to the Portland Timbers, "Timber Jim" Serrill has seen it all. Serrill was the team's mascot for 31 years. His family's affection for the team has spanned four generations. He also has seen enough professional soccer teams come and go to give him a healthy skepticism about the Timbers' initial foray into MLS, which kicks off March 19. Yet as Serrill, 57, sips a beer in the Cascade Brewing Barrel House, there are no discouraging words to be found.
"It's going to be awesome," he said of the upcoming Timbers' season. "It's a gift."
It's one that many in the City of Roses seem intent on embracing. The club has sold more than 12,000 season tickets. More than 1,000 fans showed up for the team's jersey unveiling in December. Others -- Serrill and his granddaughter, 9-year-old Keiana Villanueva, among them -- stood in line for over two hours to have their picture taken as part of the team's "We Are Timbers" campaign, the results of which can be seen on billboards throughout the city. And on this day, the pictures can be seen on a wraparound on the front page of the city's hometown paper, The Oregonian.
So why is this city going nuts for a team that has yet to play its first MLS game? The phenomenon can be best described as the kind of happy confluence of factors the league loves. Portland possesses a long-standing soccer culture, one that has been percolating for more than three decades. There's the city's alternative bent for embracing movements outside the mainstream. The proverbial chip Portland has on its shoulder in relation to other Pacific Northwest cities, most notably Seattle and Vancouver, will help write the latest chapter in some long-running rivalries. And having just one major league sports team, the NBA's Portland Trail Blazers, creates the kind of opening MLS loves to exploit.
"We're dying for a second team, especially one that's more of the people's team," said Cody Goldberg, 42, a product manager with an athletic apparel company. "This is an educated city, and people know what these [players] make. We want to root for guys that are more working-man's athletes. This is more of a working-man's town, and the Timbers are going to be a working-man's team."
The club's attempt to gain mindshare is obvious as you drive into town westbound on Interstate 84. A huge sign touting the Timbers' jersey sponsor, Alaska Airlines, shows Serrill's successor, "Timber Joey" Webber, with a hard hat on his head and an ax in his hand. More subtle are the scarves adorning the ceiling beams in bars around the city. And at the Timbers team store downtown, there's business to be had, even in the middle of a rainy Wednesday.
[+] Enlarge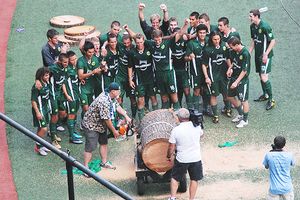 Courtesy of Jim Serrill"Timber Jim" Serrill celebrates with the Timbers U-23 team after they claimed the 2010 USL Premier Development League title.
An informal sampling of people at Pioneer Courthouse Square reveals that nearly everyone is at least aware of the team and the upcoming season, if not outright enthusiastic. Even the skeptics -- and there are a few -- acknowledge that they'll at least check a game out on television.
Add it all up, and the Timbers' inaugural MLS campaign celebrates all that is quirky and eclectic about Portland. After all, what other team would provide a feeding station in its stadium for the venue's feral cats? But there's more. This club also represents endurance and a survival instinct that is reflective of a city that successfully made the transition from a timber-reliant town to one now known for microbreweries, high-tech businesses and the green movement.
Time to chop some wood
Portland might be known as Soccer City USA, but its relationship with the sport, at least at the professional level, has had its share of dysfunction. It was 36 years ago that the Timbers first came into existence in the old North American Soccer League. Manager Vic Crowe had a mere two months to put together a team, and hit upon the concept of recruiting players from the West Midlands area of England, where he had played and coached. One of those was a four-year NASL veteran named Mick Hoban.
"Literally, we were still introducing ourselves the week before the first game to one another as players," Hoban said. "But we had played for clubs that were of a similar sort of ilk -- Aston Villa, Birmingham City, West Bromwich Albion, Wolverhampton Wanderers. So we had only a couple of nationalities: the Americans, the Canadians and then the Brits. The language wasn't an issue; the culture wasn't an issue. We assimilated well, and the Americans with us."
Did they ever. With wingers Willie Anderson and Jimmy Kelly feeding future England international striker Peter Withe -- who was dubbed "The Wizard of Nod" for his ability in the air -- the Timbers made it all the way to the 1975 Soccer Bowl, losing to the Tampa Bay Rowdies 2-0.
Along the way, the city took the team into its collective heart, including Serrill, who first attended games with his father. In 1978, he asked general manager Keith Williams if he could bring a chainsaw to games without the chain, "so it would be safe." Williams decided it would be even better if Serrill sawed off part of a log every time the Timbers scored. "Timber Jim" was born.
Yet there was a point at which Serrill's act nearly jumped the shark. During a particularly slow game, Williams convinced Serrill to do some cheerleading. Serrill said, "The crowd gave me a red card. Nobody wanted to hear it, giving me the finger. 'Hey dude, this isn't junior high. Go away.'"
Irritated at his treatment, Serrill, who had been clearing power lines for a utility company for years, decided to raise the stakes. He had noticed that two of the light poles in what was then known as Civic Stadium were connected at the top by a crossmember, so he brought his climbing gear to the next game. "I climbed up there and flipped my rope over between them," Serrill said, "and then I came down a ways, like 30 or 40 feet, and I hung upside down, wrapped my feet around the rope, and just started swinging back and forth. And then I fired up my saw, and that was it. That changed everything."
ESPN FC on Twitter
Don't miss a moment of the latest soccer coverage from around the world. Follow us on Twitter and stay informed. Join »
Serrill became an institution, and even went on the road with the team, although opposition fans weren't as enamored with his act as Portland fans were. After a Timbers win in Vancouver, one incensed spectator came out of the stands and hit Serrill in the head with a bag of ice. After shaking off the cobwebs, he noticed that several of the perpetrator's friends were about to join the fray.
"I just went over and fired up my saw," Serrill said. "They backed down."
The presence of the Royal Canadian Mounted Police didn't hurt either, and Serrill was safely escorted to the U.S. border.
Other fans' encounters with the team weren't quite as eye-catching, but did plenty to forge a bond between the club and the city.
"I can remember my husband and me going out drinking with the players," recalled Teri Joly, who works as a visitor services coordinator in the Portland Visitors Center. "We had a blast."
A coworker inquired, "What language did they speak?"
"They spoke beer," Joly replied.
Charles was in charge
The good times didn't last. The NASL's tortuous death spiral saw the Timbers fold after the 1982 season, with the entire league disbanding two years later. But in the process, the players helped the city learn how to speak soccer, an education that continued long after the NASL's demise. Jimmy Conway went on to coach at Oregon State and then led the Oregon Youth Soccer Association for 28 years. Bernie Fagan coached at Warner Pacific College as well as at Portland State. Hoban's path took him to the business side of the game, working for the likes of Nike, adidas and Umbro.
"The game didn't go away," Hoban said. "It just didn't have that prominent platform."
But the man who perhaps did the most to keep the flickering flame of soccer alive was Clive Charles. The "chirpy Cockney," as Hoban called him, arrived in Portland in 1978, and after his playing days concluded in 1981, he returned to the Portland area where he later turned both the men's and women's programs at the University of Portland into national powers. Kasey Keller, Steve Cherundolo, Heath Pearce, Tiffeny Milbrett and Shannon MacMillan are among the players he helped develop. He also founded the youth club, FC Portland.
"They loved Charles like a father," Serrill said. "He was kind in his rebukes; he'd take them aside. All of his accolades were public. All of his rebukes were private."
Charles died in 2003 at the age of 51, less than a year after leading the Portland women's team to a national championship. Hoban recalled how 1,500 people attended Charles' memorial service. "It was such a sad loss at such a young age, because Charles had so much more he would have given," Hoban said. "I assume he would have been part of the Timbers if he had chosen to do it."
Charles is still revered in Portland, and in his own way helped plant the seeds for what would follow. "Clive is Portland soccer," said Dave Hoyt, the president of the 107 Independent Supporters Trust, the charitable and organizational arm of the Timbers Army supporters group. "The University of Portland program instilled in us that you didn't have to have the highest tier of soccer, you didn't have to have EPL level to have a quality of soccer that was worth supporting."
Welcome to Major League Soccer
Portland in many ways is no different than any other NASL city. Places such as Seattle, Vancouver and San Jose all benefited from former players setting down roots and contributing to the game's development. But the professional game in Portland, especially the outdoor version, went dark for some excruciatingly long periods. After the demise of the Western Soccer Alliance in 1990, it wouldn't be until 2001 that the Timbers would be revived to play in the second tier of U.S. soccer.
Upon its return, the team was plagued by instability. It endured four owners in a four-year span, including a year during which it was owned by the Pacific Coast League. Let that sink in a little bit. A baseball league was actually running a second division soccer team, with a predictable amount of financial support.
But out of this uncertainty and neglect, the Timbers Army emerged. Over beers at the Horse Brass Pub, some members recall past games and road trips, as well as how tightly linked the group is to the beer culture in the city. At first blush, the last point seems as obvious as saying gasoline is closely related to the internal combustion engine. But further inspection reveals that it goes much deeper than that.
[+] Enlarge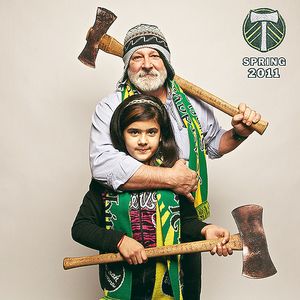 Courtesy of the Portland Timbers"Timber Jim" Serrill and his granddaughter Keiana Villanueva.
"Portland has a famous DIY grassroots culture, so we feel very proud of the Timbers Army, growing it from scratch," Hoyt said. "This bar is sort of the home of the first microbrews to be brewed in the Northwest. If you had one keg, you would bring it here, and Don Younger, who just passed away last month, would put it on, and that's how you'd start to build things."
The Timbers Army started with a dozen or so fans setting up shop in Section 107 of PGE Park, drumming on pickle barrels, and gradually grew to the point that it filled the entire North End with roughly 3,600 fans spending the entire game standing and singing. All this was done at a time when the relatively bright lights of MLS seemed well out of reach. It was quintessentially Portland.
"And there was always this thought that we might not be around next season, so we were going to party at this game like it's the last game ever," Hoyt said.
It's also a group that has given back to the community, helping to build playgrounds, supporting high school soccer programs and building houses for Habitat for Humanity.
The Timbers Army also knows how to take care of its own. Serrill's daughter, Hannah, was killed in a car accident in 2004, and at his first game back after her funeral, he sang her favorite song, "You Are My Sunshine," with Hannah's daughter, Keiana, in tow. The crowd joined in just in time for Timbers forward Fadi Afash to score with a ridiculous backheel. The Timbers Army not only repeated the tribute every game thereafter, but it made and sold scarves in a bid to raise money for Keiana's education.
"Sometimes it feels like my daughter's still alive," Serrill said.
It was this deep-rooted, connected support that Merritt Paulson inherited when he purchased the club in 2007, although he didn't know it at the time. Along with the Timbers, Paulson also acquired control of the Triple-A baseball team, the Portland Beavers, and the thought was that his primary intention was to someday bring major league baseball to Portland.
Paulson insists that he, along with his father, former U.S. Treasury Secretary Henry Paulson Jr., had investigated acquiring an MLS franchise as early as 2005. This is met with a certain amount of skepticism among some members of the Timbers Army, who point to the fact that the name of the investment vehicle he used to acquire the teams was dubbed Shortstop LLC.
What isn't in dispute is what happened after Paulson arrived.
"All I had to do was watch one Timbers game in Portland, and I knew this city was something special," said Paulson from his office at PGE Park. "We saw the fan base here and saw how compelling it was, and you take what a big story it was locally -- it was a huge objective from day one to make MLS happen."
Or, as Timbers Army member Jeremy Wright, 37, put it, "Homeboy bought a baseball team, got a soccer team for free, went to one soccer game and went, 'Oh s---. I have something here.'"
Of course, the economics of MLS are such that it took all of Paulson's patience, along with the support of the Timbers Army, to get the team over the expansion finish line. Paulson said the deal to acquire the expansion slot, as well as to obtain the necessary funds from the city to renovate PGE Park, was "dead at least three times."
But he got the deal done, and now the club seems perfectly positioned. It has capped season tickets at 12,500, indicative of a well-entrenched fan base with knowledge of the team's history and a deep reservoir of goodwill through its charitable works. The rivalries with Vancouver and Seattle provide additional fuel. The organization has had four years to work out the kinks and find out what works. Paulson even indicated that he expects the team to be profitable on a cash-flow basis this season.
The temptation, of course, is to think that the Timbers can't fail, but some are bracing themselves for such a possibility.
"I don't know if the interest is there to sustain [the Timbers]," said Kyle Mallory, 30, who works as a web editor for a local television station. "I hope it succeeds, but the history has been on the side of failure for professional sports teams in the city of Portland, aside from the Trail Blazers. And don't underestimate the fickleness of Portland people. Whatever line of work you're in, little things sprout up -- whether it's an art store, a coffee shop, restaurants -- that people get excited about, they get great reviews, and are then shuttered quickly thereafter."
Fair points all, but Paulson's deep pockets and the passion of the Timbers Army would appear to be solid defenses against such an outcome. The game's resilience is another.
"It says a lot about the brand of the Timbers that it won't die," Hoban said. "We've had economic recessions, we've had leagues folding, we've had owners who have lost their funding. We've had all sorts of issues that have come and flown in the face of the Timbers. But instead of looking at the glass as half-empty, I prefer to look at the glass as half-full. I think, 'What a great sport we must have, and what a great club we must have if people will persist and find a way for it to continue.' That's the history of the Timbers."
That past, as well as well as the present, is a mighty gift indeed.
Jeff Carlisle covers MLS and the U.S. national team for ESPN.com. He is also the author of "Soccer's Most Wanted II: The Top 10 Book of More Glorious Goals, Superb Saves and Fantastic Free-Kicks." He can be reached at eljefe1@yahoo.com.
U.S. soccer correspondent
Jeff Carlisle covers MLS and the U.S. national team for ESPN FC.