Commentary
L.A. and Seattle kick off the season
SEATTLE -- In MLS, it seems as if every championship contender has an expiration date, that moment when age, European ambitions and the always-elusive chemical balance cause a team's title hopes to evaporate. As the league gets set to kick off the 2011 season on Tuesday night, the two teams on display -- the Seattle Sounders and the Los Angeles Galaxy -- appear to be getting closer to that tipping point.
It's a scenario that strikes every team eventually. In 2010, the championship window finally slammed shut for good -- well, for the foreseeable future, anyway -- in New England. The team that reached four MLS Cup finals from 2002 to 2007 just couldn't cope with the steady rate of attrition its roster underwent.
Of course, you won't find Galaxy manager Bruce Arena subscribing to this theory.
"Every year is different," he said. "You can completely change the team around in one year in this league. We did."
That is all too true. Yet blowing up a side and rebuilding it from scratch has always been easier than making the subtle adjustments to maintain a team's position among the league's best. And although Arena has proven himself to be plenty adept at this particular art, there is also evidence that L.A.'s opportunity to win an MLS Cup is beginning to shrink.
David Beckham is in the last year of his contract, and with the Englishman casting amorous glances at the English Premier League, this likely will be his final opportunity to hoist the MLS Cup trophy. Assuming Beckham departs, so, too, will a considerable bit of skill and experience.
The offseason departure of Edson Buddle has resulted in the arrival of Juan Pablo Angel. Although there is no doubting his goal-scoring instincts, there are concerns about the 35-year-old's ability to hold up physically. It all leads you to wonder if L.A. is losing talent faster than Arena can replace it.
[+] Enlarge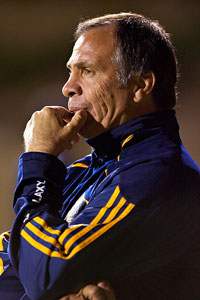 Kent Horner/Getty ImagesL.A.'s Bruce Arena has been adept at making the subtle adjustments to maintain his team's position.
L.A.'s opponent on Tuesday night is also on the verge of losing some talented players. Seattle goalkeeper Kasey Keller has indicated that this will be his final professional season, while manager Sigi Schmid said that this would be Blaise Nkufo's final campaign in a Sounders uniform.
But overriding these eventual departures is the worry that Seattle might be stagnating. For two seasons running, the Sounders have been bounced from the playoffs in the first round, and the disappointment has been so large that the team's considerable success in the regular season and two U.S. Open Cup triumphs have been shoved into the background. The stakes have been raised, and so has the pressure that comes with it.
"I think Sigi pointed that out the first day, in our first meeting," said Seattle defender James Riley about the increased expectations the team is facing. "He said that this was a year of urgency, so we're treating it as such."
That the Sounders will be squaring off against the team that eliminated them from the postseason last year only adds to the intensity, although both Schmid and Arena have done their best to downplay the game's importance.
"Whoever walks off the field Tuesday night a loser, their season is not over," said Schmid. "And whoever walks off the field a winner, their season is not secure and done, either. It's one of those things where there's a lot of hype around the game, and deservedly so because these are two good teams and it's going to be an electric atmosphere."
The three points aside, the game should also be an early gauge of how well the respective roster-tweaking -- both at the end of last year and during the offseason -- of each team has gone. Consider Seattle. With midfielder Brad Evans hobbled by a right hamstring strain, offseason acquisition Erik Friberg could be in line to make his MLS debut. With left midfielder Steve Zakuani possibly sidelined by a groin strain, more eyes will be on Uruguayan international Alvaro Fernandez -- who arrived in midseason last year -- to see if he can live up to his designated-player label.
ESPN FC on Twitter
Don't miss a moment of the latest soccer coverage from around the world. Follow us on Twitter and stay informed. Join »
The Galaxy have transitional issues, as well. In addition to Angel, L.A. has added forward Chad Barrett during the offseason. Although Barrett's finishing has never been his strong suit, it's expected that he'll do the kind of heavy lifting that doesn't always end up on the stat sheet. That, more than anything, could help L.A. overcome the loss of Buddle and his 18 goals.
"Both Buddle and Angel are good in the air," said Schmid. "Angel is probably technically a little bit better and stronger, but athletically he's not going to run as much into the corners, so that changes it a little bit. But with the addition of Barrett, if he plays next to [Angel], Barrett does a lot of that stuff for him, so it allows Angel to stay in the middle."
If all these additions pay off, they'll not only extend the sell-by date of both teams, but they could see one of them snag an MLS Cup title.
Jeff Carlisle covers MLS and the U.S. national team for ESPN.com. He is also the author of "Soccer's Most Wanted II: The Top 10 Book of More Glorious Goals, Superb Saves and Fantastic Free-Kicks." He can be reached at eljefe1@yahoo.com.
Soccer
Jeff Carlisle covers MLS and the U.S. national team for ESPN FC.