Commentary
Najar made the logical choice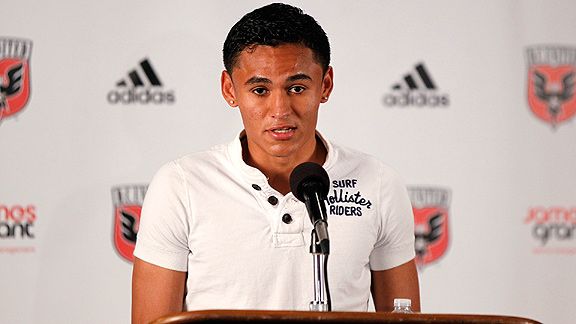 AP Photo/Luis M. AlvarezOn Tuesday, Andy Najar announced his decision to represent his native Honduras instead of the U.S.
Few scenarios raise the hackles of American soccer fans more than a young prospect with U.S. connections pledging his international future to another country. It happened with New Jersey-born Giuseppe Rossi, who opted to represent Italy. And it happened with former U.S. U-20 international defender Neven Subotic, who wore the colors of Serbia at the last World Cup.
But when reigning MLS Rookie of the Year Andy Najar announced on Tuesday that he would represent his native Honduras rather than the U.S., you couldn't help but conclude that he had made the logical choice.
Clearly, there is an emotional component to the decision as well, one that will no doubt be viewed as borderline sacrilegious by some. The D.C. United midfielder spent the first 13 years of his life in Honduras, yet it was the U.S. that provided him with the opportunity to become a professional soccer player. What better way to pay back his adopted country than to suit up for its national team.
Such thinking ignores a host of factors, however. The connection to his native land runs deep for Najar. If that is how he identifies himself, there can really be just one outcome.
"It was a decision that my heart told me," Najar told The Washington Post. "It came strictly from my heart."
ESPN FC on Twitter
Don't miss a moment of the latest soccer coverage from around the world. Follow us on Twitter and stay informed. Join »
There are plenty of practical concerns as well, which often tip the scales in these kinds of decisions. Unlike Rossi and Subotic, Najar isn't a U.S. citizen, and while he has a green card, the five-year waiting period for permanent residents to acquire a U.S. passport represents a huge obstacle. While Congress has the power to immediately grant citizenship to individuals, such an honor is usually reserved for green-card holders who die while serving in the U.S. military, not for mere soccer players.
And even if Najar were to become a U.S. citizen, there's no guarantee that he'll develop into the kind of player who will be a mainstay in the U.S. side. If Najar were to earn a few caps, only to be cast aside, he would undoubtedly regret his decision.
By comparison, throwing his lot in with Honduras represents considerably less risk for Najar. The Catrachos are ready to make him a member of the full team now, starting with this summer's Gold Cup. Najar also looks set to contribute at the U-20 World Cup this summer in Colombia, assuming Honduras qualifies. This will allow him a considerable jump start in terms of his international career, and it will provide another platform for him to be seen by a European club. Granted, Honduras doesn't qualify for World Cups with the same regularity as the U.S., but it did make it to South Africa in 2010. It can also point to English Premier League players such as Tottenham's Wilson Palacios and Wigan's Maynor Figueroa as proof that its collective star is on the rise.
So chalk this up as one in the loss column for the U.S. program, albeit a minor setback that has been long expected. It's not as if the U.S. Soccer Federation neglected to do its homework and let Najar get away. Najar's agent, Chris Megaloudis, is the stepson of U.S. U-20 head coach Thomas Rongen, so it stands to reason that the USSF was very much aware of Najar's situation.
But given Najar's citizenship status, the USSF was in no position to promise him anything. On the contrary, the U.S. system made what appeared to be a straightforward decision much more complicated. And in the end, what was in the heart and head of Najar was too much to overcome.
Jeff Carlisle covers MLS and the U.S. national team for ESPN.com. He is also the author of "Soccer's Most Wanted II: The Top 10 Book of More Glorious Goals, Superb Saves and Fantastic Free-Kicks." He can be reached at eljefe1@yahoo.com.
U.S. soccer correspondent
Jeff Carlisle covers MLS and the U.S. national team for ESPN FC.