Commentary
Real Salt Lake scores historic victory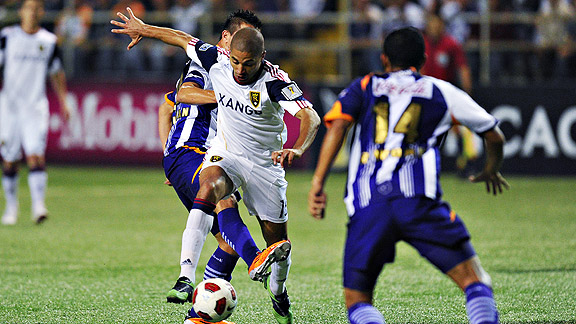 Yuri Cortez/AFP/Getty ImagesOn Tuesday, Real Salt Lake advanced to the CONCACAF Champions League final by defeating Costa Rican side Saprissa 3-2 on aggregate.
In Major League Soccer's roughly 15 years of existence, the word "historic" has been bandied about with too much frequency. It's been used to trumpet everything from player signings to All-Star Game victories. Mostly, it's been a bunch of nonsense. But on Tuesday, Real Salt Lake delivered a performance that lived up to that description, advancing to the CONCACAF Champions League final by defeating Costa Rican side Saprissa 3-2 on aggregate.
The win marks the first time since 2000 that an MLS side has reached the final of CONCACAF's biggest club competition. Back then, it was called the CONCACAF Champions Cup, but comparing that edition to the current incarnation is like relating a Sunday cruise to an episode of "Deadliest Catch." Every game of the 2000 tournament from the quarterfinals on was held in Southern California, a convenient location for eventual champion Los Angeles Galaxy.
RSL, on the other hand, had to navigate its way through a six-game group stage and two knockout rounds, an odyssey that involved travel to Panama, Mexico and now Costa Rica. Real's triumph also marked the first time in five attempts that an MLS side had beaten Saprissa in a two-game series, and just the second victory in nine tries against Costa Rican opposition over two legs.
But what was even more impressive was the professional way Real went about its business. Holding a 2-0 lead from the first leg, RSL showed little in the way of nerves in the first half. It refused to bunker in and instead displayed enough attacking initiative to keep Saprissa honest. In fact, had it not been for the heroics of Saprissa keeper Victor Bolivar, who delivered two sharp saves to deny Kyle Beckerman and Alvaro Saborio, the visitors may very well have extended their lead heading into halftime.
That's not to say Real Salt Lake didn't face some tense moments. When Saprissa defender Luis Diego Cordero scored from long range a scant 42 seconds into the second half, the ghosts of past MLS failures in the CCL seemed ready to haunt RSL. Saprissa had all the momentum. Real appeared to abandon the patient buildup that had served it so well in the first half and began playing very direct. As a result, maintaining possession of the ball became near impossible.
ESPN FC on Twitter
Don't miss a moment of the latest soccer coverage from around the world. Follow us on Twitter and stay informed. Join »
But where previous MLS sides had crumbled in such moments, RSL managed to steady itself. When Jamison Olave hammered home a rebound from Nat Borchers' header in the 61st minute, Real was on its way to making a new kind of history.
"I'm looking out there at the guys to see whether or not we're going to lose our stuff and continue to kind of go in a downward spiral," said Real manager Jason Kreis through a team spokesman. "I don't think we did; I think we kept it together pretty well. That's another bit of evidence of them being a mature group."
Not even Alonso Solis' 87th minute penalty, which condemned RSL to a 2-1 defeat on the night, could take the shine off a truly momentous aggregate victory.
Of course, Kreis wasn't about to let his side bask in what it has already achieved. "We did accomplish something, there's no doubt about it," he said. "But I think all of us feel that the real history is to be made. We've gotten to the dance, now we'll see what we can do."
Kreis has every reason to be wary. RSL is set to play the winner between Mexican sides Cruz Azul and Monterrey, and the record of MLS teams against Mexican opposition is even grimmer than it was against Costa Rican sides. Only once in 12 attempts has an MLS team prevailed over two legs against a Mexican team. That was back in 2002, when the then Kansas Wizards defeated Santos Laguna in the quarterfinals.
Things haven't gone much better in the CCL since CONCACAF first instituted a group stage during the 2008-09 tournament. In group matches, MLS teams have gone 2-12-2 against Mexican teams. But one of those wins came when RSL beat Cruz Azul 3-1 this past October. That win came after the two sides played an epic encounter two months earlier in Mexico City that Cruz Azul won, 5-4.
Such numbers aren't likely to trouble Kreis. He'll look at it as another opportunity to rewrite the history books.
News and Notes
Hall passes his first exams: At the start of the season, one of the biggest questions facing the Houston Dynamo was whether goalkeeper Tally Hall could fill the void left by the departed Pat Onstad. Three games into the current campaign, those questions are beginning to fade.
Houston is shuffling along with a 0-1-2 mark, but if it wasn't for Hall the Dynamo's record could very well be 0-3-0. Hall flat-out stole a point for his side on March 25 against Seattle, delivering a string of splendid saves in a 1-1 tie. A week later against the New York Red Bulls, he was back at it, helping to snuff out some late New York attacks, including a point-blank effort at the feet of Thierry Henry.
Hall insists that there aren't any secrets to his success. He ratcheted up the intensity of his offseason workouts a bit, which has helped. But more than anything, Hall's improvement has been because of a sharper state of mind.
"I feel about the same pressure this year as I did last year and the year before," he said. "I've always tried to put the pressure of a starter on myself every day because that's the level that I expected of myself. I think that's paid off because I don't feel too much more pressure. There's definitely more responsibility, but that's part of the game that you enjoy. I feel comfortable with that."
That approach manifested itself in training, with Hall pushing himself to be cleaner in his handling and his decision-making.
"You always have to hold yourself to that highest level of accountability, because in a game so often there's so little room for error, especially as a goalkeeper," he said. "It's about demanding perfection, which sucks because that's not possible. But every time a ball comes at you, there's a right way to handle it, and you try to do that every time."
Hall may not be perfect, but so far he's come pretty close.
Wondo's streak finally ends: When San Jose Earthquakes midfielder Simon Dawkins scored in the first half against Seattle this past weekend, it meant that Chris Wondolowski's record streak of 12 consecutive regular-season games in which he scored a goal for the Quakes had come to an end. That counts as good news for a team that last season was over-reliant on the Golden Boot winner.
What's even better is Dawkins is the one contributing to the offense and he's shown an ability to kick start the Quakes' attack in a number of ways. In the opening game of the season against Real Salt Lake, he provided a spark off the bench with his ability to take opponents on. Against Seattle, Dawkins showed a willingness to pass his way out of trouble and pop up in good positions in front of goal, although he feels he could have added more to his goal haul.
"I had two similar opportunities in the same sort of area, which I should have taken, but I took too many touches," Dawkins said. "I told myself, 'I hope I get another chance.' The next time I just hit across the keeper and it managed to go in, so I'm really happy with that."
The only disappointment came in the second half. Manager Frank Yallop brought off midfielder Joey Gjertsen and slid Wondolowski back to right midfield with an eye toward getting Dawkins closer to goal. It didn't pay off because forward Ryan Johnson was often left stranded with little support from the likes of Dawkins, Khari Stephenson and Bobby Convey.
"I told the three guys in the middle of the field, whatever it takes for them to get on the ball and get it moving, do it," Yallop said. "If it means getting deep, that's fine, but I didn't want all three in a row."
Dawkins had an even simpler explanation for what went wrong.
"That was just me being tired," he admitted. "Obviously, my fitness isn't up there yet, but it's coming as games go on."
If that trend continues, Wondolowski can expect even more help in the goal-scoring department.
Jeff Carlisle covers MLS and the U.S. national team for ESPN.com. He is also the author of "Soccer's Most Wanted II: The Top 10 Book of More Glorious Goals, Superb Saves and Fantastic Free-Kicks." He can be reached at eljefe1@yahoo.com.
U.S. soccer correspondent
Jeff Carlisle covers MLS and the U.S. national team for ESPN FC.