Commentary
Getting Real close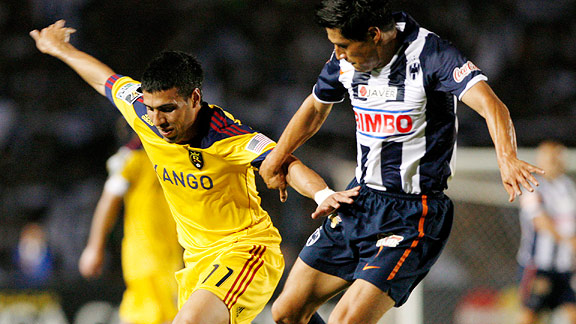 AP Photo/Miguel TovarDespite enduring some nervy moments, Real Salt Lake took a massive step towards CONCACAF Champions League glory when it tied Monterrey 2-2 in the first leg of the final.
Successfully navigating the away leg of a two-game series is often about survival combined with a few moments of inspiration. On Wednesday night, Real Salt Lake concocted precisely that recipe when Javier Morales scored an equalizer in the 89th minute to salvage a 2-2 draw against Monterrey in the first leg of the CONCACAF Champions League final. Now RSL is just 90 minutes away from claiming continental supremacy.
"This is the stuff that dreams are made of, the opportunity to raise this kind of trophy and be the best team in the region," Real Salt Lake coach Jason Kreis said through a team spokesman. "It's been a fair tournament, and if we can win or get a 0-0 or 1-1 draw next week we can count ourselves as the best team in this region. It would be simply fantastic and amazing to raise the trophy in front of our home crowd."
In the opening 45 minutes, Real was every bit Monterrey's equal, and after Nat Borchers had canceled out Aldo de Nigris' 18th-minute opener, RSL deservedly entered the interval tied 1-1. The second half was a different story, however, with Real struggling to hang on. Monterrey was practically camped out in RSL's end, and after Humberto Suazo converted a 63rd-minute penalty to put the home side up 2-1, Los Rayados carved out some excellent opportunities to put the game -- and perhaps the series -- away.
ESPN FC on Twitter
Don't miss a moment of the latest soccer coverage from around the world. Follow us on Twitter and stay informed. Join »
But despite being stretched to the breaking point, RSL held it together, and starting around the 75th minute, the visitors began to reassert themselves. The attitude long championed by Kreis of finding ways to attack, no matter the opponent or the venue, started to emerge.
It was especially evident in the game-tying sequence. When substitute Arturo Alvarez turned to pursue Fabian Espindola's flick-on header, he appeared to be chasing a lost cause. But he managed to outmaneuver Monterrey left back Ricardo Osorio, latched onto the ball, and located Morales, who was making a late, surging run. The Argentine still had plenty of work to do, but a deft feint was enough to shake Monterrey defender Jose Basanta, and Morales fired past goalkeeper Jonathan Orozco.
"I thought we might be able to get something against the run of play, and that's where it came from," Kreis said. "I'm pleased the guys continued to believe, but, to be completely honest, I was all right with walking out of here 2-1 down."
That RSL didn't is a testament to Morales' undeniable skill and composure.
"When the ball gets on Javier's foot, I think we all take a collective breath and hold it for a moment because we know that he's capable of special plays," Kreis said. "Big players make big plays in the biggest games."
Not only did the goal tie the match, but more importantly, it gave RSL a priceless, second away tally, which is the first tiebreaker should the score be even after next week's second leg in Utah.
Without question, the pressure will be cranked up on favorites Monterrey and its manager, Victor Manuel Vucetich. This is especially true after Vucetich left himself open to a massive amount of second-guessing when he elected to substitute de Nigris and midfield linchpin Luis Ernesto Perez midway through the first half. Both players appeared to have aggravated hamstring injuries, but the sight of them exiting so soon after de Nigris' goal gave the impression that Vucetich had been infected with El Tri Disease, aka the kind of overconfidence usually reserved for Mexico's national team when facing the U.S.
Whether that's the case or not, Vucetich will have a lot on his mind in the next seven days, especially after de Nigris picked up a yellow card for his goal celebration. The Monterrey striker will be suspended for the second leg, regardless of his physical state. There's also the significant matter of this weekend's league fixture against Puebla. Monterrey is in seventh place overall in Mexico's Primer Division, but it's been dropping points at an alarming rate recently, making its qualification for the Mexican league playoffs more nerve-wracking than necessary. It leaves you to wonder if fighting on too many fronts will ultimately cost Monterrey, especially since RSL has had its match this weekend against Philadelphia rescheduled.
Not that Kreis will be completely worry-free. Captain Kyle Beckerman will also be suspended, and that may prove to be an even greater loss than de Nigris will be for Monterrey. But an even bigger concern is the regularity with which Monterrey pierced RSL's flank defense, especially when outside backs Osorio and Sergio Perez joined the attack. Had Borchers and Jamison Olave -- other than being whistled for an unfortunate handball that led to the penalty -- not been in imperious form, RSL might have been staring at a steep deficit rather than heading back to Rio Tinto Stadium on level terms. The movements of Suazo, who proved himself adept at finding space between the backline and the midfield, also caused problems. And Real will count itself lucky that the Chilean wasn't more clinical in the 86th minute, when he saw his attempted lob go wide while under pressure from goalkeeper Nick Rimando.
That said, RSL finds itself in an enviable position heading into the second leg. The onus is on Monterrey to attack, and while it has plenty of weapons, even without de Nigris, the gaps it'll leave at the back should give Real some enticing opportunities on the break. If RSL can convert, a spot in the history books -- and the FIFA Club World Cup -- awaits.
Jeff Carlisle covers MLS and the U.S. national team for ESPN.com. He is also the author of "Soccer's Most Wanted II: The Top 10 Book of More Glorious Goals, Superb Saves and Fantastic Free-Kicks." He can be reached at eljefe1@yahoo.com.
Soccer
Jeff Carlisle covers MLS and the U.S. national team for ESPN FC.