Commentary
Monterrey breaks RSL's heart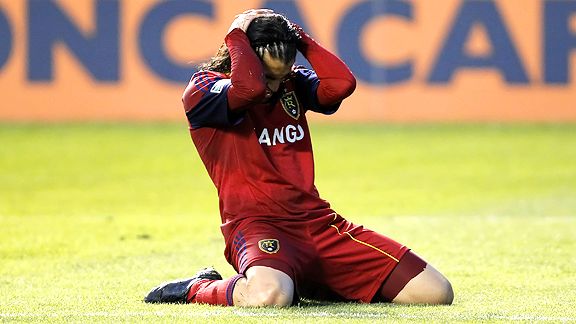 George Frey/Getty ImagesReal Salt Lake came into the second leg with the advantage, but ended up losing the CONCACAF Champions League final to Monterrey.
Humberto Suazo showed his quality, and Monterrey broke the hearts of Real Salt Lake in the CONCACAF Champions League final Wednesday night at Rio Tinto Stadium.
The Chilean tallied the only goal of the second-leg encounter between the two sides late in the first half, giving Los Rayados a 3-2 aggregate victory. In the process, Monterrey prevented RSL from becoming the first MLS side in a decade to claim a continental crown.
"It's a quite foreign feeling to us to lose a match at our place, it hasn't happened to us in a long time," said RSL manager Jason Kreis through a club spokesman. "You have to continue to be proud of what we put into this tournament and the fact that we made it to this final, I think we need to take some pride in that. Ultimately, though, I'm very disappointed we couldn't take that final step."
The margin separating the two sides was impossibly thin, as both teams showed their prowess in the back and midfield. But it was the attacking superiority of Suazo, along with that of midfielder Sergio Santana, that really was the difference.
Real had a glorious chance to settle the series with the match barely 10 minutes old when Fabian Espindola pounced on a poor back pass from Hiram Mier, only to put his shot wide. Espindola's running mate, Alvaro Saborio, fared even worse, however. While the Costa Rican did his bit defensively, he never looked comfortable in attack, often failing to hold the ball up, and struggling mightily with his decision-making and link play. On the one occasion when he did get a clear look at goal, he could only place his 67th-minute header right at Monterrey goalkeeper Jonathan Orozco. Combined with the great chances he squandered in the first leg, Saborio had a final series to forget.
[+] Enlarge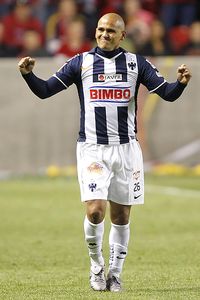 George Frey/Getty ImagesHumberto Suazo scored the winning goal to clinch the Champions League title for Monterrey.
By contrast, Suazo showed his pedigree in first-half stoppage time when he worked a deft one-two that put Santana in alone on RSL goalkeeper Nick Rimando. With Rimando drawn out, Santana then played the ball square for Suazo to rifle home.
"Defensively we did everything we could," said Rimando through a club spokesman. "There's that one play that we didn't do so well on and they capitalized on it. It's that one at the end of the half or the end of the game, when we take so much pride to finish out and get to the locker room or to finish the game. That's the time that we messed up and took a play off, and it's one play that can kill you."
RSL did everything it could to snag the equalizer that would give it the crown on the away-goals rule, especially as the game began to open up in the second half. Aside from Saborio's chance, Will Johnson went close with a long-range blast in the 59th minute. The home side then had two opportunities to score in stoppage time, but Javier Morales' rebound attempt went wide, and Orozco nearly made a hash of Jamison Olave's routine header but recovered to keep the ball out. In the end, the loss was RSL's first at Rio Tinto in 37 games, the previous defeat coming May 16, 2009, versus KC.
MLS now will have to wait at least another year before one of its teams can make the next breakthrough in international competition.
No doubt it could be a long wait. Without question, RSL did itself and its league proud in the tournament, but this is a bitter pill for manager Jason Kreis and his players to swallow. Much like the U.S. at last summer's World Cup, rarely will the circumstances for success be so perfectly aligned. RSL was playing at home, facing a tired Monterrey team that was depleted through injury and suspension, with no fewer than three regulars absent. That number went up to four when Santana was forced to leave the match with a knee injury in the 60th minute. And Real couldn't even pin too much blame for the defeat on the absence of captain Kyle Beckerman, as Ned Grabavoy performed credibly in his stead.
ESPN FC on Twitter
Don't miss a moment of the latest soccer coverage from around the world. Follow us on Twitter and stay informed. Join »
Yet RSL couldn't parlay these advantages into victory, although you have to give Monterrey immense credit for this. Los Rayados kept their collective composure when the hosts applied early pressure, got the goal they needed and defended resolutely enough to claim the crown. Now they'll be the team representing the region in Tokyo at the FIFA Club World Cup come December.
RSL, meanwhile, will be left thinking of what might have been.
"I would hope that people would judge us based on the tournament and not [just] on tonight,' said Kreis. "Yes, this was a huge, huge opportunity gone missing. And we feel deeply sorry about that. But judge us over the entire tournament and I think we have to be pretty darn proud and I hope people are proud of us."
Jeff Carlisle covers MLS and the U.S. national team for ESPN.com. He is also the author of "Soccer's Most Wanted II: The Top 10 Book of More Glorious Goals, Superb Saves and Fantastic Free-Kicks." He can be reached at eljefe1@yahoo.com.
U.S. soccer correspondent
Jeff Carlisle covers MLS and the U.S. national team for ESPN FC.