Commentary
MLS must do more to end bad tackles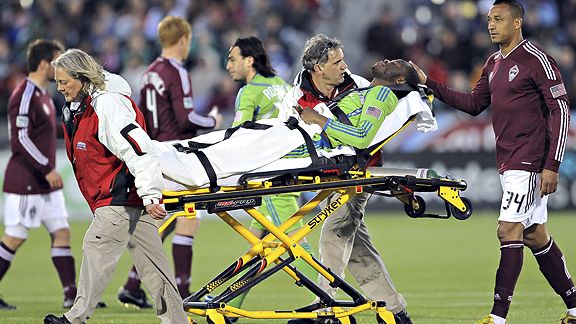 Doug Pensinger/Getty ImagesSuspending Brian Mullan for his horror tackle on Steve Zakuani was a no-brainer, but if MLS really wants to stamp out rough play, it needs to punish the less obvious cases, too.
The verdict was already in. Colorado Rapids midfielder Brian Mullan was guilty of delivering a reckless and brutal tackle that broke the tibia and fibula of Seattle Sounders attacker Steve Zakuani on April 28. On Wednesday, Major League Soccer's disciplinary committee delivered its sentence: a 10-game suspension and a $5,000 fine that includes the automatic one-game suspension and $250 fine for the ejection.
The penalty exceeds the record suspension of former Houston Dynamo midfielder Ricardo Clark, who was suspended nine games for violently kicking then-FC Dallas forward Carlos Ruiz in 2007.
"The seriousness of the injury, and the egregious and reckless nature of the challenge, was considered to be so great as to absolutely warrant and mandate a very severe punishment," Nelson Rodriguez, MLS executive vice president of competition, technical and game operations, said via telephone. "There was actually very quick unanimity in deciding the level of punishment to administer against Mr. Mullan."
So, did the punishment fit the crime? That's not as easy a question as it might sound.
Let me be clear. Mullan's action deserved a severe sanction. Players have to be held accountable for their actions, especially when it comes to the physical well-being of their fellow professionals. But it's also important to be consistent in meting out discipline, and MLS appears to have fallen short in this area.
The same season in which the Clark incident occurred, then-Los Angeles Galaxy defender Tyrone Marshall broke the leg of then-FC Dallas forward Kenny Cooper courtesy of a tackle that was in some ways similar to Mullan's. Cooper was heading upfield and was taken out from the side by Marshall. Marshall's suspension turned out to be just three games.
When asked to address such a wide disparity in the penalties, Rodriguez confessed that he wasn't familiar with the Marshall-Cooper incident, but denied that precedent didn't play a role in the committee's decision. "Precedent's a funny thing," he said. "Everything is a precedent until the next new precedent. This committee did look at past history, in and out of the soccer world, and out of MLS, to get a sense and context of what might be right and fair and equitable. You could look at it as setting new precedent or ignoring old precedent. I leave that for [others] to decide."
I can remember thinking at the time that Marshall's suspension was too little, as the injury sidelined Cooper for nearly four months. For that reason, I concluded that a suspension of about five games was in order for Mullan. But 10? That begins to stray into the territory where the league is simply trying to make an example out of Mullan, and it smacks of inconsistency.
ESPN FC on Twitter
Don't miss a moment of the latest soccer coverage from around the world. Follow us on Twitter and stay informed. Join »
The decision raises other questions, as well. Is MLS punishing the recklessness of the action or the end result? The clear answer is both, but does that mean that a suspension is in order only if both of those things happen? If MLS is condemning the recklessness, how is it that David Beckham's tackle on D.C. United forward Josh Wolff a couple of weeks ago got punished with a yellow card and nothing more? If it's penalizing the end result, how is it that Vancouver defender Jonathan Leathers, whose tackle this past weekend broke the ankle of reigning league MVP David Ferreira, wasn't sanctioned at all?
Rodriguez explained that there are strict guidelines the committee has to follow. Assuming that the referee sees the challenge in question, two criteria need to be satisfied for the committee to suspend a player. First, there needs to be unanimity among the committee members that a player's actions should have resulted in a "clear and unequivocal" red card. The second is that the play in question is so egregious or so reckless that the committee must act in the name of player safety.
"In the Leathers challenge against Ferreira, it was not the unanimous opinion of the committee that that was a red card offense," Rodriguez said. "Therefore, there was no room to act."
That explanation will ring awfully hollow in Dallas. Granted, Leather's tackle on Ferreira lacked the malice of Mullan's challenge, and it wasn't even called a foul by the referee. But the fact that it was a tackle from behind made it inherently high-risk, and it clearly endangered Ferreira's safety. And the result is that Ferreira, who has suffered an inordinate number of fouls since arriving in MLS in 2009, likely will be out for several months at minimum. I'm not arguing that Leathers should have been punished on the same order as Mullan, but a suspension of one or two games wouldn't have been out of bounds.
Rodriguez's explanations notwithstanding, it looks as if what we are left with is a disciplinary system with little to no middle ground that is content to pick easy targets. Let's face it, reacting to Mullan's actions doesn't require much courage. And it's unlikely his suspension will have much of an impact on player behavior. Just about any player in the league can look at what Mullan did and think, "I'd never do that." But the league's reputation for physical play is well-earned, and not a week goes by without some terrible challenges. They might not rise to the level of Mullan's, but they are dangerous nonetheless.
To be fair, the committee did recently suspend Seattle midfielder Servando Carrasco for one game for a tackle on Chicago midfielder Patrick Nyarko, but more can be done. If MLS really wants to follow through on its very commendable initiative to stamp out rough play, it needs to punish tackles such as Beckham's and Leathers', not just the obvious cases such as Mullan's.
Admittedly, the league's power to stamp out dangerous challenges has its limits. There are just too many moving parts, as the referees, coaches, and players all play a role in what kind of game fans will see in MLS. There is also a wide spectrum of opinion about how physical the game ought to be. That doesn't mean the disciplinary committee, and the league, can't do better.
Jeff Carlisle covers MLS and the U.S. national team for ESPN.com. He is also the author of "Soccer's Most Wanted II: The Top 10 Book of More Glorious Goals, Superb Saves and Fantastic Free-Kicks." He can be reached at eljefe1@yahoo.com.
Soccer
Jeff Carlisle covers MLS and the U.S. national team for ESPN FC.