Commentary
Abby Wambach sends a message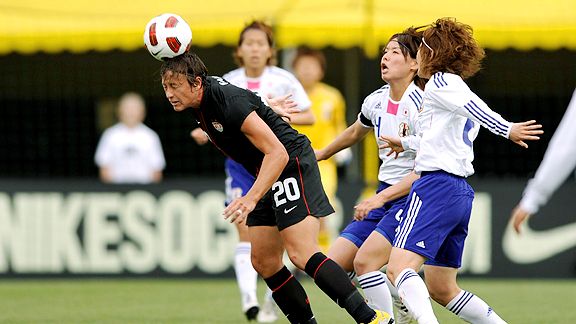 Jamie Sabau/Getty ImagesThe U.S. women's national team defeated Japan 2-0 in a pre-World Cup friendly at Crew Stadium.
COLUMBUS, Ohio -- The talk around the U.S. women's national team lately has been all about its aim of playing more of a possession-based style. But it was the traditional American traits of power, speed and aerial dominance in the form of Abby Wambach that helped it secure a 2-0 win over Japan in a pre-World Cup friendly.
Wambach opened the scoring in the 29th minute with a trademark header, then set the table for Amy Rodriguez to finish from close range eight minutes later.
For Wambach, who has been dealing with Achilles tendinitis for several months, the performance amounted to a massive boost of confidence at a critical time.
"It's a lot different when you're playing without pain," said Wambach. "This last six, seven months have been tough. That goal gets a bit of a monkey off my back. I think it was the size of this stadium, so I'm happy that's over with, and I'm glad we got the win."
In terms of aesthetics, the U.S. performance was something of a mixed bag. Early on, the Americans struggled mightily to cope with the high pressure tactics from the Japanese, as the visitors forced some turnovers deep in the U.S. half. Had the normally lethal Homare Sawa been more precise with her passing in the final third, the visitors might very well have punished the hosts more severely.
"I think it's about the flanks," said U.S. coach Pia Sundhage. "When we changed it a little bit in the second half, it was better, and we need more crosses. We have one of the best headers in the world in Abby Wambach, so we need more crosses. That's something we're going to stress after this game."
ESPN FC on Twitter
Don't miss a moment of the latest soccer coverage from around the world. Follow us on Twitter and stay informed. Join »
To the Americans' credit, they started to figure that point out on their own as the first half progressed. The U.S. began finding spaces down the left wing and in the 25th minute Stephanie Cox slipped a pass to Wambach, whose low drive forced a good save from Japanese keeper Ayumi Kaihori.
Yet it was a play straight out of the old U.S. set piece playbook that allowed it to break on top in the 29th minute. Wambach used her height advantage to full effect; nodding home Ali Krieger's free kick over the advancing Kaihori.
The U.S. then doubled its advantage in the 37th minute on a lightning-quick transition goal. Heather O'Reilly did most of the heavy lifting, embarking on a long run before feeding Wambach on the right. The U.S. forward's low cross was rifled home from close range by Rodriguez.
"The goal came off a turnover, and that's the American way, that's the style," said Wambach. "I think Pia has done so well for us to input this European style of soccer, but we still have to put our style onto the game. … It's to run at them, it's to take advantage of the opportunities given to us, and on that second goal you saw that."
The Americans were firmly in control thereafter, even though they failed to hit the high notes they reached in the first half. A passel of substitutions played a part, but Sundhage will no doubt feel her side has some work to do in terms of keeping the ball. You can bet that the Americans' first World Cup opponent, North Korea, will have taken note of Japan's success pressuring the U.S. in the first half. Sundhage has 44 days to sort things out before the World Cup begins.
Player ratings (1-10, 5 = average)
Hope Solo, GK, 6.5 -- Was never seriously tested but made all the plays she needed to make, especially in terms of dominating her area. Showed some slight rust on one long ball where she could have been cleaner on her punch, but otherwise, no mistakes.
Stephanie Cox, D, 6 -- After some shaky passes early, she got forward to good effect, and slipped Wambach clean through on goal in the 25th minute. It will be interesting to see if Cox will still be first choice when injured players like Christie Rampone and Amy LePeilbet return.
Rachael Buehler, D, 7 -- Aside from one play where Yuki Nagasato shook free for a clear look, she barely put a foot wrong; a solid display in all departments.
Becky Sauerbrunn, D, 7 -- Was barely noticed in the first half, which is a good thing for a central defender. She wasn't as sharp with her distribution in the second half, but she still made an impact with some timely challenges in the box.
Ali Krieger, D, 6 -- Put a free kick on a platter for Wambach to get the opener, and defended decently, but a poor pass nearly gifted the Japanese a goal at the end of the first half. Continued to be a threat going forward in the second half.
Megan Rapinoe, MF, 6 -- An up and down performance, but helped turn the tide when she tucked more into the middle to give the U.S. more of a midfield presence.
Shannon Boxx, MF, 4 -- Struggled to deal with Japanese high pressure, hitting some wayward passes. She showed some better positional discipline than in recent matches but will need to improve before the games begin for real.
Carli Lloyd, MF, 5 -- Misplayed a few passes early but found more success when she drifted to the left side, and worked some good combinations. Was caught in possession a little too often in the second half.
Heather O'Reilly, MF, 6 -- Did the lion's share of the work in the run-up to the second goal with a long run and good pass to Wambach. Still would like to see her have more of a pure flank presence.
Abby Wambach, F, 8 -- The player of the game by a country mile. Scored the opener with a trademark header, and set up Rodriguez for the second. Also looked sharp in setting up others, as well as her movements to get the ball.
Amy Rodriguez, F, 6 -- Didn't seem on the same page with many of her teammates in the early going but took her goal with aplomb and looked consistently dangerous in transition.
Subs:
Lindsay Tarpley, MF, 6 -- Looked to be having a solid outing on both sides of the ball before a knee injury ended her day prematurely.
Tobin Heath, MF, 6 -- Started out on the wing, but then switched to the middle following Tarpley's injury, where she helped settle the middle a bit.
Lauren Cheney, F, 6 -- Was lively in 45 minutes of work and played well off Wambach.
Lori Lindsey, MF, 6 -- Seemed to alternate good and bad plays with regularity but finished on an up note with clever plays down the right wing.
Alex Morgan, F, 7 -- Nearly scored on a great individual effort late in the match, only to put her shot wide.
Jeff Carlisle covers MLS and the U.S. national team for ESPN.com. He is also the author of "Soccer's Most Wanted II: The Top 10 Book of More Glorious Goals, Superb Saves and Fantastic Free-Kicks." He can be reached at eljefe1@yahoo.com.
U.S. soccer correspondent
Jeff Carlisle covers MLS and the U.S. national team for ESPN FC.