Commentary
L.A.'s 'other' team on the rise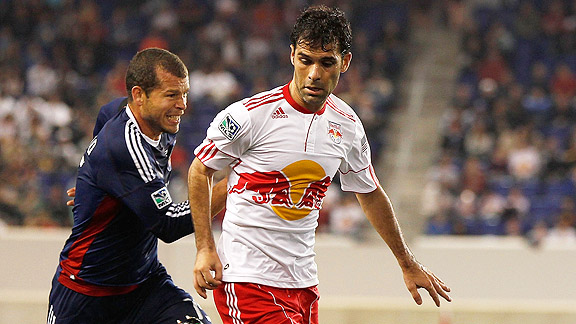 Mike Stobe/NY Red Bulls/Getty ImagesAlejandro Moreno and Chivas USA have made a stunning turnaround after a disastrous start to the season.
Five games into the regular season, Chivas USA head coach Robin Fraser found himself falling into a mental trap. His team was winless at 0-2-3, and the team's attack was mired in a deep slump. The first-year coach couldn't shake the feeling that progress should be coming to his side faster and easier. A dose of perspective was in order, and a review of his time as an assistant at Real Salt Lake proved illuminating.
"I went back and I looked, and I think we lost our first seven games I was at Real," said Fraser. "I looked at that and thought, 'Well, they're the best team in the league now, so there is a light at the end of the tunnel.'"
Indeed there is, and now it's shining brightly on Fraser's squad. Chivas has gone 3-1-0 since those difficult opening weeks, and it's not like it's been beating up exclusively on the league's weaklings. A 3-2 road win over the New York Red Bulls revealed that the Goats can compete with the league's elite.
But even more surprising is the way Fraser has stocked his roster with castoffs, some of whom seem to have come straight from the Island of Misfit Toys. Defender Andrew Boyens and midfielder Simon Elliott were both available to anyone that wanted them, yet have proved to be important contributors. Midfielder Nick LaBrocca has been a revelation in an attacking midfield role since being acquired in a trade for forward Alan Gordon, validating Fraser's decision to pass on acquiring U.S. international Benny Feilhaber. Forward Alejandro Moreno was chosen in the expansion draft by Vancouver, who promptly traded him to Chivas, where his three goals are tied for the team lead.
[+] Enlarge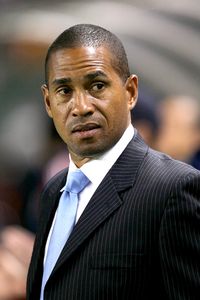 Stephen Dunn/Getty ImagesChivas USA head coach Robin Fraser has stocked his roster with castoffs, yet he's getting good results.
Yet in the process, Fraser has managed to mold his side into a cohesive unit that has bamboozled opponents with an effective high-pressure game, one that has not only thrown opposition offenses off-kilter, but has sparked the team's previously moribund attack. "I just think as a group, we've identified good times to close the ball down, and to be aggressive defensively," he said. "And as a result, we've won some decent balls and we've gotten guys in good spots. Out of that we've been able to get at goal pretty quickly with just a couple of passes."
Fraser has also learned some early lessons of his own along the way. He initially thought the blueprint that worked so well at Real Salt Lake would easily transfer to his current team. But while RSL certainly provides a level of inspiration, Fraser admitted that he's realized no two situations are alike.
"Your personnel is different, your personalities are different, and as a result you have to be adaptable because every circumstance is going to be different," he said.
That includes estimating how long it will take to assemble the roster that he wants. "It takes you a while to realize what you have and what you don't have," said Fraser. "Obviously when you start, you'd love to get the final piece in place within days and weeks of starting, but you know it's a building process, and you have to find players you think can help you."
Now, for once, instead of the Los Angeles Galaxy getting all of the attention, L.A.'s "other" team is beginning to make some headlines. This amounts to a case of perfect timing given that the two sides will resume hostilities this weekend at the Home Depot Center.
It's a matchup that has been a rivalry in name only over the past several years. Chivas hasn't beaten its cross-hall rivals in more than three years. And it's a contest to which Fraser is brand new given that Chivas didn't exist when he played for the Galaxy in the early years of MLS. But the Chivas manager is doing what he can to prevent emotions from creeping too much into his side's preparations. They've gotten this far by concentrating on the task at hand, and Fraser would like to keep it that way.
"It's a big thing for the fans, but for us, we're really focused on where we're trying to get to, and we're really focused on improving every week," he said. "We come out of the New York game thinking we didn't do some things so well, and it's an opportunity to get better. I don't mean to take away from the importance of this game, but for me, I think the big picture is that we're trying to get better and we're trying to build a team that's going to be a very good team at the end of the day."
At this rate, it might not take that long.
[+] Enlarge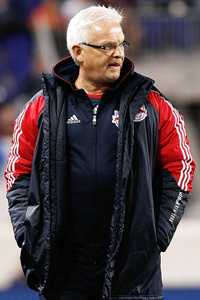 Mike Stobe/Getty Images/New York Red BullsNew York's manager Hans Backe says that MLS isn't physical, but New England's Benny Feilhaber disagrees.
Physical, or not physical? New York Red Bulls manager Hans Backe raised some eyebrows last week with his comments that MLS was "not that physical," even going so far as to call the league's physical reputation "a myth." This makes the perspective of New England Revolution midfielder Benny Feilhaber -- who arrived in MLS after six years playing in Germany, England, and Denmark -- all the more interesting. Granted, the perception of physicality is often a matter of degree, but after four games, Feilhaber feels the league's reputation is well-earned.
"It's not as physical as the Premier League, but it's very physical compared to Denmark," said Feilhaber about MLS. "The Bundesliga is a physical league, but it's not as physical and as quick as MLS. It becomes a more high-paced league when the game is played so up-and-down. Germany is not played like that, and Denmark is not played like that. It's more tactical and more methodical. It's a quicker pace here and definitely guys get in on tough tackles and whatnot."
Feilhaber has certainly received his share of attention so far. The U.S. international has already been on the receiving end of 16 fouls, good enough to place him in a tie for 17th league-wide. Yet in terms of fouls suffered per game, Feilhaber is the clear leader with a mark of four per contest. Then again, when this number was brought to Feilhaber's attention, he sounded genuinely surprised.
"I don't notice [the fouls] too much," he said via telephone. "A lot of the fouls I get aren't hacks. Usually when I'm about to lose the ball, I just put my body in the way and get a foul out of it. But I don't think people are going in dirty on me or anything like that. It's a physical league, and that's going to happen, but it's something that I'm used to happening. I take it in stride."
Adjustments pay off in Dallas: When David Ferreira went down with a broken ankle last month, it seemed like FC Dallas' season would go down with him. After all, last year's MLS Cup finalist had struggled in the early going, and without its offensive catalyst, it was difficult to see how the team would survive.
But full credit must go to FCD manager Schellas Hyndman. After a few weeks of trying to persist with the 4-1-4-1 formation in which Ferreira thrived, Hyndman concluded that a switch to a 4-4-2 was the way forward. This involved sliding midfielder Andrew Jacobson alongside Daniel Hernandez, and pairing Fabian Castillo and Marvin Chavez up top.
"I think Jacobson is a much better attacking central midfielder than people give him credit for," said Hyndman. "I think people always look at his size and his strength in the air and his tackles and see a holding midfielder. But he's got a good engine, he covers quite a bit of ground, he's got connecting ability with his passes."
As for the two forwards, the good news is that their athleticism has put immense pressure on opposition defenses. The bad news is that the pair's youthful exuberance has sometimes gotten the better of them.
"You're dealing with two players who are always trying to make that killer pass and that killer movement," said Hyndman. "We've got to get them to be more patient. We give away a lot of balls in the attacking third because they play with such tremendous speed. It's no different than driving a car. You can be pretty safe at 60 mph making decisions, but if you're going 100 mph, the decisions sometimes aren't the best. So we're trying to fine-tune it down a bit."
ESPN FC on Twitter
Don't miss a moment of the latest soccer coverage from around the world. Follow us on Twitter and stay informed. Join »
Given the results, Hyndman won't be complaining too much. With wins last week over Toronto and Philadelphia, FCD's record since Ferreira went down is an impressive 4-0-1.
Vancouver still struggling: Success for an expansion team often revolves around depth. How much can be accumulated? How well can injuries and suspensions be managed? And how forgiving is the schedule?
Take one look at Vancouver's 1-5-5 league record, and it's clear that the Whitecaps have struggled to answer all of these questions. Including Wednesday's 1-1 tie against Toronto FC in the Nutrilite Championship -- the qualifying tournament that determines the Canadian participant in the CONCACAF Champions League -- Vancouver will have played seven games in 22 days. Combined with a thin roster, it explains why the Whitecaps haven't won in league play since the opening day of the season.
"It's very much down to personnel," said Vancouver manager Teitur Thordarson. "We lost Atiba Harris quite early to knee surgery, and he was quite important to us, he was extremely good in the beginning of the season, scoring goals and opening up [space] for others. Then we lost Eric Hassli out on different occasions; he hasn't been playing much. And then additionally we have had a bit of a struggle with Camilo and his physical fitness. He came in very late and with so many games in a short period of time, he just couldn't cope with that."
Thordarson responded by fielding a starting lineup without the likes of Camilo as well as midfielders Terry Dunfield and Davide Chiumiento last week against New England. And while the team was competitive, it couldn't prevent a 1-0 defeat.
"For us, I feel we have definitely proven to ourselves that we can do quite OK in this league," said Thordarson. "The games we've played so far, we've never been outplayed. We had one bad game and that was in Houston, but there was also a reason for that. It was our third game in six days."
Vancouver's schedule won't ease up until mid-June, and Thordarson knows his team will need to find some way to get better results soon. Otherwise, the hole they have dug for themselves will become unmanageable.
Jeff Carlisle covers MLS and the U.S. national team for ESPN.com. He is also the author of "Soccer's Most Wanted II: The Top 10 Book of More Glorious Goals, Superb Saves and Fantastic Free-Kicks." He can be reached at eljefe1@yahoo.com.
Soccer
Jeff Carlisle covers MLS and the U.S. national team for ESPN FC.