Commentary
Freddy Adu among U.S. roster surprises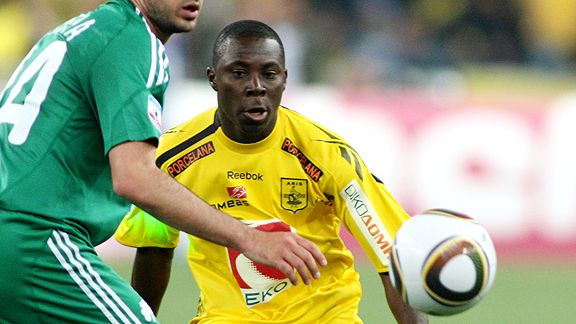 AP Photo/Thanassis StavrakisFreddy Adu, seen here playing for Aris Thessaloniki in 2010, has been given another chance to prove himself on the international stage.
Roster announcements for international tournaments can usually be filed under the heading of "anticlimax." The vast majority of roster spots, especially at the top end, are wrapped up, meaning surprises are typically kept to a minimum. Not so with the U.S. roster for the Gold Cup, with Monday's announcement of the 23-man roster containing an inordinate number of stunners.
Granted, the usual suspects -- a group that includes the likes of Tim Howard, Landon Donovan and Clint Dempsey -- were all present. Yet it was hard to take your eyes off some of the unexpected names, the biggest being Freddy Adu. Adu had taken up permanent residence in the where-are-they-now file, otherwise known as the Turkish second division, but to the player's credit, he has actually been getting playing time for club side Caykur Rizespor, helping his team reach the semifinals of the league's promotion playoffs. That was enough in U.S. manager Bob Bradley's mind to give him his first international call-up since 2009.
ESPN FC on Twitter
Don't miss a moment of the latest soccer coverage from around the world. Follow us on Twitter and stay informed. Join »
"[Adu] is a player that certainly we all know, at different times, has shown some soccer abilities that are special," Bradley said on a conference call with reporters. "He hasn't always been able to make them count in different situations at different levels. But we respect the fact that he made this move to go to a smaller club because he had to show people he was willing to do whatever to keep going.
"As a coaching staff we've discussed it," Bradley continued, "and we're looking forward now to seeing … how he's handling things, a maturity, a way that tells us that his experiences along the way have been measured, and he understands how all of it needs to come together to continue to move along, whether that's with a club team or national team."
Adu wasn't alone in coming in from the international wilderness, and he had some competition for biggest head-scratcher, as well. Robbie Rogers, who hasn't exactly dazzled for a couple of seasons now with the Columbus Crew, somehow was chosen over in-form midfielder Alejandro Bedoya. Rogers' ability to run at players has long made him a player to watch in MLS, but his lack of effectiveness made him seem like a long shot to be picked. Bedoya, on the other hand, has already scored four goals this season for Swedish club Orebro. But Bradley clearly sees something different.
"In some cases you have to make tough decisions on guys who fit in the same category, and in this particular case decisions went in favor of some other players," he said.
The selection of San Jose Earthquakes forward Chris Wondolowski was a bit easier to understand. Quite simply, he remains one of the most lethal finishers in MLS, and on a squad that has struggled mightily in front of goal, he could make for an ideal supersub late in matches. That said, it remains to be seen if the U.S. will miss the size and strength of Sporting Kansas City forward Teal Bunbury. Granted, Bunbury hasn't enjoyed the brightest start to the season, but Jozy Altidore's play with his back to goal hasn't always impressed, and it would seem that this is one area where Bunbury would help.
Charlie Davies' untimely hamstring injury put an end to his hopes of inclusion, although Bradley indicated that he was unlikely to be chosen even if he was healthy.
"We've certainly seen a lot of progress [from Davies] since the start of the MLS season," Bradley said. "We're excited about that … but it's tricky, because you look at strikers and you want to see goals, and obviously he's done well to convert in some goal-scoring situations. But in terms of his all-around contribution to the team, I think he's still working his way back."
The biggest disappointment? That has to be the exclusion of right back Timothy Chandler, who impressed in friendlies against Argentina and Paraguay back in March, and has been in good form for club side Nuremberg. Bradley cited "fatigue" as the primary factor in not bringing Chandler into the squad, but the defender has only been a starter for the club since the beginning of 2011. And at 21 years old, fatigue would seem to be the least of his problems.
Chandler's omission has led to concern that he might be rethinking his international allegiance. The fact he has appeared only in friendlies for the U.S. means that he can still file a one-time switch to his native Germany. With the sheer quality present in Germany's pool of players, this seems like a long shot, but given how the likes of Giuseppe Rossi and Neven Subotic opted to represent countries other than the U.S., concern over a possible Chandler defection touches a raw nerve in U.S. soccer circles. But Bradley attempted to play down any worries.
"The way it works these days, until a player plays in an official match, you don't know for sure," Bradley said. "But in all of our conversations with Timmy, he's always expressed how excited he is to have played for the U.S., and we feel that there has been a good level of discussion and follow-up with him. It's all with the idea that he's going to continue to play a role for us."
But even if Chandler remains committed to the U.S. cause, his exclusion seems to be a missed opportunity to continue the process of revamping the back line. Granted, the presence of young guns Tim Ream and Eric Lichaj will help that progression along, and incumbent right back Steve Cherundolo has shown few signs of slowing down. But with Cherundolo and Carlos Bocanegra already on the wrong side of 30, Bradley needs to take advantage of every chance to find potential replacements.
Still, the number of surprises has shown a willingness on Bradley's part to think outside of the box. The fact remains that after Donovan, Dempsey and the injured Stuart Holden, there is little in the way of proven attacking talent. If Adu can impress, perhaps the U.S. will enjoy the kind of Gold Cup ending it had four years ago when the Stars and Stripes won the regional crown.
Jeff Carlisle covers MLS and the U.S. national team for ESPN.com. He is also the author of "Soccer's Most Wanted II: The Top 10 Book of More Glorious Goals, Superb Saves and Fantastic Free-Kicks." He can be reached at eljefe1@yahoo.com.
U.S. soccer correspondent
Jeff Carlisle covers MLS and the U.S. national team for ESPN FC.