Commentary
Red Bulls cope with Gold Cup losses
During the first two months of the MLS season, both the style and substance of the New York Red Bulls' starting XI earned plaudits. With the Gold Cup set to begin on June 5, the rest of the league is about to find out whether New York's supporting cast is worthy of similar accolades.
The rosters for the various Gold Cup participants were announced on Monday, and 32 MLS players were selected. But it's been known for months that New York would be hit harder than any other team in the league, with Sporting Kansas City and Real Salt Lake tied for second. All told, the Red Bulls will be without five players -- Dwayne De Rosario, Dane Richards, Rafa Marquez, Tim Ream and Juan Agudelo. Richards has already left to join up with Jamaica, while Marquez will depart to meet up with Mexico after Wednesday's match against Colorado. The remaining players will leave after Saturday's game against the Vancouver Whitecaps.
Yet there's more concern for New York. Defender Chris Albright underwent hernia surgery on Tuesday, and midfielder Carl Robinson has been battling a troublesome knee injury that manager Hans Backe expects will keep him out for all of June, if not longer.
These developments, both expected and unexpected, have left Backe scrambling to reconstruct his back line. The manager indicated that Carlos Mendes and Stephen Keel likely will man the two central spots in place of Marquez and Ream, and with Jan Gunnar Solli possibly sliding into midfield to take Richards' spot, it could be up to academy product Matt Kassel to play right back. Backe said the preparations have already begun, giving him some hope that his team will survive the departures.
"We've started already, with the Monday session, working on the defending shape," Backe said. "Every training we are just preparing those [guys]. We've played so many games that you can't have those tough sessions. After the Vancouver game, starting next Monday, we just need to work with the back four and the midfield together to just be as solid defensively as possible."
Perhaps a bigger concern is New York's offense. Marquez and Ream are often counted on to initiate the attack, something that likely will have to change with both Mendes and Keel in the lineup. Whether this results in midfielder Teemu Tainio dropping deeper -- if that's even possible -- to provide an outlet remains to be seen. The fact that the rest of the midfield -- a group that includes Joel Lindpere, Mehdi Ballouchy and perhaps Solli -- is composed of players who have seen significant minutes this season may allow New York to have enough possession to shield the less experienced elements in the back. Yet they'll also need to mesh with the replacements quickly.
"You have to work with a foundation," Backe said. "The tactical work has given us as much confidence as possible. I'm absolutely sure that if we get the midfield and the back four together, defending well, I think we can surprise."
That will require New York to stay healthy, something that has proved difficult for designated player Thierry Henry, who missed this past weekend's game against Houston with an ailing knee.
"Just one injury on these guys, and we are in deep trouble," Backe said. "We just have to try and pick up some points and defend well."
The scenario might not result in praise being showered on New York from around the league, but it certainly would be enough to satisfy its manager.
ESPN FC on Twitter
Don't miss a moment of the latest soccer coverage from around the world. Follow us on Twitter and stay informed. Join »
Hits keep coming in K.C.: Even if the Red Bulls struggle, they won't garner much sympathy. With 16 points from its first 10 games, New York has likely done enough to weather any dip in form.
Sporting Kansas City is a different matter. It seems almost cruel that a team forced to play its first 10 games on the road is actually among the harder-hit teams in terms of Gold Cup absences. Kansas City, which is mired in a five-game losing streak in league play, will lose four players. And while defender Roger Espinoza is the only one in that group who has been a consistent starter, the departures sure don't help.
On top of that, Kei Kamara has been called up by Sierra Leone to participate in an African Cup of Nations qualifier on June 4, which will see him miss a minimum of one game.
Yet some help is on the way. Ryan Smith, Luke Sassano and Omar Bravo all recently returned to action after significant injuries. Manager Peter Vermes is hoping this development will help SKC snag some results before the team's home opener on June 9.
[+] Enlarge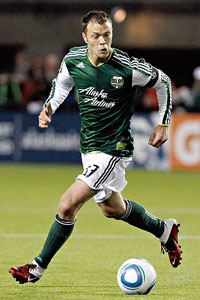 Jonathan Ferrey/Getty ImagesSKC's loss of Jack Jewsbury has been Portland Timbers' gain.
"These are guys who haven't been 90 minutes fit, and we've been having to push the envelope with them to just get them back," Vermes said. "It hasn't been easy, but those are impact players for us. So from that point of view it has been difficult, but those guys are starting to get onto the field, and the team is starting to look different already."
That was especially true during last weekend's 1-0 loss to Seattle. Although SKC fell in heartbreaking fashion to Jeff Parke's stoppage-time winner, defensively the team looked more composed than it has in weeks. The team also caught something of a break when forward Teal Bunbury was unexpectedly left off the U.S. roster. But Kansas City will still rely on some young players to fill the void, especially in terms of who replaces Espinoza at left back. Korede Aiyegbusi, Scott Lorenz, and newly signed defender Seth Sinovic are among the candidates.
"The thing about our league is that the rosters are bigger now, and the players that are there are going to have to step up and make an impact," Vermes said. "It's not easy because we still have two more games on the road, but I think we're coming out of it, I really do."
Jewsbury finds a home in Portland: The brutal irony of Kansas City's predicament can be found in one player it let get away. Halfway through SKC's preseason, the team's brass made it clear to Jack Jewsbury that he had slid far down the midfield pecking order. The nine-year veteran intimated that he wouldn't be averse to moving on.
"I had a decent conversation with them about that, and I was pretty blunt about it," Jewsbury said. "I said if I'm not going to be a big part moving forward, then I feel I can be that part somewhere else. Two weeks later, I ended up in Portland. I appreciate from their standpoint that if they didn't see me in a big role, that they at least gave me the opportunity to go somewhere else."
To say the Timbers can barely believe their luck would be the height of understatement. Ten games into his Portland tenure, Jewsbury's two goals and five assists have equaled his output for his past two seasons in Kansas City combined, and the leadership he's provided helped the Timbers overcome some rough road outings early in the campaign.
The Damage Done
While Jack Jewsbury has been enjoying a scintillating start to the season, earlier this week his thoughts were firmly fixed on his hometown of Joplin, Mo., which was the site of a devastating tornado that at last count had claimed 122 lives. Fortunately for Jewsbury, all his relatives are safe, although they suffered some significant property damage.
"I have an aunt and uncle who lost their home," he said. "I have a cousin who's engaged. She lost her home, and both her vehicles were destroyed. Another uncle, his business just has the concrete slab left. So quite a few people, they were safe, but they lost some things."
Both Jewsbury's current and previous club will be drumming up support for relief efforts. The Timbers are working with the Red Cross to collect donations for disaster relief and representatives from the Red Cross will also be on-hand to collect donations at Jeld-Wen Field on Sunday as the Timbers host D.C. United.
Sporting Kansas City will collect monetary donations at Wednesday's U.S. Open Cup qualifier against New England. Individuals who contribute money will be entered to win two Field Side Reserve tickets, a $250 value, to the Livestrong Sporting Park home opener on June 9 for every $10 given toward the cause. All funds raised will go to four Midwest Select Soccer families in Joplin who lost their homes in the disaster.
Fans can also text REDCROSS to 90999 to donate $10 to help with the effort. --Carlisle
So what's been the big difference? A clearly defined role has helped. In Kansas City, Jewsbury bounced around from right back to right midfield to holding midfielder. In Portland, he has been used exclusively in the center of midfield, with a license to get forward while also taking most of the team's set pieces. In the process, the attacking instincts he honed as a youth have been allowed to flourish.
"I've always been an attacking player," Jewsbury said. "In high school and even in youth soccer, I grew up as a forward. And my first three years at Saint Louis University I was a forward, a goal scorer. Now I'm just trying to get chances and create chances for other people, and obviously in that role, that's the [job] description."
He also has settled seamlessly into an expansion side, assuming the role of captain almost from the moment he arrived.
"When I first got here, I met with Gavin Wilkinson and John Spencer, and they basically described the responsibilities they had for me, and the ideas in terms of the leadership role that they wanted to fit into," Jewsbury said. "I knew quite a few of the guys here already from having played in the league. I played with Ryan Pore in Kansas City for a quite a few years, and he was definitely a guy who was looked up to in the group. So knowing him and knowing a few other guys made the transition a bit easier."
With another new arrival, Diego Chara, helping Jewsbury do the heavy lifting in midfield, Portland's prospects are bright. And while Jewsbury has been around long enough to know the good times won't last forever, the way the Timbers have been built has him convinced there will be more ups than downs.
"We realize our strengths, in that we're a team that's going to work hard, fight for each other, and have that blue-collar mentality," he said. "We realize that in MLS, it's not always going to be the perfect soccer, it's not always going to be pretty. The standard for good teams is even when you're not playing great, you still have that battle and that fight within the group to pull out results. I think we're still learning to do that, but we're definitely going in the right direction."
Jeff Carlisle covers MLS and the U.S. national team for ESPN.com. He is also the author of "Soccer's Most Wanted II: The Top 10 Book of More Glorious Goals, Superb Saves and Fantastic Free-Kicks." He can be reached at eljefe1@yahoo.com.
U.S. soccer correspondent
Jeff Carlisle covers MLS and the U.S. national team for ESPN FC.