Commentary
Inside the mind of Christie Rampone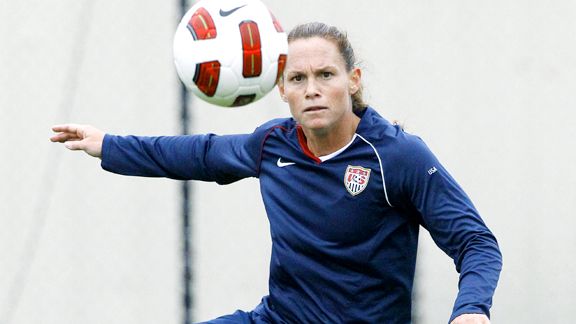 AP Photo/Charles Rex ArbogastU.S. international Christie Rampone tells us all about running a defense -- and psyching out Marta, too.
There's a school of thought that says when it comes to big competitions, experience is overrated. Young players don't know enough to be nervous or wracked with self-doubt, and the novelty of the occasion means they'll be freer to play their game. Or so the thinking goes.
The reality, of course, is that while there's a spot for youthful exuberance, there's also a need for wise, veteran heads. For the U.S. women's national team, that's where Christie Rampone comes in. The veteran defender is the lone holdover from the 1999 squad that claimed that year's World Cup, the last U.S. team to do so. Yet Rampone's role goes beyond just settling the nerves of the newbies. She's also counted on to organize the team's defense as it faces the best forwards in the world.
So what precisely is Rampone's approach in those moments? What are the tactics and the mind games? Rampone was kind enough to share some insight with ESPN.com on those very topics.
ESPN: What aspect of the game grabs you the most? Is it a tackle, is it organizing the team so it never gets to that point?
Christie Rampone: Just shutting down the top forwards consistently throughout the game. It's not like one play usually gets me going. It's having that feeling where we're controlling the game as defenders and communicating. That's when the enjoyment comes out of it for me. It's just like, 'Wow, we're dictating right now.' That comes from the communication right from the start from our backs, and knowing that our center mids can do what they want because I have them in great position, and staying connected with them and staying connected with my goalkeeper. Knowing that you have that complete bond makes the win that much more special, shutting down those forwards. There's nothing better than that.
ESPN: Along those lines, how do you contain a player like Marta?
CR: Marta's exceptional, so the more I can get her to go into midfield to grab the ball, I'm feeling like I'm winning the battle there. And keep frustrating her, making her try to take half chances, shooting from farther out, putting her on her right foot and making her try to keep going back to her left foot. She wants to play with me, but at the same time I want to get into her head. But you need your team to help you with that. She's going to try to beat one [player], and you have to make sure someone else is right there. That's where I love playing as a team, because there's the cover, the pressure, the balance and the drop. To see a player get frustrated and almost stop playing her game, or when she goes into the midfield, we know she's having to work too hard away from the goal.
ESPN: Your teammate, Rachel Buehler, was talking about how you almost mess with the opposing forwards by moving the defensive line up, then moving it back. Talk about what you see to take that approach.
CR: It's cat and mouse. You see fatigue sometimes in forwards, where they're not working as hard. If they make a hard run where they feel like they got something out of it -- maybe they got a shot off -- if they're feeling confident, I'm going to pull that line up so that they have to recover real fast, come with us, and if not they'll just be offside. Maybe even saying, 'Step real hard,' where we know it's two quick steps, where they're thinking we're really driving [up field], it's mentally fatiguing them. They're constantly having to work with our line more than worrying about their runs. It works with some, it doesn't work with others, but it's finding out who you're playing against and who doesn't like it.
ESPN FC on Twitter
Don't miss a moment of the latest soccer coverage from around the world. Follow us on Twitter and stay informed. Join »
Forwards dictate their runs, and forwards want to get behind [the defense]. If it's a straight run, I'll try to hold them off and frustrate them that way. 'Hey, we're a good back line you have to bend that run.' It's always just trying to get an inch so they have to work to come back and then go forward. And then dropping off when they think they have space behind when in fact the space for them is in front. You're constantly moving the line so they're worrying more about us than their runs.
And it's fun [laughs]. When the back line is on the same page, it's a lot of fun moving that line up, because people don't realize it's just a step here or a step there. Especially, I'd say more the lazier forwards that are really good in the attack but don't like to defend, you want to get up. And it gives our attack more space and our midfielders more time on the ball, so it's less running for them.
ESPN: Are there any forwards in particular who are good at combating that tactic?
CR: The forwards on Sweden and Norway will battle with that line and come back and forth. I'd say more the dominant forwards like Marta, and [Canada's Christine] Sinclair, they don't really like to deal with the line. Sometimes even when I get Amy Rodriguez, when I play against her in WPS, she's like 'Aw, you gotta move the line on me?' I'm like, 'Yep, let's go!' It's fun and it's part of the game, and you always want to get in the forwards' heads to get them out of the game whatever way you can do it.
And you can realize from the beginning what mental state they're in; if they're trying to take you one-on-one a lot, or if they're trying to combine to get in. Marta likes to play the ball wide a lot to get these fancy runs to get in behind. You're kind of reading early what kind of runs they're going to look at -- near post, far post -- and you try to be one step ahead of them.
ESPN: Is there a lot of trash talk?
CR: No, I never trash talk. I'd rather show with my play and frustrate them that way. That's the thing about emotion, if there's too much trash talking and emotion gets involved, sometimes you aren't focused completely on the game. Especially as a defender, I'd say you're more mentally drained after a game than physically drained. If you're not mentally drained, then you're not communicating the whole time, you're not focusing on the game. I feel more drained that way than physically.
ESPN: How has your game evolved over the years? Has it become more cerebral, more reading and anticipating?
CR: Yes, especially as a center back. I was an outside back for so long, and then when Pia [Sundhage] took over she moved me to the center. It's just reading the game, footwork, communicating. I think my role is more communicating, organizing, and then sweeping up anything that comes along with my speed. Then it's just trying to come and stay composed on offense and try to set play through the back.
Jeff Carlisle covers MLS and the U.S. national team for ESPN.com. He is also the author of "Soccer's Most Wanted II: The Top 10 Book of More Glorious Goals, Superb Saves and Fantastic Free-Kicks." He can be reached at eljefe1@yahoo.com.
U.S. soccer correspondent
Jeff Carlisle covers MLS and the U.S. national team for ESPN FC.