Commentary
Grading U.S. win over Guadeloupe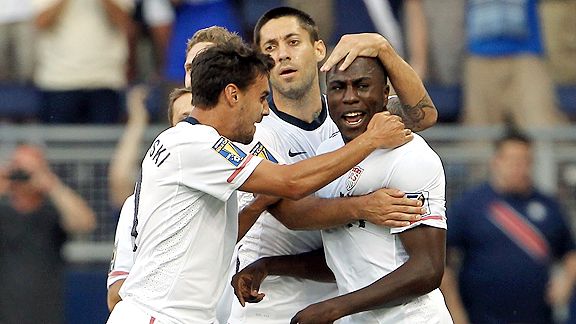 Jamie Squire/Getty ImagesThe U.S. beat Guadeloupe 1-0, thanks to a Jozy Altidore goal, to finish second in Group C and reach the Gold Cup quarterfinals. The Americans will face Jamaica Sunday.
The U.S. men's national team can breathe easy again. Sort of.
After Saturday's stunning upset loss to Panama, the U.S. rebounded -- to a degree -- by defeating Guadeloupe, 1-0, courtesy of Jozy Altidore's 25-yard piledriver in the first half. In the process, the Americans secured second place in Group C of the Gold Cup, and now they'll face a red-hot Jamaica side in Sunday's first quarterfinal at RFK Stadium in Washington.
Of course, in the aftermath of the Panama result, there was always going to be more to judging the U.S. performance than the score. When Panama drew with Canada, 1-1, in the evening's first match, it dashed the U.S. hopes of coming back to win the group, but also gave it the knowledge that a draw would be good enough to progress. So the questions centered on whether the Americans would show more fight in defense, more composure on the ball, and deliver the kind of result that would send a message to their Gold Cup competitors.
Well, two out of three is what they had to settle for on this occasion. Without question, the difference in intensity was evident from the opening whistle. Other than a shaky early exchange when a Guadeloupe corner fell invitingly in the penalty box, the U.S. was for the most part dominant. The switch of Carlos Bocanegra into the center of defense added much needed stability in the back. The Americans also showed more urgency on offense, using the flanks effectively to create countless opportunities to score.
Yet to say the Americans failed to convert their chances is akin to saying Mexico forward Javier "Chicharito" Hernandez is halfway decent. While Guadeloupe goalkeeper Franck Grandel delivered a string of impressive saves, the U.S. was also guilty of some shocking misses that bordered on the comical, none more so than Clint Dempsey's blown chance in the 76th minute. Presented with a simple tap-in after being set up brilliantly by Alejandro Bedoya, Dempsey's casual attitude allowed an opposition defender to recover and block his shot.
ESPN FC on Twitter
Don't miss a moment of the latest soccer coverage from around the world. Follow us on Twitter and stay informed. Join »
The U.S. will likely trot out the old, "Well, at least we're creating chances" bromide, but that won't fool anyone. Instead, it will only reinforce the perception that something is missing from the U.S. side in this Gold Cup. Granted, on the one hand, the U.S. can comfort itself by the fact that it has survived the group stage playing far short of its best. And by finishing second as opposed to third, it managed to avoid facing Mexico in the quarterfinals.
On the other hand, the Americans' complete lack of a killer instinct is troubling, as is their tendency to play down to the level of their opposition. And that will simply not be good enough against a Jamaica side that looks to be well-organized and more than athletic enough to compete with the U.S.
On this night, the U.S. will be celebrating survival, and little else.
Player Ratings: (1-10, 10 = best)
G Tim Howard, 5.5 -- Looked shaky when a low corner kick found its way into the box at the start of the game, but was otherwise untroubled on the night. Did better in controlling his area as the match went on, claiming several high crosses.
D Eric Lichaj, 6 -- Struggled a bit with the pace of Livio Nabab, but was very dynamic going forward. Set the table nicely for Donovan with one early foray.
D Carlos Bocanegra, 7 -- His leadership and intensity were evident from the get-go and helped the U.S. get off to a better start. Center back would appear to be his position for the rest of the tournament.
D Clarence Goodson, 6 -- Nice bounce-back performance from the center back, who looked fairly composed.
D Steve Cherundolo, 7 -- Was an absolute menace on the right flank, and delivered some measured crosses into the box. He never stopped running either.
M Landon Donovan, 5.5 -- Was much more involved than in the Panama match, but still seems too content to settle for the pass rather than take a player on. The U.S. needs more variety from his game. He was also among those who couldn't find the back of the net.
M Michael Bradley, 6.5 -- Contributed to the U.S. attack by clipping some sharp passes into wide areas, and generally controlled the tempo. His defense was appropriately aggressive as well. Faded a bit in the second half.
M Jermaine Jones, 6 -- A much improved performance, and while his passes weren't always on target, he had some rugged tackles that helped lock down the midfield. A solid step in the right direction for a player who has been very inconsistent since first donning a U.S. shirt last fall.
M Clint Dempsey, 4 -- He took up some excellent positions and had great looks at goal, but had a nightmare with his finishing. While Grandel stoned him on several occasions, his failure to convert a simple chance in the 76th minute was down to lackadaisical play and nothing more. A shocking display from a normally ruthless player.
F Jozy Altidore, 7 -- When combined with previous spells of ineffectiveness, it is goals like his first half tally that make Altidore such an enigma. That said, on a night when the goals weren't flowing for the U.S., give the man credit for a heck of a strike. Drifted effectively into wide areas as well, and used his strength to good effect.
F Chris Wondolowski, 4 -- For player who is known as a lethal finisher in MLS, he's beginning to earn a reputation as a guy who can't score at the international level, as he squandered several clear chances. Simply put, he needs to get on the scoresheet soon, or his confidence will evaporate.
Subs:
Alejandro Bedoya, 6 -- Showed his usual amount of industry and flair on the left side, and if the U.S. had found the range with its shooting, he might have had an assist or two.
Sacha Kljestan, 5.5 -- With the team beginning to drag, Kljestan helped with his energy. He seems to have settled into the supersub role.
Maurice Edu, NR -- Edu came on late in place of Bradley, who was sitting on a yellow card.
Jeff Carlisle covers MLS and the U.S. national team for ESPN.com. He is also the author of "Soccer's Most Wanted II: The Top 10 Book of More Glorious Goals, Superb Saves and Fantastic Free-Kicks." He can be reached at eljefe1@yahoo.com.
U.S. soccer correspondent
Jeff Carlisle covers MLS and the U.S. national team for ESPN FC.