Commentary
Wambach healthy, hungry for glory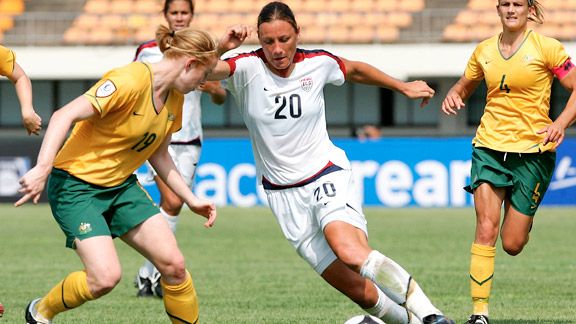 Chung Sung-Jun/Getty ImagesAfter enduring a couple of injury spells in recent years, Abby Wambach will again be a potent weapon in the U.S. team's attack as it pursues a third World Cup title this summer in Germany.
As the U.S. women's national team celebrated its gold medal at the 2008 Summer Olympics, the catharsis taking place within the side was evident. The dysfunction and acrimony that plagued the 2007 World Cup team had washed away. The humiliating loss to Brazil in that tournament's semifinals had been avenged with a 1-0 win in the gold-medal match.
Yet all Abby Wambach could do was watch from afar.
The team's third-ranked all-time leading scorer had broken her leg in a pre-Olympic friendly against Brazil when she collided with defender Andréia Rosa. The Olympic tournament and subsequent celebration went on without her.
Three years later, Wambach admits that missing out on a second gold medal provides its share of motivation, as does the fact that she's never been on a World Cup-winning side -- something she'll hope to change when the Women's World Cup kicks off in Germany on Sunday. Yet it doesn't consume her to the point of obsession. (She even has a sense of humor, as this "SportsCenter" ad reveals.)
"I use those experiences as fuel to fire me up," Wambach said. "But I don't think about them very often because this team is so different; I'm so different. I'm in such a different place than I was four or five years ago."
Foremost among the differences is that Wambach is finally healthy. Although the striker has long since recovered from the broken leg -- she only occasionally feels the screw from the titanium rod when she walks -- she had been bothered for the past six months with Achilles tendinitis. The injury blunted her mobility and trademark leaping ability. Not anymore.
"This is the fittest I've seen her," teammate and goalkeeper Hope Solo said after the team's first send-off game against Japan. "She of all people was struggling getting balls out of the air, [just with] her timing. She's back. Now she's winning every ball in the air, and she's going to be huge for us in Germany."
Wambach's return to health comes at the perfect time. Granted, the U.S. managed to win the gold medal three years ago without her, but it accomplished that feat on the back of some stellar defense as opposed to a scintillating attack. Now, with powerhouse Germany hosting the tournament and Brazil reloading for another run at the title that has eluded it for so long, there is consensus among those both inside and outside the team that Wambach will need to be among the difference-makers if the Americans are to win their first World Cup since 1999. It's a case where the U.S. is a good team without Wambach but potentially a great side with her.
[+] Enlarge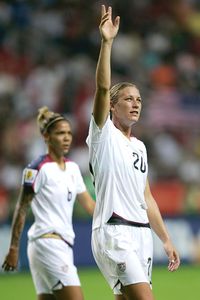 Koepsel/Bongarts/Getty ImagesThe 2011 tournament in Germany will be the third World Cup for Wambach, who had to settle for third place with her U.S. teammates in both 2003 and 2007.
And what team wouldn't be? Wambach has just about every skill you would want in a forward. Her size (5-foot-10) allows teammates to play the ball into her feet knowing she'll keep possession. She is an absolutely lethal finisher with both feet, and her underrated speed gives her the ability to get behind defenses.
Yet her aerial prowess remains her biggest asset, one that can flat-out intimidate opposing goalkeepers and defenders.
"There is no woman in the world right now that can head as well as Wambach can," said University of North Carolina women's head coach Anson Dorrance, who led the U.S. to the inaugural Women's World Cup title in 1991. "What this does is it puts every team in the world in a very vulnerable position on any set piece. You can't mark the sky. That's where she lives. If the ball is up there, she's going to go get it, and no one else is going to be up there with her. With her in the lineup, we become more formidable, more consistently dangerous."
But there have been other challenges for Wambach besides her health, the biggest one being her adjustment to a more possession-based style of play instituted by head coach Pia Sundhage. The U.S. has long implemented a predominantly direct approach that bypassed the midfield, and with Wambach leading the forward line, she feasted on the long balls sent to her in the run of play along with offerings from set pieces.
Sundhage now stresses playing the ball through midfielders Carli Lloyd and Shannon Boxx, who in turn try to funnel the play to Megan Rapinoe and Heather O'Reilly on the flanks. This isn't to say that Wambach can't involve herself in the buildup, but now it's in a different way. She spends more of the game playing with her back to the goal, and although she clearly has the size and strength to fulfill that role, it represents something of a departure from the way she's been used in the past.
"

I'm a goal scorer, baby. I love scoring goals, and that's who I am. … But I've realized and learned that there are some other players on this team that can score goals as well.

"

-- Abby Wambach on the U.S.'s new possession-based game
The adjustment hasn't been easy for Wambach. Sundhage said in an email that there's been an "ongoing learning curve, to be on the same page on the field," not only for Wambach but the rest of the side as well.
"It actually doesn't suit my style, because I like to get the ball all the time," Wambach said of the team's change in tactical emphasis. "That's something when Pia got on board, she was really trying to get me to understand. When you get your chance, you have to take it, because you're not going to get tons of chances like you're used to. That was hard for me to understand or feel because I want to be part of the game.
"But with a possession style of play, you're involved much less because the midfield and the backs usually keep possession. The life of a forward isn't easy, and it's even harder in a Barcelona style because the possession is so important, building up from the backs to the midfield. If it breaks down we don't get our chance, so we have to really be on our toes and prepared for the chances that we do get."
Yet Wambach insists that she's more than willing to sacrifice her personal game for the improvement of the team. And there are some elements of Sundhage's approach that suit her star forward. Wambach said, "I know that I play best when I play for other people." Back in 2003, when she was first breaking into a national team that still contained such legendary players as Mia Hamm, Julie Foudy and Kristine Lilly, Wambach's aim was to try to win one last title for the veterans.
Now it's about knowing that the goal-scoring responsibility isn't hers alone, especially with players like Lloyd and O'Reilly chipping in from midfield. So is she happier operating in a system in which she's called upon to set up teammates as often as she goes to goal herself?
"I wouldn't say happier," she said with a laugh. "I'm a goal scorer, baby. I love scoring goals, and that's who I am and that's who I've always been. But I've realized and learned that there are some other players on this team that can score goals as well. It's not that back then I didn't think other players could, but I just took the responsibility to be the one person that did it. Right now, I think it's better for the team as a whole if we've got multiple dangerous threats going at goal, because then it's harder to defend and it makes us all more successful in the end."
If her performance in the team's three send-off games is any indication, Wambach appears to have adapted well. Her movements looked sharp, and her willingness to combine with striker partner Amy Rodriguez was evident. Her trademark intensity was on display as well, even if after eight years in the national team setup, it can still be off-putting to her teammates.
ESPN FC on Twitter
Don't miss a moment of the latest soccer coverage from around the world. Follow us on Twitter and stay informed. Join »
"I know that I am an emotional person," Wambach said. "Sometimes it gets the best of me because it comes out in ways that maybe some other players don't understand. They can get a little rattled. I'm so intense … and if you've been on this team long enough, you just know that that's the way I am. That's just part of knowing each other. Everyone has their level of intensity, and it's been building for their whole lives, I suppose."
So has her desire to be a World Cup winner. One paradox about the U.S. team is that despite being the reigning Olympic champion and the current No. 1 ranked team in the world, there's a sense that the Americans' foothold on the women's soccer summit is tenuous. Three losses in the past six months -- to Mexico, Sweden and England -- have only reinforced the perception that the tournament is Germany's to lose. That sentiment hasn't gone unnoticed by Wambach.
"We want to define this team," Wambach said. "Obviously, everybody knows the 1999 World Cup-winning team. We want to show the world that this team is, in fact, great still, and we still are capable of winning world championships."
If the U.S. is successful, you can bet that Wambach will be in the middle of things, especially the celebration at the end.
Jeff Carlisle covers MLS and the U.S. national team for ESPN.com. He is also the author of "Soccer's Most Wanted II: The Top 10 Book of More Glorious Goals, Superb Saves and Fantastic Free-Kicks." He can be reached at eljefe1@yahoo.com.
Soccer
Jeff Carlisle covers MLS and the U.S. national team for ESPN FC.