Commentary
U.S. looks for payback against Panama
HOUSTON -- When Landon Donovan was around 8 years old, he received his first benching. It wasn't by his head coach, or an irate assistant, but by his mother, Donna Kenney-Cash. It turns out that Donovan had gotten into a bit of trouble at school and his mother decided to not only keep him out of the match, but force him to watch the game from the sidelines.
In the aftermath of his sitting out the first 65 minutes of Sunday's Gold Cup quarterfinal against Jamaica, Donovan was reminded of that experience.
"Now every time I sit on the sideline and watch, it gives me some newfound energy," he said at a news conference on Tuesday. Of course, this time it wasn't punishment. Donovan had the permission of head coach Bob Bradley to attend his sister's wedding on the West Coast, and he didn't get back to Washington, D.C., until 7 a.m. on game day. But riding the bench still had the same effect. "It kind of gets that hunger going, which is good once in a while, for sure," Donovan said.
[+] Enlarge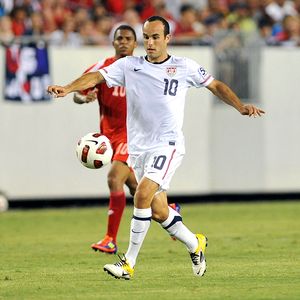 Al Messerschmidt/Getty ImagesIt hasn't been the best of Gold Cups for Landon Donovan, but he should be rested and ready for the rematch against Panama.
His teammates will no doubt concur, although they'll be hungry for a different reason as they head into Wednesday's Gold Cup semifinal against Panama. Rare are the times when the opportunity for payback appears so swiftly. During the group stage, Panama deservedly prevailed over the U.S., 2-1. Now the Americans have a chance to avenge their defeat to the Canaleros and advance to Saturday's final.
"To have another opportunity to redeem ourselves is nice, but that doesn't guarantee anything," said Donovan. "They're going to come into the game confident. They've played us well over the years, and now they've beaten us. … I expect a really good game [Wednesday] night."
As such, the Americans will be intent on proving that they learned some hard lessons from that defeat on June 11. The biggest of these is that the U.S. must be aggressive in closing down its opponents, especially in midfield. Part of the problem was that Panama often counterattacked with five players marauding deep into the U.S. half. This created enough confusion in the U.S. defense to allow Panama's central midfield duo of Gabriel Gomez and Amilcar Henriquez enough time on the ball to lay passes into front-runners Blas Perez and Luis Tejada.
"[Panama's attack] was spread out, so [our] midfielders couldn't really go and drop [deep], and they couldn't step up, so it was a little bit in between," said defender Carlos Bocanegra. "We need to do a better job organizing and [the midfielders] can get closer to people."
That will allow the U.S. to not only disrupt the Canaleros' attacking rhythm, but it will also help shield the home side's back line. The Americans will catch something of a break given that Perez is suspended for the semifinal because of the red card he received in the Canaleros' quarterfinal defeat of El Salvador. But Panama can still threaten through the pace of flank midfielder Armando Cooper as well as the crafty play of Nelson Barahona on the opposite wing.
For that reason, don't be surprised to see the U.S. continue with the 4-5-1 formation that was so successful against Jamaica. On Sunday, the Americans' numerical advantage in midfield allowed them to stifle the pace and athleticism of the Reggae Boyz, and that same approach could come in handy against Panama.
But there are plenty of reasons to persist with the approach besides strength in numbers. The fact that Jozy Altidore is out with a strained right hamstring practically demands that Bradley go with five in midfield, since there are scant forward reinforcements on the bench. That will probably leave Juan Agudelo to man the lone striker position up top, although to be effective, he'll need plenty of help.
"In an ideal world, when you get good movement, the forward is not alone that often," said Bradley. "But there are still ways [in which] other people are moving quickly when necessary to join in and be available so that you aren't just leaving him stranded. One of the things that becomes key to make that happen is you need to be able to move the ball well. If it's a day when you're under pressure, and you've got a lot of guys back, and now when you get the ball you're pressed right away and all you can do is play it up to the forward, he's going to feel like he's on his own. But if it's a day where as a team, you're good with the ball, then there are times when it doesn't really look like one forward."
ESPN FC on Twitter
Don't miss a moment of the latest soccer coverage from around the world. Follow us on Twitter and stay informed. Join »
The play of Sacha Kljestan could loom large. The Anderlecht midfielder looked sharp in a more attack-minded midfield role against Jamaica, and his improved defensive play could ease the burden on Michael Bradley and Jermaine Jones, as well the defenders just behind them.
"In that position, you're kind of responsible at some points when you're going to press to step up to a center back, and at some points you're trying to watch their defensive midfielder and trying to disrupt him from connecting the game for them," said Kljestan.
Then again, no formation will work without solid execution, a point Bob Bradley was keen to stress.
"We've played versions of 4-2-3-1, or if you want to call it 4-5-1, at times," he said. "The key is still that now, with the ball, we're good enough in terms of seeing things quickly, in terms of guys off the ball being in good places, and having options so that now we can find a good rhythm and a flow. I think in terms of the game against Jamaica, we were sharp in that regard, the ball moved very well. That's something, regardless of formation, you're trying to achieve. It was a good performance and hopefully we can build on it."
Given the way Panama frustrated the U.S. in their previous encounter, that sharpness will need to be in abundance on Wednesday, and Donovan figures to be heavily involved on that front. While he hasn't had the best Gold Cup, his experience and vision will be required to break down what is expected to be a resolute Panama defense led by Atlas center back Felipe Baloy. The fact that Donovan will have relatively fresh legs against a side that was taken to penalty kicks in its quarterfinal match doesn't hurt, either.
If the U.S. prevails, Donovan will be free to play in his fourth Gold Cup final. And he won't need his mother's permission, either.
Jeff Carlisle covers MLS and the U.S. national team for ESPN.com. He is also the author of "Soccer's Most Wanted II: The Top 10 Book of More Glorious Goals, Superb Saves and Fantastic Free-Kicks." He can be reached at eljefe1@yahoo.com.
Soccer
Jeff Carlisle covers MLS and the U.S. national team for ESPN FC.