Commentary
Freddy Adu takes his shot at redemption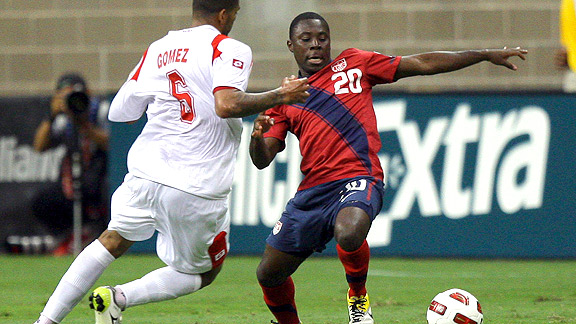 Bob Levey/Getty ImagesHe was the last player you'd have expected to help the U.S. beat Panama in the Gold Cup, but Freddy Adu got his chance and made the most of it.
HOUSTON -- Attacking players are supposed to have a swagger, an almost unshakable confidence that allows them to take the kind of risks that win games. Yet as Freddy Adu addressed the media following the United States' 1-0 victory over Panama in the Gold Cup semifinals Wednesday, the overwhelming impression you got was one of gratitude and humility.
Adu certainly had plenty of reasons to be thankful. After two years in the international wilderness, a period in which his club career had gone completely off the rails, he had been brought back into the national team by U.S. manager Bob Bradley. Adu was determined not to waste his opportunity.
"In a lot of different ways I took it for granted before," said Adu, whose last appearance for the U.S. came during the 2009 Gold Cup. "But when you haven't been here for a while, and you get a chance to be here, you really appreciate just being around the guys and being on the national team."
And most of all, he was appreciative of the fact that he had earned the chance to make a meaningful contribution in a critical game and delivered. With Wednesday's Gold Cup semifinal still scoreless in the latter stages, it was Adu's pass that helped spring Landon Donovan into space. And when Donovan delivered a rocket of a pass that was prodded home by Clint Dempsey, the U.S. had the vital goal it needed to progress to Saturday's Gold Cup final at the Rose Bowl.
Was it the most scintillating pass ever seen in the history of soccer? Far from it. But it was the kind of impactful play that Adu has been aching to make at the international level for years.
"I just wanted to reward the coaches' faith in me," he said afterward. "They've showed a lot of faith in me, they've been guiding me through practice."
The kind of faith needed by Bradley to actually put Adu on the field took a while to develop. The U.S. manager admitted in the postgame news conference that Adu did not start off this latest national team camp well.
"There were a lot of days where it didn't go right," said Bradley. "But you could see over time that it was starting to get better and better. And we feel like when we have a chance to have our group together for three weeks, four weeks, that you see this. That's a good sign. He came in with a good mentality. I think he's matured along the way, and now he earned an opportunity. … We all feel good about that."
ESPN FC on Twitter
Don't miss a moment of the latest soccer coverage from around the world. Follow us on Twitter and stay informed. Join »
It's almost mind-boggling to think that as recently as six months ago, Adu's career seemed to be in a free fall. After what looked to be a promising loan spell with Greek side Aris Thessaloniki, he was cast aside. And not for the first time. Signed by Benfica in 2007, he had been loaned out to AS Monaco in 2008 and Belenenses in 2009.
But being cut loose by Aris was the toughest to take. To boot, Benfica, the club that is paying his salary and had forked out a $2 million transfer fee for him, had no interest in having Adu on its training ground. Faced with an uncertain future, the player who once did a commercial with Pele and turned down European clubs to become the No. 1 pick in the MLS draft had hit the low point of his career.
But he put his head down, trained on his own for two months and in February of this year he landed another loan, this one to Turkish Second Division side Caykur Rizespor, to rebuild his career. On the surface, it looked to be a stunning fall from grace for a player once touted as the Next Big Thing in American soccer (Adu signed with D.C. United as a 14-year-old in 2003, becoming the youngest player to ink a professional contract in more than 100 years in any American pro sport). But the move made the right kind of impression on Bradley.
"When you see a player go to the Second Division in Turkey to keep his career going, that tells you something," said Bradley. "And you could tell that when he got the chance in this camp he appreciated it."
And Adu's renewed focus, which even saw him engage in a self-imposed Twitter ban, put him in a position to make a contribution. The fact that he hadn't played a minute in this edition of the Gold Cup before the semifinals didn't make for the easiest of circumstances. But he managed to rise above it, and the sight of his teammates congratulating him afterward spoke volumes for how pleased they were for him.
"You've always got to be prepared and ready," said Adu. "Some days you get a chance to go in the game, and some days you don't. But when you do get a chance to go in the game, this is your chance, you have to make it count, for you personally, and for the team, because this is where you want to be, representing your country. Today, just the look on everybody's face after the game was just unbelievable."
The journey Adu has traveled is no less incredible.
Jeff Carlisle covers MLS and the U.S. national team for ESPN.com. He is also the author of "Soccer's Most Wanted II: The Top 10 Book of More Glorious Goals, Superb Saves and Fantastic Free-Kicks." He can be reached at eljefe1@yahoo.com.
U.S. soccer correspondent
Jeff Carlisle covers MLS and the U.S. national team for ESPN FC.