Commentary
Tale of the tape: US vs. Mexico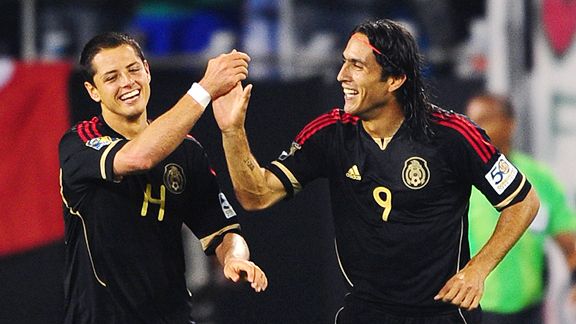 JIM WATSON/AFP/Getty ImagesFor the U.S. to prevail, it'll have to stop two scoring machines, Javier Hernandez and Aldo de Nigris.
It's the Gold Cup final that nearly everyone in CONCACAF's organizational hierarchy wanted. And the one that almost every other team in the tournament didn't. But for the third time in succession, the confederation's two giants, Mexico and the United States, will square off for regional supremacy, with this edition taking place at the Rose Bowl on Saturday.
The paths the two teams have taken could not be more dissimilar. The U.S. looked short of confidence in the group stage, yet has perked up considerably in the knockout rounds. Mexico laid waste to Group A, outscoring its opponents by 13 goals, only to struggle mightily thereafter.
So which team has the edge heading into the final? A position-by-position breakdown will attempt to answer that question.
Goalkeeper: When usual starter Memo Ochoa was suspended for a positive drug test, Mexico was forced to turn to Alfredo Talavera, who had all of one cap entering the tournament. And while he looked indecisive in conceding an early goal to Guatemala's Carlos Ruiz in the quarterfinal, he came up big in the semis, tipping a rasping shot from Honduras midfielder Roger Espinoza over the bar.
Tim Howard had some shaky moments in the group stage, but he's kept clean sheets in his past three games. Howard's fingertip save from Panama's Armando Cooper revealed once again his ability to make the big save despite seeing little activity. His vast tournament experience should come in handy on Saturday as well.
Edge: U.S.
Defense: Ever since manager Bob Bradley moved captain Carlos Bocanegra back into the center of defense, the U.S. has been much more composed in the back, with Clarence Goodson looking solid. As a result, the clean sheets have followed.
[+] Enlarge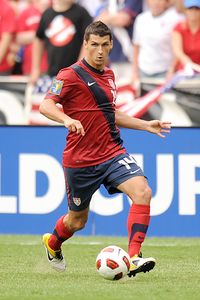 Mitchell Layton/Getty ImagesEric Lichaj has emerged as the most promising left back the U.S. has produced in quite some time.
Eric Lichaj has emerged as the most promising left back the U.S. has produced in a while, and along with Steve Cherundolo on the opposite wing, he'll be counted on to provide width to the U.S. attack. That said, given the form of Mexico's wide midfielders, that ability to get forward could be limited.
Mexico has conceded only two goals in the entire tournament, and one of those was down largely to an individual error from center back Hector Moreno. With El Tri dominating possession in all of their games, the backline hasn't been tested as often as their U.S. counterparts. Yet Rafa Marquez has formed a secure partnership with Moreno, while outside backs Efrain Juarez and Carlos Salcido are capable defenders and dangerous when they get forward.
Edge: Even
Midfield: The big question here is which midfield will El Tri face, the one with Landon Donovan or the one without? The Americans certainly didn't miss Donovan much against Jamaica, but the all-time leading U.S. scorer proved his worth in the semis, hitting a bullet pass through the tiniest of windows to set up Clint Dempsey's game winner.
For that reason, look for Donovan to be on from the start in place of Sacha Kljestan, with Dempsey likely to assume a more central role in Bradley's 4-2-3-1. That will allow the in-form Alejandro Bedoya to keep his place on the right side of midfield, where he has meshed well with Cherundolo's overlapping runs.
In the middle, the U.S. will rely on the pairing of Michael Bradley and Jermaine Jones. Michael Bradley has proven wrong those doubters (ahem) who thought his lack of time at club level would impact his national team performances. Jones, however, has had an up-and-down tournament. Some days his passes are on target, while others go straight to the other team.
ESPN FC on Twitter
Don't miss a moment of the latest soccer coverage from around the world. Follow us on Twitter and stay informed. Join »
Mexico has its share of questions, too. A sprained ankle has cast doubt on Andres Guardado's participation, meaning Giovani dos Santos could slide out wide on the left -- although he has been known to float in and out of position -- with Pablo Barrera providing a classic flank presence on the right wing. Given the quality of Barrera's service, his matchup against the relatively inexperienced Lichaj will be one to watch. In the middle, Gerardo Torrado and Israel Castro will aim to keep El Tri's attack ticking over, while stifling the opposition.
Add it all up, and it's a case of the U.S. midfield getting stronger while Mexico's hasn't quite hit the heights it achieved earlier in the tournament. Yet Mexico's superior technical ability will allow it to have the majority of possession.
Edge: Mexico
Forwards: No other spot on the field has as big a disparity in talent as the respective front lines. In Javier Hernandez, Mexico has the kind of forward who can win a match on his own. And he might not even be El Tri's best striker at the moment. Aldo de Nigris has twice come off the bench to deliver critical goals, as well as set them up. That said, de Nigris is the kind of tall, rangy striker the U.S. knows how to combat. The same can't be said for Hernandez, whose quick bursts of speed over short distances allow him to latch onto passes that other strikers can't.
[+] Enlarge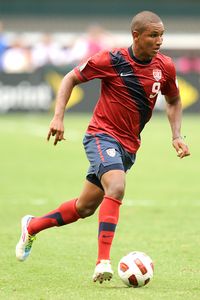 Mitchell Layton/Getty ImagesForward Juan Agudelo has impressed up top for the U.S., but he's still growing into the position.
For the U.S., with Jozy Altidore sidelined by a hamstring strain, plenty of responsibility has been placed on 18-year-old Juan Agudelo. The New York Red Bulls forward has plenty of upside. His work rate is actually greater than that of Altidore, as evidenced by his willingness to chase down lost causes and make defenders uncomfortable. His movements in the box have been sharp, and he was unlucky not to score in the semifinal. But there are moments when his decision-making lets him down. That will improve in time, but not before Saturday's final.
The talent gap closes considerably in those moments in which the U.S. moves Dempsey up top, but in this aspect of the game, Mexico still has the upper hand.
Edge: Mexico
Reserves: Again, this is largely dependent on health and the personnel decisions made by the respective managers. El Tri possess a potent weapon in de Nigris, but if Guardado is unable to go he could be on the field from the start. The same is true for the U.S. with regard to Donovan. The play of Freddy Adu against Panama sent the hearts of U.S. fans aflutter, and Kljestan -- assuming he doesn't start -- has shown well as a substitute. But Mexico got valuable contributions of its own from Jorge Torres Nilo and Paul Aguilar in its semifinal.
Edge: Even
Managers: For all the heat Bradley has taken in this tournament, his tactical adjustments, in particular the move to a five-man midfield against Jamaica, have been spot on. His aforementioned decision to slide Bocanegra to the middle of the U.S. defense has changed the team for the better. And his decision to sit Donovan two games in succession has reinforced the notion that he's not afraid to make decisions that go against the conventional wisdom.
The same could be said of his Mexican counterpart Manuel "Chepo" de la Torre. In the past two knockout games, his insertion of de Nigris has proved a master stroke, revealing a manager willing to tweak things when his initial game plan isn't working.
Edge: Even
Intangibles: In terms of overall talent and technical ability, Mexico has the advantage. This is nothing new. But outside of the 2009 Gold Cup final, in which a veritable U.S. C-team took the field only to get spanked 5-0, the U.S. has consistently held serve on its home turf. It hasn't mattered how well Mexico has been playing. It hasn't mattered how much crowd support El Tri have had. The ironclad mentality of the U.S., when dovetailed with the insanely high pressure under which Mexico operates, has allowed the U.S. to carry the day.
Edge: U.S.
Prediction: Add these categories up and it points to an impossibly tight contest. Rivalry games such as this often turn on one or two critical moments, usually in the respective penalty boxes. A case in point was in the 2007 Gold Cup final in which, with Mexico leading 1-0, Brian Ching earned a vital penalty that was converted by Donovan. That eventually set the stage for Benny Feilhaber's wonder strike that gave the U.S. the crown. In this instance, the specter of Chicharito and de Nigris looms large. Too large, in fact, so look for Mexico to prevail, 2-1.
Jeff Carlisle covers MLS and the U.S. national team for ESPN.com. He is also the author of "Soccer's Most Wanted II: The Top 10 Book of More Glorious Goals, Superb Saves and Fantastic Free-Kicks." He can be reached at eljefe1@yahoo.com.
Soccer
Jeff Carlisle covers MLS and the U.S. national team for ESPN FC.