Commentary
Most intriguing group-stage games
FIFA's international schedule for women is the soccer equivalent of a sugar high. The World Cup and the Olympics are held in back-to-back years, and during that time fans of the women's game can get more than their fill of top-class competition.
Then depression sets in.
When the Olympics end, fans have to wait three long years before the next major tournament. This is an eternity in the international game. Yesterday's heroes fall by the wayside to be replaced by a new generation of stars. The forms of different teams also can rise suddenly or fall precipitously.
That's why the group stage for the 2011 Women's World Cup is being met with considerable anticipation. New teams and new players dot the landscape, and although their forms remain unclear, some tantalizing matchups await.
ESPN FC on Twitter
Don't miss a moment of the latest soccer coverage from around the world. Follow us on Twitter and stay informed. Join »
Here are the five first-round games that have done the most to catch the eye.
Opening-day games for World Cup hosts get plenty of hype in their own right, but this matchup has the potential to be something special. Not only will Berlin's Olympiastadion likely be sold out to the tune of 73,000 fans, but the two teams that will be on display are among the best in the world.
Germany is merely the two-time defending World Cup champion with an impressive combination of youth and experience filling its roster. Rising stars Kim Kulig and Lira Bajramaj will help comprise a formidable midfield while veteran goalkeeper Nadine Angerer will lead the German defense.
Canada, meanwhile, looks to be a country on the rise, as it claimed the top spot in CONCACAF during World Cup qualifying. Now it's headed to its fifth World Cup thanks in part to the impressive midfield duo of Diana Matheson and Kaylyn Kyle.
That said, most eyes will be on two of the game's premier forwards. All-time leading World Cup scorer Birgit Prinz is back for her fifth World Cup and is intent on leading Germany to a hat trick of titles. But Canada's Christine Sinclair will do everything she can to spoil the opening-day party. Sinclair is in the best form of her life and certainly has the talent to help pull off an upset.
2. U.S. vs. North Korea, Tuesday
Geopolitical overtones rarely intrude on the Women's World Cup, but this match is an exception. You can bet that the North Koreans will be plenty motivated to put one over on their longtime political adversary.
Considerable mystery will surround this match as well, even though this is the fourth time the two teams have squared off in the group phase. North Korea's team rarely appears outside of official competition, and although it has played friendlies against Germany and Canada in the past two months, expect manager Kim Kwang Min to throw out a wrinkle or three.
One certainty for the North Koreans is that Jo Yun Mi, the MVP at last year's AFC Women's Asian Cup, will be orchestrating a North Korea attack that emphasizes possession and quick combinations. That style is one the U.S. has been trying to adopt during this World Cup cycle through center midfielders Carli Lloyd and Shannon Boxx, and it will be interesting to see whether the Americans can beat North Korea at its own game.
[+] Enlarge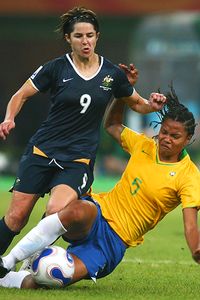 Paul Gilham/Getty ImagesBrazil and Australia met in the knockout phase of the last World Cup, with the South Americans winning 3-2 to advance to the semifinals.
3. Brazil vs. Australia, Wednesday
Brazil has been knocking on the championship door for the past seven years yet hasn't been able to break through, losing in the final of the past three major championships. Its attempt to finally shed its bridesmaid status will begin Wednesday against Australia.
Headlining the match will be reigning five-time FIFA Player of the Year Marta, but she'll have plenty of help, with Cristiane providing a threat from up front with Daniela and Formiga providing support in the midfield.
Brazil will take on an Australia side that has been shorn of some of its best attacking talent, with knee injuries taking down forwards Sarah Walsh and Kate Gill. That has left head coach Tom Sermanni to rely on temperamental striker Lisa De Vanna, who was suspended in May after a series of clashes with coaches and teammates. Yet Sermanni, in an impressive bit of fence-mending, convinced all involved that the team was better off with De Vanna in the fold, and the striker was named to the final roster.
With that in mind, expect plenty of fireworks when the two teams meet in Moenchengladbach, the city that's spelled like it's pronounced.
4. Norway vs. Equatorial Guinea, Wednesday
For sheer novelty factor, you could do a lot worse than take in the match between former world champion Norway and World Cup debutante Equatorial Guinea.
Equatorial Guinea's rise to the top of the women's game in Africa has been wrought by controversy with opponents insisting that three of the team's players are men. Two of the players in question, sisters Salimata and Biliguisa Simpore, were left off the final roster, but star forward Genoveva Anonma remains. The Nzalang Nacional also have drawn criticism because many of their players are naturalized citizens. Among those is Spain native Jade Boho, whose creativity in midfield will be needed for a side with a reputation for being highly physical.
That likely won't bother the Norwegians, who have long proved they can give as good as they get in terms of physical play. Manager Eli Landsem has tweaked the traditional Norwegian system to be a bit more free-flowing in attack, with playmaker Ingvild Stensland setting up the likes of striker Isabell Herlovsen. Norway has had success against African opposition in the past as well, putting seven goals past Ghana four years ago.
By the time the Three Lionesses square off against the Nadeshiko in their group finale, qualification to the knockout stages may be assured for both teams. There will still be plenty at stake, however. With the second-place finisher facing a likely quarterfinal matchup with favorite Germany, both sides will be keen to finish atop Group B. Japan also will be highly motivated to bring a bit of joy to a country still recovering from March's earthquake and tsunami.
As for the game, the place where the biggest battle will take place is in midfield. Kelly Smith will orchestrate much of England's attack, with her vision and ability to run at defenses likely to cause Japan considerable problems. Among those providing defensive cover will be Fara Williams, assuming she recovers from a nagging knee injury.
For the Nadeshiko, veteran Homare Sawa -- who will be playing in her fifth World Cup -- will hope to galvanize the side with her classy passing. She will be aided by another possession player in Aya Miyama, who is also a threat from set pieces.
Some of the game's best up-and-coming players will be on display as well. The diminutive Mana Iwabuchi, who won the Golden Ball at the 2008 under-17 World Cup, will be a player to watch, as will England forward Ellen White.
Jeff Carlisle covers MLS and the U.S. national team for ESPN.com. He is also the author of "Soccer's Most Wanted II: The Top 10 Book of More Glorious Goals, Superb Saves and Fantastic Free-Kicks." He can be reached at eljefe1@yahoo.com.
Soccer
Jeff Carlisle covers MLS and the U.S. national team for ESPN FC.