Commentary
Sundhage not afraid to mix it up
HEIDELBERG, Germany -- One of the golden rules of soccer management is, "Never mess with a winning lineup." It's an approach that U.S. national team manager Pia Sundhage usually adopts, but ahead of the team's second World Cup group stage match against Colombia on Saturday, it's a rule she's prepared to break.
On Wednesday, Sundhage told reporters that there would "probably" be changes to her starting XI, and Thursday's practice revealed where she could potentially make alterations. During a team scrimmage, it was Lori Lindsey partnering with Carli Lloyd in the center of the U.S. midfield, and not Shannon Boxx.
[+] Enlarge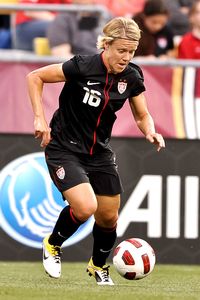 Jamie Sabau/Getty ImagesLori Lindsey could replace Shannon Boxx in the midfield for the U.S.'s game against Colombia on Saturday.
To say this represents something of a sea change for Sundhage would be the height of understatement. Boxx has been an ever-present force in the lineup alongside Lloyd, with the duo starting 20 of the team's past 21 games in midfield.
At Thursday's press conference, Sundhage was a bit more circumspect, indicating that she would wait until after the team's training session on Friday to decide if she would indeed make a change. But she also admitted that with the team potentially playing a total of six games in the tournament, she needs to think long-term.
"It's so important to have many players playing minutes, because I truly believe if you play many games, it is important to use the whole bench," she said.
Along those lines, Sundhage admitted that Lindsey could very well start against Colombia.
"We ask quite a bit from our center mids," Sundhage said. "They're the core of the team and we expect them to be good on both sides of the ball. So they have to put a lot of work in the attack and defending, so that's why we have three center mids coming over here.
"Eventually [Lindsey] needs to play," Sundhage added. "Now it's about when, and if it's the starting lineup or off the bench. But she will play sooner or later."
While Boxx has struggled a bit with her positioning and distribution, she does provide an important physical presence for the U.S., both in the air and on the ground. The diminutive Lindsey would certainly give the U.S. midfield a different look. "[Lindsey] reads the game well and she's well-connected to the players around her," said Sundhage. "She can keep possession, she can play the final pass, and she has a pretty good shot."
When pressed about whether she would apply a similar approach to her back line, Sundhage seemed more comfortable maintaining the status quo, but added that if a change is to be made, it'll be against Colombia, because "further down the line I don't think we'll have a chance to do that."
Lindsey wasn't available at Thursday's media session, but Boxx was, and she seemed prepared to accept any changes that Sundhage might be throwing the team's way. "I do agree that it is important to be able to rest," said Boxx. "And I think because we have such a strong bench, we can do that. Six games in a short amount of time is hard to deal with."
These are issues that Sundhage is more than happy to wrestle with, especially compared to what the team faced three years ago following its first match at the 2008 Olympics. On that occasion, Norway defeated the U.S. 2-0, casting all kinds of doubt on the team's chances of winning the gold medal. In the wake of the U.S. victory over North Korea on Tuesday, belief isn't an issue, although some challenges do remain for the U.S. manager.
ESPN FC on Twitter
Don't miss a moment of the latest soccer coverage from around the world. Follow us on Twitter and stay informed. Join »
"It's a good feeling and it's a winning feeling," said Sundhage. "But at the same time, we have to be humble, not get carried away."
With Sundhage willing to change things up a bit, there seems little chance of that.
Notes:
• One year after the World Cup ball, the dreaded Jabulani, drew the wrath of players everywhere over its unpredictability, the women's version, the Speedcell, is drawing similar, if more muted, complaints. And count U.S. striker Abby Wambach among the critics.
"It's very similar to the men's ball," said Wambach. "If you hit it right, goalkeepers don't have a shot because [the ball] is here and then the ball literally just takes a U-turn, it just knuckles on a wide [area]."
That might seem like a boon for a striker like Wambach, but the problems arise when U.S. goalkeeper Hope Solo takes goal kicks.
"The flight of the ball, the trajectory changes," said Wambach. "If [Solo] hits it right, it just goes and continues. It's hard to read. If she gets under it a little bit with some backspin, it literally falls off the table and drops. I've gotten so many balls in the face in the last week."
• The U.S. got something of a scare during Thursday's training session, which was open to U.S. military personnel stationed nearby. Defender Ali Krieger, who was among the best players on the field during the win over North Korea, got tangled up with a teammate and tweaked her left ankle.
But while Krieger showed up to the press conference with her ankle still taped, she otherwise was showing no ill effects.
"I'm OK, I'm fine," she said. "I was a bit surprised myself to go down on a crossing drill. My foot kind of got caught with Kelly's foot [forward Kelly O'Hara] and I kind of tripped forward. It was at a bad angle and I turned my ankle a little bit. I should be fine. I was surprised when it happened, and I thought it was going to be worse than it really is."
Jeff Carlisle covers MLS and the U.S. national team for ESPN.com. He is also the author of "Soccer's Most Wanted II: The Top 10 Book of More Glorious Goals, Superb Saves and Fantastic Free-Kicks." He can be reached at eljefe1@yahoo.com.
U.S. soccer correspondent
Jeff Carlisle covers MLS and the U.S. national team for ESPN FC.