Commentary
Norway, Brazil struggling to find form
Updated:
July 2, 2011, 11:08 AM ET
By
Beau Dure
| Special to ESPN.com
In its Group D opener Wednesday, Norway struggled to contain Equatorial Guinea's Brazilian-style attack.
On Sunday, Norway faces the actual Brazil in Wolfsburg. Or does it? Norway may not have looked like the Norway of old in its opener against Equatorial Guinea, but neither did Brazil look like traditional Brazil in its win over Australia.
Norway and Brazil were the easy, pre-tournament choices to advance from Group D, and they share the group lead with identical 1-0 wins in their openers. But those wins raised many questions, and whichever team fails to get three points out of Sunday's clash may face a nervous group-stage finale to avoid elimination.
This Norwegian team bears little resemblance to the United States' 1990s nemesis, which won the 1995 Women's World Cup in Sweden and the 2000 Olympics. It's not even the same team that upset the eventual gold medalist U.S. side in the first game of the 2008 Olympics -- only two starters from that game started against Equatorial Guinea.
It's not physically imposing, with no particularly tall players in the mold of 1995 Golden Boot winner Ann Kristin Aarønes, and few speedsters. Equatorial Guinea simply outran and outhustled Norway for much of the game.
[+] Enlarge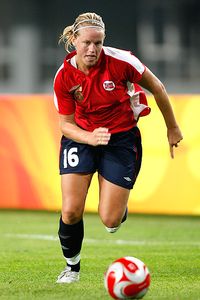 Noriko Hayakusa/Getty ImagesOne of Norway's better performers against Equatorial Guinea, Elise Thorsnes created a number of scoring chances from her wide position.
And the talent pool isn't what it was. Most of the players are based at home in Norway's league, which has fallen out of the top eight in European rankings -- behind Iceland.
Most Norwegian players are either young or have little experience at the international level. Coach Eli Landsem, herself an inexperienced international coach who took over late in 2009, started three players Wednesday with fewer than 10 caps. Goal scorer Emilie Haavi recently celebrated her 19th birthday.
Norway also lacks proven scorers. Trine Ronning, who lined up at defensive midfield Wednesday alongside fellow veteran Ingvild Stensland, leads the team with 15 career goals. Next is Cecilie Pedersen with eight.
Goalkeeper Ingrid Hjelmseth, the team's oldest player at 31, had a few uncertain moments with the ball before producing several steady saves Wednesday to keep Equatorial Guinea off the score sheet. She is finally getting her chance after breaking her wrist before the 2003 World Cup and tearing knee ligaments prior to the 2007 tournament.
There were bright spots for Norway. Early in the second half, with former WPS player Lene Mykjaland on the field, Norway managed to gain some control and make the game a little less of a track meet. Unfortunately, Mykjaland limped off the field after a brief appearance.
Elise Thorsnes, whose seven shots included a couple that were blocked by timely intervention, gave Norway a credible threat on the wing. And while Equatorial Guinea put up a staggering 26 shots, Norway was able to counter with 23, including a couple that found the woodwork or tested goalkeeper Miriam.
[+] Enlarge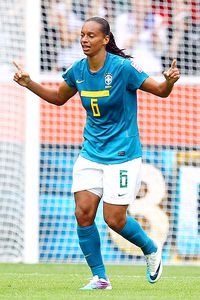 Alex Grimm/Getty ImagesRosana scored the lone goal in Brazil's victory over Australia.
Meanwhile, Brazil wasn't able to impose its will against Australia in its opener, particularly in a dreary first half in which the best chances were badly squandered. Australia was able to clog the midfield and limit the impact of Marta. Brazil never solved that tactical problem and persisted in an unusual defensive shape, deploying an antiquated sweeper system.
Rosana's 54th-minute goal looked more like an American goal than a Brazilian goal. She and Cristiane battled several Australian defenders before Rosana's flash of skill -- a deft shot to the corner.
For the rest of the game, Brazil rarely threatened, and Australia wasted a solid chance to equalize. Brazil may ease its way into the tournament. The team had few friendlies or tournaments this year in which to get its act together, so it's easy to imagine that some of the bugs will be worked out by the end of the group stage.
But if Marta can't get free against Norway's veterans in defensive midfield, that timetable might need to be accelerated.
And if Norway gives Brazil as many chances as it gave Equatorial Guinea, the longtime women's soccer power could be facing a poised Australia team with its World Cup survival at stake.
Beau Dure is a freelance writer for ESPN.com and espnW. He is also the author of "Long-Range Goals: The Success Story of Major League Soccer."