Commentary
Marta has her Diego Maradona moment
Updated:
July 3, 2011, 3:34 PM ET
By
Beau Dure
| Special to ESPN.com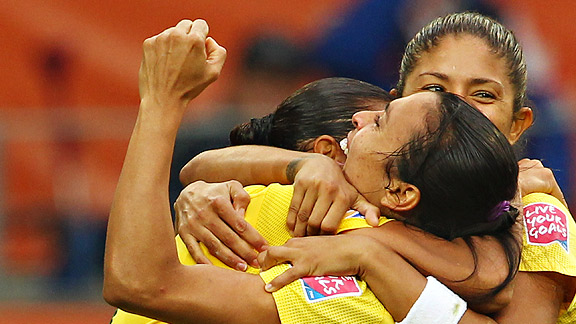 Alexandra Beier/FIFA/Getty ImagesFueled by two goals -- and a controversial moment -- from Marta, Brazil's beautiful game was too much for Norway.
WOLFSBURG, Germany -- Call this Marta's Diego Maradona game. Like the Argentine legend in 1986 against England, the Brazilian player scored a controversial goal Sunday against Norway, using her hands not to score a goal but to shove a defender to win the ball.
And like Maradona, Marta came back and scored a brilliant goal to show that she still has the best feet in women's soccer.
In the process, she won over a sold-out crowd that had whistled at her through much of the first half. More importantly, she led Brazil to a 3-0 win to clinch a spot in the Women's World Cup quarterfinals. Brazil also is likely to win Group D and avoid a quarterfinal matchup with the USA-Sweden winner.
Marta scored her first goal with some nifty work in the box, but only after shoving a defender to win the ball in open space. And just after the break, she drew the defense to her in the box and passed to a wide-open Rosana for Brazil's second goal.
In the 48th minute, Marta put the game away, capitalizing on a blunder with class. Maren Mjelde's back-pass was weak, and Cristiane buzzed in before goalkeeper Ingrid Hjelmseth could collect it. Mjelde blocked Cristiane's shot, but the ball fell to Marta, who took a couple of touches to create the perfect angle and neatly slotted it home.
Here's three things we've learned from the match:
1. The five-time FIFA player of the year gets the occasional call in her favor. Marta, who won FIFA's global honors each year from 2006 onward, got away with an obvious shove in the back of Norwegian defender Nora Berge en route to her 22nd-minute goal. The fans certainly noticed -- they whistled loudly every time Marta touched the ball for the rest of the half.
ESPN FC on Twitter
Don't miss a moment of the latest soccer coverage from around the world. Follow us on Twitter and stay informed. Join »
That said, American referee Kari Seitz let a lot of pushing and shoving go uncalled early in the game, so the non-call may be considered consistent with the tone that had been set.
The rest of the goal was typical Marta, cutting back to beat Mjelde and finishing with precision and just enough power.
But Marta was tricky again the 40th minute, diving over a lunging tackle at the top of her own box and winning a free kick. That call was tougher and was only clear on replay.
2. Brazil's defense is befuddling but effective. Brazil played again with three defenders and seemed to shuffle them randomly. That tactic appears risky, but all three were so adept at reading the game, intercepting passes and winning loose balls that it hardly mattered. They're also stunning shot-blockers.
Other than Madeleine Giske's sharp blast in the 18th minute, just after Brazil's Fabiana had temporarily departed for injury treatment, Norway failed to get a clean shot on or near the target in the first 80 minutes. The Norwegians were forced to resort to medium- and long-range efforts around the top of the box.
Beating Brazil in the air isn't easy, either. Norway's corner kicks and occasional long balls were easily cleared until the final few minutes.
3. A young defense against Brazil is a recipe for disaster. Mjelde turned 22 last month, and fellow central defender Berge was playing only her eighth game for Norway. Berge could've done more to keep her feet after Marta's shove, and Mjelde was simply frozen when she had to deal with the superbly skilled Brazilian one-on-one. Mjelde's weak back-pass also led directly to the third goal.
Beau Dure is a freelance writer for ESPN.com and espnW. He is also the author of "Long-Range Goals: The Success Story of Major League Soccer."