Commentary
Will the U.S. defeat Marta & Co.?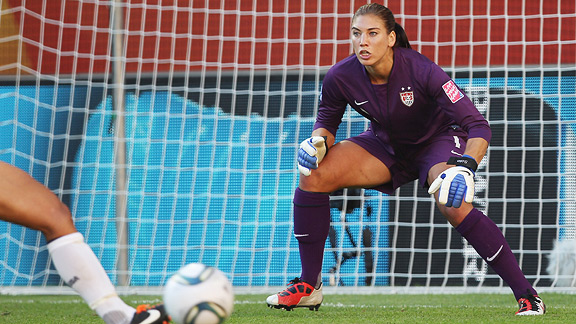 Alexandra Beier/FIFA/FIFA via Getty ImagesIf the U.S. has one ace in the hole, it's keeper Hope Solo.
A Women's World Cup tilt between the U.S. and Brazil is always a marquee matchup. Both teams entered the tournament among the favorites to take it all, and there was always the possibility the two teams would meet in the final.
Yet as the two teams prepare to square off in Dresden, the fact that they're meeting at the quarterfinal stage is a surprise. The pressure only increases once the knockout stages start, and the fact that one of the contenders will go home early will only increase the intensity.
What's on the line:
No less than a trip to the semifinals is at stake, with the loser going home. But this matchup has become one of the most compelling rivalries in the women's game, adding an extra edge to the proceedings. This marks the fourth major tournament in a row that the two teams will meet in the knockout stages. And with the U.S. winning two of the three previous encounters -- along with an Olympic gold medal -- Brazil will be especially keen to send the Americans home early.
Women's World Cup on ESPN
• France vs. England, ESPN, ESPN3, 12 noon ET
• Japan vs. Germany, ESPN, ESPN3, 2:45 p.m. ET
• Australia at Sweden, ESPN, ESPN3, Sunday, 7 a.m. ET
• U.S. vs. Brazil, Sunday, ESPN, ESPN3, 11:30 a.m. ET,
The winner will face off against the winner of England and France, and while that will be a difficult matchup no matter which team prevails, it does have the benefit of avoiding Germany until potentially the final.
Style and tactics:
Brazil uses an unorthodox 3-4-3 formation, with either Daiane or Renata Costa employed as a sweeper behind marking backs Erika and Aline. It's an alignment where space inevitably pops up on the wings, causing flank midfielders Maurine and Fabiana to have to track back very deep to provide defensive support. Holding midfielders Formiga and Ester provide an additional shield in front of the back three.
At first glance, this approach can at times prevent Brazil from getting sufficient numbers into the attack, but such is the brilliance of creative players such as Marta, Rosana and Cristiane, that the Samba Queens don't necessarily need to attack in waves. This trident is very fluid, with the three continually changing roles. Rosana can also be seen dropping deep into midfield to receive the ball and help link the midfield to the frontline.
The U.S. will combat this approach with a standard 4-4-2 that prefers to build the attack through central midfielders Shannon Boxx and Carli Lloyd and use outside midfielders Lauren Cheney and Heather O'Reilly to provide width to the offense. The focal point of the attack remains striker Abby Wambach. There are times when both Boxx and Lloyd can get caught too far forward, however, so positional discipline will be vital in order to snuff out any Brazilian counterattacks.
In the back, the U.S. uses a flat back four with captain Christie Rampone tasked with organizing the defense as well as using her speed to cover for any breakdowns.
Players to watch:
[+] Enlarge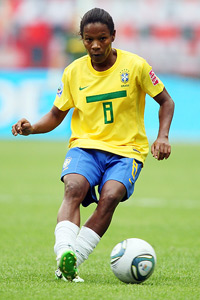 Christof Koepsel/Getty ImagesAll eyes are on Marta, but Formiga remains the team's midfield engine.
For Brazil: Marta, Formiga, Rosana and Daiane
Marta's unrivaled ability to run at defenders makes her the most dangerous attacking player in the world, and she is a threat to score goals as well as set them up. At age 33, Formiga remains the team's midfield engine who will be counted on to help protect the backline. While Marta gets most of the attention, Rosana is very much an attacking wild card in her own right. She usually begins games stationed as a central striker, but she can float into different areas around the field. The U.S. will need to be mindful of her whereabouts. Daiane plays as the team's sweeper and at times positions herself 10-15 yards behind her backs. This could leave the team susceptible to diagonal runs from opposing forwards and wide midfielders.
For the U.S.: Abby Wambach, Heather O'Reilly, Rachel Buehler and Hope Solo
After squandering a host of chances, Wambach finally broke through for a goal against Sweden, and her aerial ability seems the perfect weapon to utilize against a Brazilian defense that has looked shaky at times. O'Reilly sat out the Sweden game with a groin injury, and the U.S. missed her ability to run at defenders. She insists she'll be ready to go against Brazil, and seems tailor-made to exploit the wide spaces that Brazil's system routinely cedes. Buehler has endured some inconsistent play throughout the tournament. Her lack of pace has been exposed and her distribution hasn't always been precise. Buehler has also tended to start matches slowly before rallying with some physical challenges. She'll need to be sharp from the get-go against Brazil. Solo remains the trump card in the U.S. deck. It was largely through Solo's efforts that the Americans defeated Brazil in the 2008 Olympic final, and while she hasn't been tested often in this tournament, she has been sharp when called upon.
What we can expect:
There has been plenty of talk that the U.S. actually benefited from finishing second in Group C, the better to avoid Germany until a potential final. Yet in reality, the Americans' path isn't that much easier. While Brazil's preparations for the tournament consisted of just two warm-up games, only one of which was against a full national team, the Samba Queens seem to have found their bearings and have gained more momentum with each match.
Brazil has looked lethal on the counterattack, and the U.S. must make sure it maintains its defensive shape in midfield. But the Samba Queens' comfort on the ball means they're also at ease dictating the game's tempo, much like they did in the Olympic final three years ago.
ESPN FC on Twitter
Don't miss a moment of the latest soccer coverage from around the world. Follow us on Twitter and stay informed. Join »
The U.S. will need O'Reilly to be in top form, the better to provide a more classic flank presence and an alternative to Cheney's tendency to tuck inside. This will enable the Americans to pin Brazil's wide midfielders deep in their own half and prevent them from contributing to the attack. But most of all, the U.S. has to finish its chances. The Americans have been wasteful throughout the tournament, and while Wambach finally got on the board against Sweden, players like Cheney need to do more to test opposition goalkeepers. You would also think that Amy Rodriguez has run out of chances to prove she belongs in the starting lineup, and that Alex Morgan should get additional minutes, but U.S. coach Pia Sundhage has remained loyal to Rodriguez in spite of the forward's subpar form.
Defensively, the Americans' left side remains a huge concern. Amy LePeilbet, normally a central defender, hasn't looked at all comfortable playing at left back, so much so that Sundhage almost has to put Stephanie Cox in the lineup. Expect Brazil to try to isolate Marta on the left side so she can have a go at Buehler. The U.S. will try to counter this tactic with a mark-by-committee approach on Marta.
Intangibles:
Brazil has been knocking on the tournament championship door for what seems like an eternity, yet hasn't made a breakthrough. The fact that it is the Americans who have twice denied Brazil means the psychological anvil over the Samba Queens' collective head still remains.
But Brazil is getting stronger with each game, helping to compensate for a pre-World Cup program that lacked high-quality opposition. The Americans, meanwhile, could have a bit more doubt creeping into their game thanks to their loss to Sweden in the group finale. That said, they excel under adverse circumstances -- it's a mentality that will give them an edge on Sunday.
Which team will win?
The first goal will be critical, and if Brazil can get its collective nose in front, there could be no way back for the Americans. But Solo is a player who can tip the scales and win a game on her own. Prediction: U.S. prevails, 1-0
Jeff Carlisle covers MLS and the U.S. national team for ESPN.com. He is also the author of "Soccer's Most Wanted II: The Top 10 Book of More Glorious Goals, Superb Saves and Fantastic Free-Kicks." He can be reached at eljefe1@yahoo.com.
U.S. soccer correspondent
Jeff Carlisle covers MLS and the U.S. national team for ESPN FC.