Commentary
Charlie Davies copes with summer grind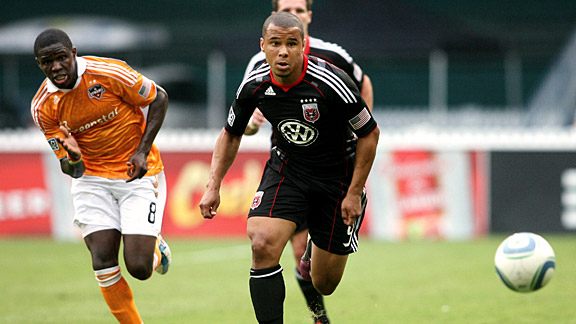 Tony Quinn/Icon SMIInjuries and the grueling MLS season have taken their toll on D.C. United's Charlie Davies.
On March 19, Charlie Davies scored two goals in his MLS debut against the Columbus Crew. Given that he was 17 months removed from sustaining a horrific series of injuries in a car accident, the overriding impulse was to declare his comeback complete. But as is often the case with the D.C. United forward's rehab, the answer is complicated.
Without question, Davies has come a long way since that fateful night in October 2009. Incredibly, the broken femur, broken tibia, broken fibula, torn knee ligament, fractured elbow, lacerated liver and series of facial fractures haven't stopped him from returning to the field. Even more remarkable is that his trademark speed remains a potent weapon in his arsenal.
"Davies still has that explosiveness, that power, and his touch has come back," said D.C. United coach Ben Olsen via telephone.
Those traits were on display during the opening months of the MLS campaign. In a response that was almost Pavlovian, Olsen turned Davies loose and watched him score eight goals in his first 13 games. Although four of those tallies came from the penalty spot, the U.S. international was impactful with his play. It wasn't perfect by any means, and Davies incurred a fine for diving in a match against Real Salt Lake, but in general, his performances hinted at better things ahead.
ESPN FC on Twitter
Don't miss a moment of the latest soccer coverage from around the world. Follow us on Twitter and stay informed. Join »
But for all the talk about how short the MLS regular season is compared to the seasons of leagues around the world, it still does plenty to wear players down. The defenders are physical, the weather at times brutally hot and the travel exhausting. All of this has served to take its toll on Davies, and this is where the doubts about his comeback creep into the conversation. After sustaining a hamstring injury before the Gold Cup, the U.S. international is dealing with swelling in his knee. But the biggest challenges for Davies remain cerebral in nature, especially after being idle for so long.
"Mentally it's a long season for Davies," Olsen said. "It's no different in many ways from what we see with a lot of rookies. It's easy to put in the work the first two months, but the season is a grind, especially in the summer months. He's hit that a little bit, although in the last week it's started to come back. But he still has moments where we ask more of him, to be more tuned in, more alert. He can't be just a guy that always looks to get in behind defenses."
"

I felt that I had to prove not only to everybody else, but to Coach Bradley that I'm ready for the chance. It obviously backfired on me. Those are just little lessons that are learned along the way.

"

-- Charlie Davies on sustaining a hamstring injury
Davies insists that the season has been about what he expected and that he can feel his body adapting to the rigors of league play again. But he also admits that his quest to regain the level of performance he displayed for the U.S. national team at the 2009 Confederations Cup has had its pitfalls. Before a May 14 game against Colorado, he felt some tightness in his hamstring. Yet with then-U.S. national team manager Bob Bradley in attendance, Davies played anyway and ended up incurring a strain, ruling out any possibility of his playing in the Gold Cup.
"I felt that I had to prove not only to everybody else, but to Coach Bradley that I'm ready for the chance," he said in a telephone interview. "It obviously backfired on me. Those are just little lessons that are learned along the way. It slowed me down, and as hard as it may be, [that slower approach] is the right thing to do."
There have been other lessons as well, which is not all that surprising for a player who by his own admission "had to relearn everything" after his injuries. "Mentally I'm still working on being relentless," he said. "That's the main thing. Having that confidence that no matter where I am I'm going to run at the defense and put them under pressure. You go into a game, it comes to you, and you're like 'Oh, I have it. It's there, and I'm just going to start doing it all the time.' And then in another game, it's not there, and you think, 'Why did I hesitate there? Why didn't I just go?' Those are the things that I've had to deal with since day one. I think it's gotten much better, but obviously it still needs to improve."
The practice field remains the furnace where such focus has to be forged. And Olsen is quick to point out that Davies' appetite for feedback and criticism during training has been high throughout the season.
Only when that level of concentration is displayed on a consistent basis will Davies' comeback be complete, and he'll be in a position to rejoin his international teammates. It's a goal that has been complicated in the past week with the U.S. Soccer Federation firing Bradley and hiring Juergen Klinsmann. Davies said he had mixed emotions about the change and that he would've liked to have had one more game under Bradley, the better to repay his coach's support during his onerous rehab. But the prospect of playing under a manager with Klinsmann's pedigree is enticing.
"The fact that you have a coach that you can really take a lot of points from, who was in similar situation that I would be in during games, that goes a long way," Davies said. "That's something to be really excited about."
And it's a welcome jolt for Davies as he navigates his way through the summer grind.
[+] Enlarge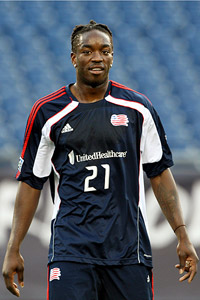 Gail Oskin/Getty ImagesAfter New England signed DP Milton Caraglio, its midfielder Shalrie Joseph tweeted, "I know I won't be back next year, so I'm just happy to give it all this year."
Revs' historic day turns weird: At last, New England decided to wade into designated player waters with the signing of Argentine forward Milton Caraglio. But midfielder Shalrie Joseph took plenty of shine off the news with a tweet that read, in part, "I know I won't be back next year, so I'm just happy to give it all this year."
When reached by phone, New England vice president of player personnel Mike Burns declined to comment about Joseph's statement other than to indicate that he would be talking to his midfielder. Joseph is in the last year of his contract and has had contract tussles with the Revs in the past, but without further clarification, it was unclear to what degree he was responding to the day's events.
Burns was more forthcoming about Caraglio, indicating that the 6-foot-2 forward is "a stereotypical No. 9, and we hope he's going to come in and help us score some goals."
Another hope is that Caraglio will provide the kind of hold-up play that will enable the Revs to have more possession and get players such as midfielder Benny Feilhaber and Joseph more involved in the attack. Burns added that he sees Caraglio complementing the skills of forward Rajko Lekic rather than replacing him in the lineup.
One major concern related to Caraglio is his history of knee trouble, with the forward tearing his left ACL in 2009. Burns indicated that Caraglio will undergo a full physical when he arrives on Wednesday but that the club had received assurances that its latest acquisition was healthy.
"We've done everything we can short of having [Caraglio] in here for a week," Burns said. "We've gotten copies of his past medical report; we know he's training full out without any limitations or restrictions. We feel like we've done our due diligence there. Everything we've been told by doctors is that he's back 100 percent. He's 22 years old, so we feel there is significant upside to this."
Nyassi delivers Rapid returns: When Conor Casey went down with a torn Achilles tendon on July 16, it looked to have dealt the Colorado Rapids a fatal blow in their bid to repeat as MLS champions. But Colorado has received an unexpected boost from midfielder-turned-forward Sanna Nyassi, who has scored four goals in his past three games, including the eventual winner this past weekend against Philadelphia. His budding partnership with Omar Cummings has proved devastating to Colorado's opponents as well.
"Honestly, I was never sure how Nyassi and Cummings would combine, and I'm not sure anyone can really tell," Colorado manager Gary Smith said. "But you see sometimes some characteristics that you think just might make a connection. And for three games now Sanna's been outstanding in two of them, and Omar has given him the link, that little bit more edge."
The irony is that Nyassi was originally brought in during the offseason to provide the kind of dangerous flank presence that he showed last year with Seattle, yet he failed to deliver. That left Smith with what he called "a bit of a conundrum" as to what Nyassi's best position was. But the Colorado manager experimented with Nyassi in more of a forward role earlier in the season against D.C. United and liked what he saw. So when the time came to decide who would partner with Cummings in a July 20 match against New York, Smith opted for Nyassi. The results were overwhelming, with Nyassi scoring a hat trick in a 4-1 win.
"If you see how Sanna's playing, he's slightly withdrawn, he's not playing right up front," Smith said. "I think he prefers that freedom to go and get on the ball, and drive through the gaps that central midfield players sometimes create. And I think if you look at the goals that Omar has been involved in with Sanna, it's really been down to Sanna's decisiveness. I think that decisiveness has given Omar a bit of clarity."
Here comes the Fire Brigade: Once again, the Chicago Fire find themselves at the season's midway point residing outside the playoff places. And just like last season, they're banking on some high-profile reinforcements to help salvage the season.
In 2010, it was Nery Castillo who was supposed to come to the team's rescue, yet the move was undone by his poor fitness and suspect attitude. This year, Pavel Pardo and Sebastian Grazzini will be counted on to help the Fire make a late-season push.
It's a plan that technical director and interim head coach Frank Klopas admits is by no means foolproof, especially in terms of the fitness levels of the new additions. "It's tough when you bring in players at this time," he said. "It's not like in Europe. When they bring in players in midseason, those guys have already been playing. And guys here have to adjust to a new team and a new league."
But in many ways, Klopas has no choice but to rely on his reinforcements. When he took over the management reins on May 30 from Carlos de los Cobos, the Fire were a sieve defensively, coughing up 19 goals in 11 games. That has since been reduced to six goals in their past nine league contests, but it has come at a cost. In that same span, Chicago has scored only five goals.
Pardo said in an interview with ESPN Chicago that he is still some ways away from being fit enough to play. But when available, he'll play deep in the center of midfield, the better to allow the Fire to play out of the back. As for Grazzini, the expectation is that he'll occupy a free role in attack, probably under one striker as opposed to two.
"Right now, we have to find ways to close games out, but we also need to be better in the final third," Klopas said. "We just need someone to be creative and finish our opportunities. We know the opportunities are going to be there, it's just that the decisions we make need to be better."
Jeff Carlisle covers MLS and the U.S. national team for ESPN.com. He is also the author of "Soccer's Most Wanted II: The Top 10 Book of More Glorious Goals, Superb Saves and Fantastic Free-Kicks." He can be reached at eljefe1@yahoo.com.
Soccer
Jeff Carlisle covers MLS and the U.S. national team for ESPN FC.