Commentary
U.S. team begins Klinsmann era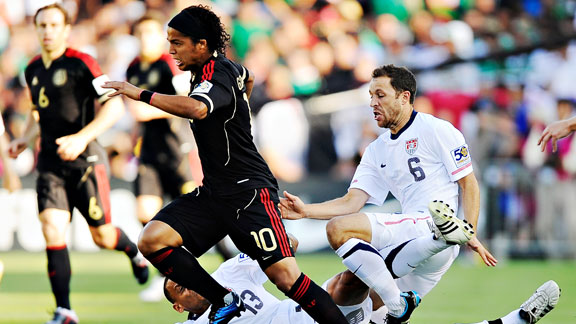 Kevork Djansezian/Getty ImagesThe pace of players such as Giovani Dos Santos was too much for the U.S. defense as Mexico rallied for a 4-2 win in the Gold Cup final in June, the last time the two CONCACAF rivals met.
The idea of Jurgen Klinsmann as manager of the U.S. men's national team has been germinating for so long that, in the abstract, the possibilities seemed endless. Dreams of a greater emphasis on technique and a more attack-minded style easily dance through one's head. Yet now, the hard part of putting that dream into practice is set to begin, starting with Wednesday's friendly against Mexico.
Without question, as Klinsmann prepares for his first game as U.S. manager, the sense of anticipation is palpable. For what it's worth, the U.S. now has a national team coach who has raised the game's biggest trophies as a player and helped introduce a more dynamic playing style to Germany as head coach. Realistic or not, Klinsmann will be expected to oversee a similar transformation as U.S. manager. And as with any coaching change, the door has opened for players previously on the outside of the national team setup, meaning the competition for spots has been turned up several notches.
"The players, they're on trial again," said former U.S. international Marcelo Balboa via telephone. "They've got to prove to Jurgen Klinsmann that they can play on that team and play under his system, that they can play under what he wants. I think it's fantastic."
The reality, of course, is that Klinsmann has had little time to impose any radical overhaul of the team's style or tactics. When the two longtime adversaries kick off at Philadelphia's Lincoln Financial Field, Klinsmann will have had just five training sessions with his team. But the California resident has to start somewhere, even if in this case it involves a lot of familiar faces on the roster.
[+] Enlarge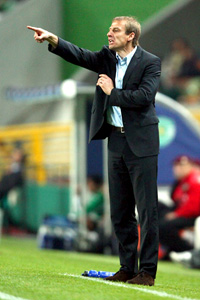 Christof Koepsel/Getty ImagesJurgen Klinsmann coached Germany to third place at the 2006 World Cup, before managing Bayern Munich in the Bundesliga.
"It's a big change and the feeling is so different," said U.S. defender Steve Cherundolo following Klinsmann's first two practice sessions. "You're not starting completely over in terms of the inner team dynamics, but as far as the team dynamics with the coaching staff, that's all brand new. It's getting used to coaches, them getting used to us, figuring out how we can help each other and what they want from us, and what we need from them in order to produce. It's definitely a process. On that end it's exciting, it's new, it's fresh."
From a training aspect, well, practice sessions are practice sessions, even if they're conducted by the first foreign manager the U.S. has had in 16 years. Cherundolo emphasized that "we're not reinventing the wheel here by any means." That said, there have been some noticeable changes in the way Klinsmann does things.
"The biggest thing I've noticed is how hands-on the assistant coaches are," said midfielder Kyle Beckerman. "Klinsmann wants them right next to him, helping him to run things, whether that's on the field or speaking up during video sessions."
Precisely how much change Klinsmann can impose even over the long term is an open question, despite a mandate to usher in a new, more offensive era. While he did plenty in that regard during his two years as manager of Germany, it goes without saying that the raw material he had to work with was of a higher standard than what he has now. And while a fair number of players on the current roster are returning after long absences from international play, there are also plenty of holdovers from the 2010 World Cup. Is it really possible for a team to alter its style so radically?
"I think any team can change its style," said Cherundolo. "As the whole national team program moves forward, it needs to adopt a style of play. I think in general we just need to become better soccer players. The better you are technically at a high level -- tactically, I think we're pretty far along -- the more attacking you do, which is natural. I think we just need to become better players technically at the highest level."
Balboa added, "I think by the time the World Cup comes around, we will be able to attack the better teams. I think it's a situation where Klinsmann needs to implement his style little by little. I think you'll see an offensive-minded team, but it will take a little time."
[+] Enlarge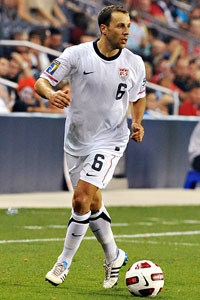 Al Messerschmidt/Getty ImagesAn established veteran in the U.S. national team setup, defender Steve Cherundolo will expect to see playing time in the friendly versus Mexico.
In the short term, an improved performance from the Gold Cup final, one in which Mexico thoroughly outclassed the U.S. 4-2, will generate a fair amount of goodwill in Klinsmann's direction. In attack, it will certainly be fascinating to see how the U.S. manager deploys his midfield, especially given the glut of central midfielders on the roster -- a list that includes Beckerman, Jermaine Jones and Michael Bradley. There will also be plenty of interest in the influx of Latino players like Jose Torres and Edgar Castillo; will they truly usher in a new, more technical style, or is that merely a mirage?
Yet the easiest thing to fix will be the team's defensive shape, and Beckerman indicated that has been the primary area of focus in training this week. In the Gold Cup final, the U.S. looked terribly out of sync defensively, with some players pressing Mexico high while others dropped back. This played right into the hands of Mexico attackers like Giovani Dos Santos, Andres Guardado and Pablo Barrera, who had plenty of space and time to pick apart a beleaguered U.S. back line.
"No matter where you defend, you need to move collectively, you need to move as a unit," said Cherundolo. "I think our lines were too spread out against Mexico in the final. There's really nothing wrong with sitting back and defending, as long as everyone is moving together as one block. That's the key, to move as one block, whether it's in their half or our half."
The U.S. will catch a break since Mexican star forward Javier "Chicharito" Hernandez will be unavailable on Wednesday due to lingering concussion issues. Gold Cup super sub Aldo de Nigris is also out due to injury, meaning the forward spot in front of Dos Santos remains wide open, with Omar Arellano among the candidates.
But more attention will be focused on how Klinsmann deploys his team. The U.S. is now in the role in which Mexico often found itself heading into past encounters, that of being the side in flux and in need of a jolt. A good U.S. performance would provide just that, as well as the first sign that the immense expectations created by the mere promise of Klinsmann will actually be met.
Jeff Carlisle covers MLS and the U.S. national team for ESPN.com. He is also the author of "Soccer's Most Wanted II: The Top 10 Book of More Glorious Goals, Superb Saves and Fantastic Free-Kicks." He can be reached at eljefe1@yahoo.com.
Soccer
Jeff Carlisle covers MLS and the U.S. national team for ESPN FC.