Commentary
U.S. will play attack-minded football
Updated:
September 2, 2011, 9:44 AM ET
By
Jeff Carlisle
| ESPN.com
CARSON, Calif. -- Whenever a coaching change takes place, the impulse is to think that everything will be overhauled, from tactics to practices to personnel. What is actually implemented is a bit more restrained. And so it has proved for the U.S. men's national team as it prepares for Friday's friendly with Costa Rica.
The game marks Jurgen Klinsmann's second match in charge of the U.S. since taking over for Bob Bradley, and as such, the former Germany manager has gone into greater detail this week about how he'll approach things. In many respects, they replicate the concepts that Bradley valued. Bringing young players along slowly? Check. Playing with defensive solidity? You bet. Arriving in camp with passion and focus? Without question.
Yet if there is one thing that stands in sharp contrast between the two, it's taking risks. Clearly, Bradley wanted his teams to attack, but you always got the sense that his focus on being "hard to play against" often evolved into risk aversion once the team took the field. This approach explains in part the team's penchant for conceding early goals, only to rebound once the offensive shackles were removed and more numbers were thrown into the attack. Klinsmann has indicated no such hesitation when it comes to thinking offense first.
[+] Enlarge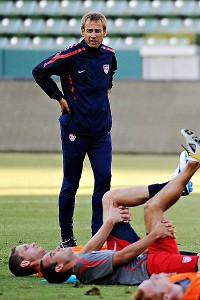 Kevork Djansezian/Getty Images"I want the people to be happy with what they [see], the energy level they have, the fighting spirit, and also a certain risk-taking approach," Jurgen Klinsmann said.
"We want the people to identify with their team," said Klinsmann earlier this week during a roundtable with reporters. "If they go to the stadium, I want the people to be happy with what they [see], the energy level they have, the fighting spirit, and also a certain risk-taking approach.
"The players, step-by-step, will realize that I am somebody that will back them," Klinsmann added. "For now, I let the younger [players] go out there and make mistakes, and I don't scream at them and criticize them for that. I actually will encourage them, as long as after the mistake they run back and try to cover, as well. If they make a mistake, and they switch off their brain for 10 seconds, then the player has a problem with me, but positively a problem, because we will guide him then."
Words are one thing; the play on the field is another. Klinsmann's inaugural match against Mexico represents an impossibly small sample size to gauge how much this attitude has become ingrained in the players, especially since at that point he had conducted just a handful of practices with the squad. But if the practice sessions this week are anything to go by, that process has begun to take root.
"[Taking risks] is absolutely encouraged and it's been great because there's nothing negative that comes out of failure," said Landon Donovan before Thursday's training session. "And so any time guys try something and it doesn't come off, he's OK with it, and that encourages guys to go for it."
Donovan was quick to point out, however, that such an approach has its limits. "If guys are trying to nutmeg somebody in their own [18-yard box], Klinsmann has also stopped [training] and said something to guys already this week," he said. "So it has to be in the right context, but when the moment is right he wants us to express ourselves."
For that reason, detecting a hint of progress against the Ticos will be the clearest sign yet that Klinsmann not only has begun to put this stamp on the team, but also has it going in the right direction.
This will be best exemplified by the effectiveness of the team's primary attacking players. Unfortunately, the fact the U.S. is set to play Belgium in Brussels on Tuesday means that Donovan, who will only play in Friday's match, won't be on the field at the same time as Clint Dempsey, who stayed in Europe because of back spasms.
ESPN FC on Twitter
Don't miss a moment of the latest soccer coverage from around the world. Follow us on Twitter and stay informed. Join »
Yet plenty of eyes will be on Donovan to see how -- and where -- he performs. Klinsmann spoke earlier this week of the longstanding conundrum relating to where Donovan's best position is. But he hinted that rather than deploy Donovan on the wing, as Bradley did for much of his tenure, the all-time leading U.S. scorer will play increased minutes in the middle of the field, most likely as a second striker behind Jozy Altidore.
Of course, for Donovan to play well, the team has to play well, and the hope is that the increased freedom given to complementary players such as Jose Torres and Sacha Kljestan will raise the team's attacking game. Can Kljestan provide that additional offensive threat to take some attention off Donovan? Can Torres deliver that valuable link between defense and attack? Can a player like Maurice Edu offer the kind of midfield bulwark that the back line needs?
The U.S. will attempt to answer these questions against a Costa Rica side going through an even more difficult transition. Ricardo LaVolpe resigned as the Ticos' head coach last month, and while Jorge Luis Pinto is poised to return for his second stint as manager, interim head coach Ronald Gonzalez will lead the team on Friday. He'll do so without many of Costa Rica's overseas players, including Celso Borges and Bryan Ruiz. Another overseas performer, Christian Bolanos, was named to the roster but pulled out with a sprained left ankle. That will leave midfielders Michael Barrantes and Randall Azofeifa to spark the Ticos' attack, along with Real Salt Lake forward Alvaro Saborio.
But in Klinsmann's eyes, the fact Costa Rica is shorthanded is as good a reason as any to try and seize the initiative.
"It might be a little bit easier with Costa Rica than with Mexico," he said on Thursday. "So I hope they will try that out [Friday] night, that they give it a shot, that they go at people one against one, try those things."
Perhaps then the U.S. will turn risk into reward.
Notes:
• While Donovan's position on the field remains fluid, no such question surrounds the future of defender Carlos Bocanegra. The U.S. captain has alternated between left back and center back for more than two years, but Klinsmann indicated earlier this week that for Bocanegra, such movement has come to an end.
"I don't like to move people around," he said. "I don't like to see a Bocanegra be a 50 percent left back. I want Bocanegra to be a left center back because that's where he's 100 percent. As a left back, he might be 90 percent, but I'm losing 10 percent. Can we afford that on the international level? No. What we need is a 100 percent solution as a left back sooner or later."
• After bouncing around Europe for the better part of three years -- a time that saw him loaned out to three different clubs -- forward Jozy Altidore looks to have found a home with Dutch club AZ Alkmaar. Altidore has scored three times in four appearances, two of them starts, and seemed at ease before Thursday's session. "I'm in a place where I'm around people that want me to succeed," he said. "That's important when you go to a club. So far it's been really positive, the coaching, the players, everybody, they want me to succeed and that's really refreshing."
• When Klinsmann announced his roster for these two friendlies, one name that was notable by its absence was Michael Bradley. Granted, with his club situation still up in the air at the time, it made sense to leave Bradley in Europe. Yet that didn't stop Klinsmann from reaching out and talking to the midfielder on the phone. So given the fact Klinsmann replaced his father, exactly how did the conversation go?
"That was not complicated at all," Klinsmann said. "I called Michael up, and I said, 'First of all, I have the highest respect for Bob, your dad. He did a great job.' And I will touch base with him down the road, and let time go by a little bit and I definitely want to sit down with Bob for a lunch or dinner and pick his brain and have a soccer talk. But I told [Michael], I'm there simply to help him."
Jeff Carlisle covers MLS and the U.S. national team for ESPN.com. He is also the author of "Soccer's Most Wanted II: The Top 10 Book of More Glorious Goals, Superb Saves and Fantastic Free-Kicks." He can be reached at eljefe1@yahoo.com.
U.S. soccer correspondent
Jeff Carlisle covers MLS and the U.S. national team for ESPN FC.