Commentary
U.S. remains a work in progress
Updated:
September 3, 2011, 6:23 AM ET
By
Jeff Carlisle
| ESPN.com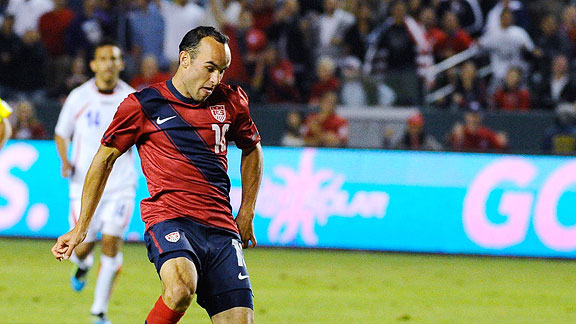 Kevork Djansezian/Getty ImagesThe U.S. attacked with verve in the first half but failed to take its chances, and Costa Rica scored the game's only goal in the second half to win 1-0.
CARSON, Calif. -- One of Jurgen Klinsmann's most oft-uttered phrases is, "It's a process." Within that comment is the expectation that progress from the U.S. men's national team should be discernable from game to game. On that basis, the Americans' 1-0 loss to Costa Rica on Friday night will count as a mixed bag.
Taken in isolation, the score doesn't impress, especially against a Costa Rica side shorn of many of its best players. But the U.S. dominated the proceedings, exhibiting an aggressive attack that pinned the Ticos back into their own half for much of the night.
"Bad result," said Klinsmann. "You never like to lose a game, but it was a very good performance. I was pleased with the performance, I was pleased with the way the players tried to implement all the work that we did on the training field throughout the week."
In particular, Jose Torres' performance stood out. The Pachuca midfielder was equally effective on both sides of the ball, something he rarely showed in his previous outings at the international level. Jozy Altidore also impressed with his ability to bring other players into the attack, especially on those occasions when the U.S. was trying to exit from its own half.
In addition, the U.S. made good on Klinsmann's pledge to take risks in the attacking half. This was evident as early as the sixth minute when a combination involving Brek Shea and Altidore resulted in Landon Donovan getting a clear look at goal, only for him to put his shot just wide.
"The way we combined, the way people were looking for each other, and the way they kind of passed their way out of difficult, tight spaces was good to see," said Klinsmann. "There was confidence there, there was technical ability there."
But that lack of precision in the final third was the Americans' biggest failure on the night. Too often the final pass was off the mark, with Donovan, Shea and Timothy Chandler the primary culprits, even as they exhibited solid approach work. The U.S. team's inability to cope better with a slew of tactical fouls -- the Ticos committed 27 infractions overall -- was another sticking point. In those moments, the U.S. simply didn't play fast enough, although in Klinsmann 's mind, the effort the team put into the first half played a part in this.
"[Playing quickly] would definitely be a way to get out of those situations," said Klinsmann. "It also depends on your conditioning and physical abilities that you have. To keep that pace high up -- and we worked very hard over the week in training -- I knew that throughout the game, maybe after 20, 30, 40, 60 minutes, always there are these moments where they can't keep it anymore. They don't have that in their system yet. That will be a process that we have to go through long term."
The failure to turn territorial dominance into goals allowed the Ticos to hang around, and they duly punished the Americans in the 65th minute. A well-timed ball over the top found Real Salt Lake forward Alvaro Saborio in space, and his feed found a wide-open Michael Barrantes in the box. His pile driver was brilliantly saved by Tim Howard, only for Rodney Wallace to head home the rebound.
The U.S. attempted to climb back into the match through a series of long shots and a few individual runs. One run from substitute Juan Agudelo nearly created a look at goal, but his foray was stuffed by goalkeeper Keylor Navas.
"I think there's no question tonight is going to benefit us," said Donovan. "There's a lot to learn from tonight. A lot of our young players will see that you can dominate a game, dominate possession, have the majority of the ball and still lose. And that's how it's probably going to look in CONCACAF against a lot of these teams in qualifying."
ESPN FC on Twitter
Don't miss a moment of the latest soccer coverage from around the world. Follow us on Twitter and stay informed. Join »
The U.S. will need to regroup quickly, as it travels overseas to take on Belgium in Brussels. Perhaps then the U.S. attack will convert with greater regularity and give Klinsmann the signs of progress he craves.
Player ratings: (1-10; 1 = low, 10 = best)
G Tim Howard, 7 -- Could do little about the goal, and nearly bailed his side out. He commanded his box well when called upon and made a few sharp saves toward the end of the first half.
D Edgar Castillo, 4 -- Got forward to good effect and looked dangerous when cutting inside. But he forced too many passes in bad spots, especially in his own half. Better teams won't be as forgiving as Costa Rica was on this night. His lack of strength on the ball was also evident.
D Carlos Bocanegra, 5.5 -- Solid for much of the night, be it in the air or on the ground. He also was composed in initiating the attack. Bears some of the responsibility for allowing Saborio to sneak through on the goal, however.
D Michael Orozco-Fiscal, 4.5 -- Overall he was too slow to sense danger, especially on one late chance in the first half that Howard saved. Wasn't as lucky on the game winner, when he failed to track Saborio's initial run.
D Tim Chandler, 6 -- Showed off his impressive strength on the ball when joining the attack and defended his side well. But his crossing was inconsistent. On another night, his late nudge on Saborio might have resulted in a penalty.
M Maurice Edu, 6.5 -- His passing was safe and simple, and he cleaned up loose balls in midfield. His performance tailed off in the second half, but overall an efficient performance.
M Jose Torres, 7.5 -- Defensively, he made several vital tackles to thwart Costa Rican counterattacks, and he showed off his range of passing to spark the U.S. attack. Perhaps his best performance in a U.S. shirt.
M Landon Donovan, 5.5 -- Was at the heart of his team's best attacking moves in the first half, but missed a glorious chance early. His passing was accurate in the middle third of the field, but his last ball needed to be sharper. Ditto for his set pieces. Faded in the second half.
F Robbie Rogers, 5 -- Got himself involved in the attack, but was too slow in his decision-making. This resulted in his getting caught in possession or waiting too long to find passing options, players who then drifted offside. To his credit, he did track back well on defense.
F Jozy Altidore, 7 -- Provided an effective target, showing off his ability to hold the ball up, and combined that with some excellent link play.
F Brek Shea, 6 -- Brought lots of good energy into the attack and was a threat in the air. His crossing needed to be better, though.
Subs:
F Juan Agudelo, 5.5 -- His holdup play lacked the precision and strength of Altidore, but he nearly scored on a brilliant solo run in the 84th minute.
M Sacha Kljestan, 6 -- Kept the U.S. attack ticking after coming on for Rogers, usually operating from a more central position.
Jeff Carlisle covers MLS and the U.S. national team for ESPN.com. He is also the author of "Soccer's Most Wanted II: The Top 10 Book of More Glorious Goals, Superb Saves and Fantastic Free-Kicks." He can be reached at eljefe1@yahoo.com.
U.S. soccer correspondent
Jeff Carlisle covers MLS and the U.S. national team for ESPN FC.