Commentary
U.S. planning formation changes
Updated:
September 17, 2011, 1:36 PM ET
By
Jeff Carlisle
| ESPN.com
Celebrations are supposed to be joyful, unambiguous. But as the U.S. women's national team begins its Celebration Series at Livestrong Sporting Park on Saturday against Canada, the emotions will be decidedly mixed.
The two-game series between the regional rivals, the second of which will be played in Portland next Thursday, is designed to highlight all that was good about the Americans' run to the World Cup final in July, in particular the hangman-cheating quarterfinal triumph over Brazil. But in light of the Americans' gut-wrenching penalty-kick shootout defeat to Japan in the final, the games against their northern neighbors will stop short of being a coronation.
Forward Abby Wambach summed up the mood surrounding the team when she said via telephone: "When your heart is broken, you'll always be a little heartbroken, I'll always feel that. We expect to see some really fun soccer in the next couple of games against Canada. It's a celebration of what we accomplished, and I hope it's a reminder of what we didn't come home with."
[+] Enlarge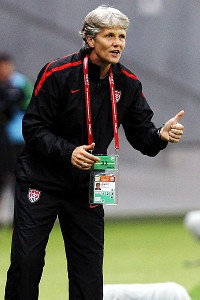 Martin Rose/Getty ImagesHead coach Pia Sundhage hopes to avoid complacency within her team by introducing a new attacking setup in the lead-up to the Olympics.
As with most healing processes, the games are also an opportunity to begin looking forward, and Sundhage has wasted little time letting the team know what lies ahead. Olympic qualifying is set to take place in Canada in January, and the U.S. manager is already indicating that she intends to depart from the tried-and-true 4-4-2 formation she used throughout the last World Cup cycle and adopt a 4-2-3-1 alignment. There's a tendency to think this is just the latest step in Sundhage's quest to turn the U.S. into a more possession-based side, and perhaps shield the team from some of the defensive breakdowns that cropped up in the final. But the decision is also borne out of a desire to keep things fresh.
"I think I wouldn't be able to encourage them with the same kind of system," said Sundhage in a telephone interview. "It's very easy to get complacent and take [things] for granted. Instead of doing the same old stuff, we have to rethink things. For the coaching staff, 'What is important if we play this kind of system?' We have to evaluate the players and their performance in different ways. At least that's what I'm going to try to do. If it doesn't work, we can always go back to 4-4-2 and have them play the way we played in the World Cup."
That means there will be plenty of focus in the coming months on who will assume the central playmaking role underneath Wambach. Sundhage rattled off names such as Carli Lloyd, Lauren Cheney, Megan Rapinoe and Tobin Heath as all being candidates to take on that responsibility. There will also be questions as to which two players will occupy the holding midfield positions, with Lori Lindsey potentially playing an increased role if she has a physical presence like Shannon Boxx by her side.
Yet perhaps the biggest challenge will revolve around time, or rather the lack of it. Instead of participating in the Pan-American Games, to be held in Mexico starting in the middle of October, the U.S. team will be given six weeks off at the conclusion of the Celebration Series, after which the team will reconvene with the idea of peaking when Olympic qualifying begins. Along the way, Sundhage said she expects the team to play one game in November and another two in December, although she indicated she didn't know whether those would be official games or closed-door scrimmages. But Sundhage pronounced herself unconcerned with the compressed time frame.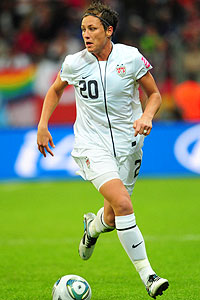 Johannes Eisele/AFP/Getty ImagesAbby Wambach will lead the forward line for the U.S. team as the American women meet Canada in the first match of a two-game Celebration Series.
"As coaches, I think we are able to turn this around because we have created so many good relationships with the players," she said. "I know that they trust us. But more so, the players, they are smart. They are up for that challenge."
The team has only conducted three practices since Sundhage announced the change, but it's a shift that Wambach is embracing, especially given that she'll have a dedicated creative force closer to goal.
"I think one thing that this team has been lacking for I don't know how many years is a true playmaker, somebody who has vision to see those little seams," she said. "Up top, if you don't have a player like that, you stop making those runs, which takes away a huge part of any team's attack. Being able to put somebody in that No. 10 spot and let them create, and get that playmaker that you need on the field, I think that just gives us more chances to score goals."
That approach should also allow the U.S. to do a better job of dictating a game's tempo, something the team struggled to do in the knockout stages. And it may be just the thing to allow the U.S. to defend its Olympic title and in the process put the disappointment of the World Cup firmly in the past.
"Japan took something from us," Wambach said. "Not that we deserved it, because they rightfully won it, but not too often do you get a second chance to win a championship in two years. This is a good opportunity for us. I think we have everything positive in front of us to take and obviously learn from the things that we can work on."
Perhaps then the team can celebrate with no regrets.
Jeff Carlisle covers MLS and the U.S. national team for ESPN.com. He is also the author of "Soccer's Most Wanted II: The Top 10 Book of More Glorious Goals, Superb Saves and Fantastic Free-Kicks." He can be reached at eljefe1@yahoo.com.
Soccer
Jeff Carlisle covers MLS and the U.S. national team for ESPN FC.