Commentary
Bradley's job a boost for U.S. credibility
Updated:
September 28, 2011, 3:10 PM ET
By
Jeff Carlisle
| ESPN.com
[+] Enlarge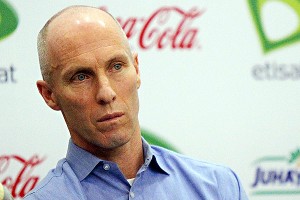 Khaled Desouki/AFP/Getty ImagesBob Bradley isn't the first American to try his luck abroad with a foreign national team, but his appointment could end up being the most important.
An earthquake rippled through the U.S. soccer community this past weekend. And it came in the form of the Egypt Football Association announcing that Bob Bradley will be the head coach of its national team.
To be clear, the announcement wasn't the kind of massive upheaval that cracked foundations and sent institutions crumbling. It was more the type of tremor that shook you, made you sit up and take notice, and ponder the long-term ramifications. Call it a 6.0 on soccer's Richter scale.
It's worth noting that from a purely historical perspective, Bradley isn't the first American to try his luck abroad with a foreign national team. In 1930, Mark Scott Thompson became the first U.S. coach to head up another country's national team when he took over El Salvador. Since the beginning of the new millennium, the likes of Bill Moravek managed the British Virgin Islands, Ian Mork took up the reins of Belize and Steve Sampson had a two-year stint managing Costa Rica.
But Bradley's appointment does signify a sizable shift.
"Certainly, the status of Egypt as a soccer-playing nation is right up there," said Peter Wilt, who, as general manager of the Chicago Fire, hired Bradley to his first professional head-coaching job in 1998. "Yet I think it's more important to recognize that an America-born coach can have the ability to lead a major country. I think it's an important step in gaining credibility for American soccer, not just American coaches, not just Bob Bradley, but the entire American soccer community. It's an important milestone, but it's one of many in the last decade."
Just how big a marker it ends up being will depend on how Bradley performs. If he's successful, it may well open the door for other American coaches to get opportunities abroad. If not, the reputation of the U.S. will be knocked back down a peg or two, even as the sport continues its rise in terms of acceptance at home.
But make no mistake, Bradley is walking into a job littered with challenges, some of which no other U.S. coach has ever encountered. From a purely soccer standpoint, an Egyptian side with a long history of success -- one that included the past three African Cup of Nations titles -- is undergoing a period of immense transition. Mainstays such as Wael Gomaa and Ahmed Hassan are heading toward the end of their international careers, and the Pharaohs didn't even qualify for next year's ACN, to be held in Gabon and Equatorial Guinea. The Egyptian domestic league is in a state of flux as well, with clubs -- many of which are owned by the military -- attempting to move to a more independent economic model free of government subsidies.
Bob Bradley's stated aim of qualifying Egypt for the World Cup for the first time in over 20 years is a tall order.
Yet that pales in comparison to the political upheaval that has wracked the country and culminated in the ouster of longtime president Hosni Mubarak in February. The national team was often viewed as a public-relations tool of the Mubarak government, and during the height of the protests the players and club management stood on the sidelines, much to the anger of fans.
"There's a fair amount of work that's going to have to take place in order to rebuild the [national team] fan base, and also rebuild, in a sense, player confidence," said James M. Dorsey, who writes the soccer blog The Turbulent World of Middle East Soccer. "You've had situations at the club level in which fans would unfold huge banners that said 'We were there for you. Where were you when we needed you?'"
Add this to the fact that Bradley will be living in a country whose language and culture is completely unfamiliar to him and you have a set of immense obstacles. That said, Bradley enters the job with some advantages as well. His work ethic and organizational abilities will no doubt stand him in good stead, as will the fact that under his watch, the U.S. eliminated Egypt at the 2009 Confederations Cup with a 3-0 victory. For that reason, the fact that he's an American working in a Middle Eastern country need not be the problem it appears to be.
"In some ways, the fact that he's a total outsider works in his favor if he's able to understand the political [environment] he's operating in, and if he's culturally sensitive," Dorsey said. "A lot will depend on one, his own intuitive sensitivity, and second of all, how good his translators are.
"Translation and interpretation aren't just transforming one word into another," Dorsey added. "It's also a two-way cultural interpretation from Bradley toward the team and the team toward Bradley. The positive side to this is that both sides have a vested interest in making this succeed."
ESPN FC on Twitter
Don't miss a moment of the latest soccer coverage from around the world. Follow us on Twitter and stay informed. Join »
The need for nuanced translation leads to another key for Bradley, namely the ability to hire his own staff. Sampson recalled how upon taking the Costa Rica job, he was not allowed this luxury, creating a difficult working atmosphere in which the assistants were more loyal to the federation than the head coach.
"When you coach abroad, the federation will attempt to put assistant coaches into positions to where they will have a line of communication directly into the team," he said. "So it's important for Bob to have at least one person alongside him that he can trust and rely on, because if not, you're really on an island."
This makes the hiring of former Egyptian national team goalkeeper Zak Abdel as one of Bradley's assistants even more important. Abdel served as Bradley's goalkeeper coach with the U.S. national team as well as at Chivas USA, and would be able to provide the translation skills needed to help his once and future boss navigate through the cultural waters. His knowledge of Egyptian players and their mentality would be invaluable as well.
At present, only Egypt U-20 head coach Dia'a El-Sayed has been named as an assistant. Abdel, meanwhile, has yet to be officially added to Bradley's staff, with an EFA spokesman telling Ahram Online that Abdel's "excessive financial demands" were preventing a deal from getting done. So is such an explanation merely a smokescreen for the EFA to install its preferred option as goalkeeper coach?
"Yes, absolutely," Sampson said. "The politics have already begun. For me, I would do everything possible, even taking money out of my own pocket to pay Zak additional money, to have him there along my side. That will be critical. It's worth it."
Bradley's ability to adapt to his surroundings will be important as well. While he was coach of the U.S., he was fond of saying that the only thing that mattered was what happened inside the "four walls" of the locker room. While this was true to a degree, the result was that Bradley could appear guarded in his dealings with the media. To be fair, this tendency eased somewhat during the latter stages of his tenure, but Dorsey indicated that changing this approach could go a long way in generating good will.
"Egyptians are very warm people," he said. "They are also people known for their humor. A lot of people would tell you an Egyptian can't say a serious word, so engagement is important, but there's multiple levels. Engagement with the players, engagement with the fans, engagement with the media, the public -- all of that is important. And now you have a much more diversified and a much freer media. This is certainly an environment where aloofness is not going to go down well. Now again, it doesn't necessarily mean that this will be his downfall. It's all a balance of factors, but a greater degree of engagement will probably work well for him."
Bradley appeared to be taking that approach during an interview with Egyptian broadcaster EgyUP. His language was simplified in a bid to make sure his message was clearly understood, and he answered a potentially tricky question regarding how Americans view the political situation in Egypt by stating how the U.S. will be supportive of a nation's people deciding its future.
But as with any coaching job, success or failure comes down to results. Fortunately for Bradley, Egypt's failure to qualify for the 2012 ACN gives him some wiggle room, with the first round of World Cup qualifying not set to begin until next June. At that point, the pressure will be on, especially given Bradley's stated aim of qualifying Egypt for the World Cup for the first time in over 20 years.
"It's ambitious but not impossible," said Dorsey of qualification. "It's not like you're thinking, 'Gee, where the heck are they coming from?' It's really just breaking through to that next level."
If Bradley can help Egypt get there, than the reverberations will no doubt be felt for years to come.
Jeff Carlisle covers MLS and the U.S. national team for ESPN.com. He is also the author of "Soccer's Most Wanted II: The Top 10 Book of More Glorious Goals, Superb Saves and Fantastic Free-Kicks." He can be reached at eljefe1@yahoo.com.
U.S. soccer correspondent
Jeff Carlisle covers MLS and the U.S. national team for ESPN FC.