Commentary
Sounders three-peat in U.S. Open Cup
Plus, David Beckham's feud with RSL's Jason Kreis
Updated:
October 5, 2011, 10:05 AM ET
By
Jeff Carlisle
| ESPN.com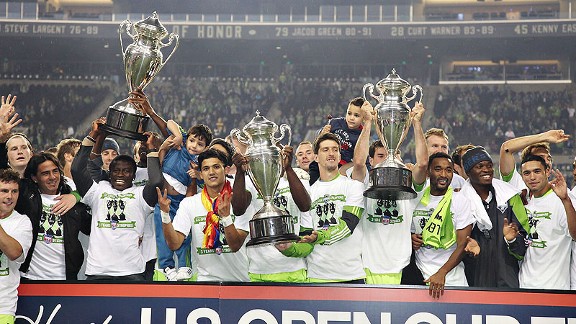 Otto Greule Jr/Getty ImagesSeattle defeated Chicago to become the fourth team to three-peat in U.S. Open Cup, and the first since the 1967-69 New York Greek-Americans.
Seattle Sounders FC claimed its third consecutive U.S. Open Cup triumph on Tuesday, dispatching a game Chicago Fire side 2-0 before a record crowd of 35,615 at CenturyLink Field. But six weeks from now, will it matter?
To be clear, Seattle's triumph should. A three-peat is a three-peat, even if the Sounders didn't have to leave the Seattle-Tacoma area for any of its four cup games. But the USOC has always had an oddly tenuous hold on the collective mindset of fans and even some MLS head coaches, with the Supporters' Shield and MLS Cup attracting far more mindshare. How else can you explain the whispers echoing around Seattle before this season's First Kick match between the Sounders and the Los Angeles Galaxy, which hinted that despite two previous USOC triumphs, manager Sigi Schmid was in trouble unless the season was capped off with a deep playoff run?
Perhaps now, the achievements of Schmid and his squad will carry a bit more weight, especially when combined with the team's advancement to the quarterfinals of the CONCACAF Champions League.
On this night, the Sounders were simply too much for the Fire in almost every department. Seattle had too much speed on the flanks as well as too much mobility in midfield, which not only wore down Chicago, but also cut off the oxygen to its normally lethal striker force of Dominic Oduro and Patrick Nyarko. And on those rare occasions where Oduro got the ball in Seattle's half, defender Jhon Kennedy Hurtado was there to keep the Ghanaian in check.
ESPN FC on Twitter
Don't miss a moment of the latest soccer coverage from around the world. Follow us on Twitter and stay informed. Join »
But the game's biggest performance came from midfielder Osvaldo Alonso. Seattle had hold of the game's momentum for much of the night, but his ability to win countless balls in midfield helped Seattle seize it on a permanent basis midway through the second half, enabling Fredy Montero to score the all-important first goal in the 77th minute when he stabbed home a rebound of Jeff Parke's bullet header.
Alonso capped off the scoring in the sixth minute of stoppage time with a superbly taken goal in which he showed the kind of composure that is usually the domain of the Wayne Rooneys of the world.
Of course, such late drama wouldn't have been necessary if Chicago goalkeeper Sean Johnson hadn't produced an otherworldly performance. He delivered a series of superb saves in the first half to keep the Fire in the match, and had some help from the woodwork as well, as both Montero and Michael Fucito came within inches of breaking the deadlock. Alas, when the Fire badly needed the composure of injured attacking midfielder Sebastian Grazzini -- who could provide only 11 minutes as a substitute -- the heroics of Johnson weren't enough. The fact that Seattle was missing its own attacking linchpin in Mauro Rosales, who sat out with a sprained right MCL, made its victory all the more impressive.
So can Seattle push on and add some playoff success to its impressive tenure in MLS? Its path to the MLS Cup final, which will likely require the Sounders to get past Real Salt Lake as well as their nemesis, L.A., looks daunting. But Schmid's time in Seattle has seen him acquire an impressive amount of depth. Perhaps that will be all that's required to add to the Sounders' trophy haul.
[+] Enlarge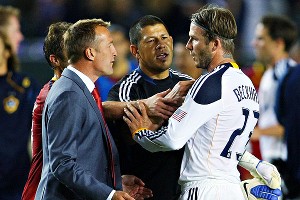 Victor Decolongon/Getty ImagesThings got personal between RSL's Jason Kreis and L.A.'s David Beckham this past Saturday.
Kreis vs. Beckham: Last Saturday's tilt between the Los Angeles Galaxy and Real Salt Lake was as compelling as they come, and the intensity spilled over after the final whistle with RSL manager Jason Kreis and Galaxy midfielder David Beckham squaring up to each other. After initially indicating that the argument was over his interactions with referee Kevin Stott, the RSL manager stated there was personal aspect to the altercation as well.
"I was attempting to exit the field, and got a personal comment directed at me by Beckham for the third time and I thought it was fair for me to respond to a personal comment," said Kreis via telephone, without specifying exactly what was said.
The teams have a bit of history, with RSL edging out the Galaxy for the 2009 MLS Cup on penalties. The game was also noteworthy for a Beckham tackle in the first half that forced Javier Morales to leave the match. But Kreis insisted there was nothing in the past to hint at animosity between the two.
"I don't think that Beckham and I have had any prior problems," he said. "I've got a ton of respect for him as a player and a ton of respect for everything that he's accomplished in his career."
Kreis did take issue with Beckham's comments, as well as those of Galaxy manager Bruce Arena, that were directed at Stott and his assistants. "I saw a player who berated the linesman in the first half, and who berated the head official his entire way back to the locker room at halftime," Kreis said. "He, as well as his coach, Bruce Arena, gave the referee an earful at halftime, and I think that act in and of itself is not the right thing to be doing at halftime. I think the league needs to step up and make a stand that coaches and players should not be speaking with referees at halftime."
There is a chance that the teams could meet in the Western Conference final, although RSL's likely first-round matchup with Seattle represents a massive challenge. But if the two do square off in the playoffs, it would no doubt make for compelling viewing.
Home of the Bravo: Given the current obsession with all things Rafa Marquez, even in light of his sublime assist in Tuesday's 2-0 win over the Galaxy, it's worth noting that 1,100 miles to the southwest another Designated Player, Sporting Kansas City's Omar Bravo, has put together a quietly effective season. In fact, on almost every level he's been the anti-Marquez.
Bravo's respectable production of nine goals and two assists in 25 games likely falls a tad short of the inflated expectations associated with DPs, but the former Mexican international's value to Kansas City was clearly visible in last weekend's 1-1 tie with the San Jose Earthquakes. Positioned out on the left wing in Peter Vermes' 4-3-3, Bravo did his bit to contribute to Kansas City's attack. But he was also plenty attentive to his defensive duties, continually tracking back, putting in his share of tackles, and even winning a head ball or two in his own box.
It was a performance that didn't come as a surprise to Vermes, although eight months ago, he had his share of questions as to how Bravo would fare.
"What you never know as a coach is what a player is like inside the white lines when you're training, all of those other things," he said. "You don't know what he's like in the locker room. I can't say enough great things about [Bravo]. He's a tremendous addition to our team, he's a mature guy, and he's a consummate pro. He just raises the level of the rest of the guys around him."
As for Bravo, he insisted he was more than willing to put in a shift that is somewhat at odds with the stereotypical me-first attitude of forwards.
"I don't mind [the defensive work] at all," he said with the aid of a translator. "I have adapted myself to play in this league that way, and I'm comfortable with it. I understand what I have to do for the team, and the important thing for me is that the team does well."
And his reaction the first time that Vermes asked to play that role? "I was elated," he said. "I played that way for Chivas [de Guadalajara] many years ago, I feel fine doing it, and there is no problem."
Proving once and for all that reaching a Designated Player-level of performance goes beyond mere numbers.
[+] Enlarge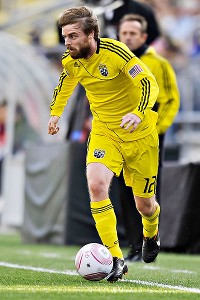 Jamie Sabau/Getty ImagesThe return from injury of Eddie Gaven has given the Crew a much-needed boost.
The Crew's happy returns: In terms of injury comebacks, most of the attention in recent weeks has focused on Real Salt Lake midfielder Javier Morales as well as the likelihood that FC Dallas' David Ferreira will miss the rest of the season.
But in Columbus, the return of two players may very well save its season. Last weekend against D.C. United, midfielder Eddie Gaven made his first appearance in eight games after suffering a lower leg bruise, and the difference was palpable. Without Gaven, the Crew had stumbled to a 2-5-1 mark and had slid alarmingly down the Eastern Conference standings. But against United, a reenergized Columbus side secured a critical 2-1 victory, with Gaven netting the game-winner.
"You can see what we were missing," said Columbus manager Robert Warzycha. "He's a very good player, and he scored a beautiful goal. But more than anything, he's running at people, he's getting fouls in good areas so we can be dangerous around the box.
"He's also one of the leaders. He's a quiet guy, but through his performance on the field, he's leading this team."
The Crew benefited from more than just Gaven's comeback, however. The recent return of Danny O'Rourke has also paid dividends. O'Rourke's initial appearances after coming back from offseason knee surgery saw him usually slotted into the center of midfield, but with Chad Marshall rendered unavailable due to a sprained ankle, the Indiana University product ably stepped in and kept things tight enough at the back to keep his side in the match.
"I was torn between two guys to fill in for Chad, but I thought with O'Rourke's leadership, I thought he would be good in the back," Warzycha said. "He made sure the guys were in the right position, he made sure we were squeezing the field, and he was someone who was going to talk and direct the players. He did a good job."
Jeff Carlisle covers MLS and the U.S. national team for ESPN.com. He is also the author of "Soccer's Most Wanted II: The Top 10 Book of More Glorious Goals, Superb Saves and Fantastic Free-Kicks." He can be reached at eljefe1@yahoo.com.
Soccer
Jeff Carlisle covers MLS and the U.S. national team for ESPN FC.