Commentary
U.S. eager to give Klinsmann first win
In the early days of his tenure, the focus of U.S. men's national team manager Jurgen Klinsmann has been on just about everything but results, and with good reason. There are new players to observe, a new style to implement, and the goals are mostly of the long-range variety.
But results, and more specifically wins, do have their uses when placed in their proper context. And after recording a tie and two losses so far under Klinsmann, the U.S. is keen to get back to winning ways, starting with Saturday's match against a short-handed Honduras side.
To be sure, victories in friendlies can obscure significant problems. But they can also inspire confidence and provide reassurance that the team is on an upward trajectory. And more than anything, the U.S. will be eager to put together a complete performance this weekend.
[+] Enlarge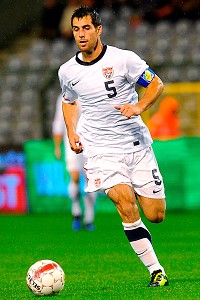 John Thys/Getty ImagesVeteran defender Carlos Bocanegra will feature in the U.S. backline in Saturday's international friendly against Honduras.
"I think the biggest frustration is we all felt we should have beaten Costa Rica handily," said U.S. captain Carlos Bocanegra, about last month's 1-0 loss to the Ticos. "We played well, that was a positive, but we do need to finish teams off, so that's definitely on our minds. We are building towards next summer in [World Cup] qualifying, but obviously we want to get results. That's important to us as well."
There have been signs of progress under Klinsmann, but they've only revealed themselves intermittently. Some individual performances have caught the eye. There have been some moments of sparkling attacking play, even as players try to adapt to Klinsmann's methods.
"I felt like we got into some pretty good positions and maybe that final ball was a little bit lacking," said midfielder Maurice Edu. "But I think overall we showed a level of maturity in the way we went out and tried to really impose ourselves on the game and on our opponents."
Despite these improvements, the U.S. has scored only a solitary goal under Klinsmann. With Jose Torres, Stuart Holden and Landon Donovan all missing the match through a variety of injuries, things don't figure to get any easier against the Catrachos. Yet according to Bocanegra, the German has not veered from the concepts he prizes the most. Among those is an ability to play out of the back and build sustained attacks to the point that the U.S. is playing mostly in the opponent's half. The Americans have also continued to work on playing cleanly out of tight spaces, something that was a problem in the last outing, a 1-0 loss to Belgium.
One aspect of the American game that will bear watching is whether Klinsmann employs one or two holding midfielders. Against a Costa Rica side content to bunker in and hit the U.S. on the counter, the Americans utilized Edu as the lone player protecting the back four. In the second half against Belgium, Kyle Beckerman slotted in alongside Edu in a bid to add more defensive solidity.
[+] Enlarge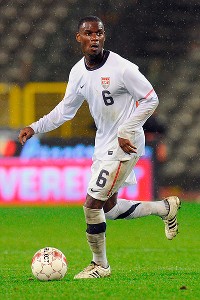 John Thys/AFP/Getty ImagesMaurice Edu feels he is well-suited to the role of sole holding midfielder that coach Jurgen Klinsmann has implemented within U.S. formations for recent matches.
"We definitely have to be flexible to play both of those systems," said Bocanegra. "We're working on playing out of the back and not just worrying about defending so much; also being able to attack out of these formations."
Like Costa Rica last month, Honduras is missing many of its best players, with Stoke City midfielder Wilson Palacios, Celtic's Emilio Izaguirre and forward David Suazo among the absentees. This points to Klinsmann utilizing just one holding player, a position that Edu indicated he's happy to play.
"It's a defined role, and I think the last two games when I played in that role, it suited me," he said. "It kind of made my job a little bit easier with the guys in front of me. I was just trying to protect the back four, break up plays and start the attack."
The hope is that employing such a formation will free up more players to get forward. Jozy Altidore has been on fire lately for club side AZ Alkmaar, scoring seven goals in 12 league and cup matches. But oftentimes during the Klinsmann era the U.S. forward has been left on an island, so one sign of progress will be to see if the Americans can get more numbers into the attack and at the right time so as not to leave themselves vulnerable in the back.
"People are looking sharp in training this week," said Bocanegra. "We're working hard, like always. But I think as well, the forwards are hungrier. Any time that a coach says he's stressing the attack, or says something about the defense in the press, that's something where as a professional athlete, that motivates you a little bit. I think these guys will come out with a little bit of a chip on their shoulder and we'll be fine."
Against a Honduras team likely to replicate Costa Rica's counterattacking style, that extra dose of attitude may be precisely what is needed for the U.S. to finally break out and give Klinsmann his first victory as U.S. coach.
Jeff Carlisle covers MLS and the U.S. national team for ESPN.com. He is also the author of "Soccer's Most Wanted II: The Top 10 Book of More Glorious Goals, Superb Saves and Fantastic Free-Kicks." He can be reached at eljefe1@yahoo.com.
U.S. soccer correspondent
Jeff Carlisle covers MLS and the U.S. national team for ESPN FC.