Commentary
Altidore has reason to be fired up
Updated:
October 10, 2011, 2:40 PM ET
By
Jeff Carlisle
| ESPN.com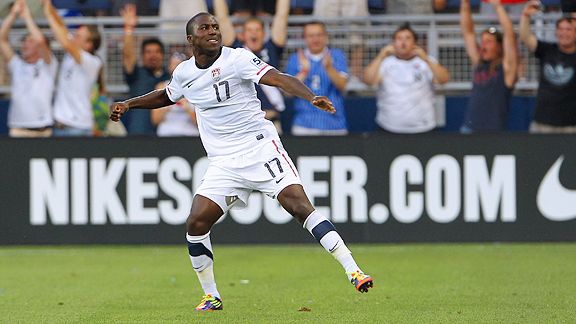 Jamie Squire/Getty ImagesJozy Altidore is enjoying the finest spell of his young career, scoring seven times in 12 games for his new club AZ Alkmaar. Can the American forward start producing like that for the U.S. national team?
As Jozy Altidore settles into his chair, you would never guess that he is enjoying the finest spell of his young career. Just 12 games into his tenure with Dutch side AZ Alkmaar, the 21-year-old has tallied seven goals, including four in the Europa League.
Yet when asked about his scintillating start, Altidore conveys a cautious optimism. He shrugs his shoulders and says, "It's early. Certainly since coming to Europe, I haven't enjoyed it this much, so I'm happy about that. But I'm excited about what's to come. I'm feeling good, and the team's doing really well. I think we're going to be really good this season."
Altidore has every reason to avoid even a hint of irrational exuberance. His recently concluded three-year spell with Spanish side Villarreal saw him exposed to the brutal realities of European soccer. With the likes of Giuseppe Rossi ensconced in the lineup, Altidore was loaned out three times, including a six-month spell at Spanish side Xerez, where he didn't play a single minute. His later loan spells with Hull City in England and Turkish side Bursaspor were marked by a few peaks, but mostly deep valleys. All told, he made 22 first-team appearances for Villarreal, tallying three goals.
It's a period that Altidore describes as "bittersweet." He happily recounts playing under manager Manuel Pellegrini during the 2008-09 season, when the coaching staff put a heavy emphasis on developing younger players. But once the Chilean left to coach Real Madrid in 2009 and was replaced by Ernesto Valverde, the vibe of the club changed, especially once it began contending for a spot in the Champions League.
"It wasn't so much about development," Altidore says of the time after Pellegrini. "It was, 'Can you help me or not? If not, go on loan.' I was getting the sense that this was a place I shouldn't be anymore.
"

It was a really depressing time, bouncing around [on loan]. You know you have the ability, but it's like you're talking and nobody is listening.

"

-- Jozy Altidore, on his earlier time in Europe
"It was a really depressing time, bouncing around. Nothing is working. You know you have the ability, but it's like you're talking and nobody is listening. That's difficult for anybody. It was really depressing on myself, but I knew I had the ability. You've got to stick with these things and it will come out the other side."
The contrast between that experience and his time in the Netherlands couldn't be more pronounced. Granted, the Eredivisie doesn't have the quality of Spain's La Liga, and the play tends to be a bit more wide-open, allowing forwards more room to operate. But Dutch clubs have a reputation for developing players, and AZ -- whose director of football is none other than former U.S. international Earnie Stewart -- has lived up to that billing. Altidore likens the atmosphere at AZ to an academy, where immense time is spent on the training field teaching the finer points of the game, such as how strikers should move off the ball. That attention to detail extends off the field as well.
"It's just the little things," Altidore says. "[The coaches], they're always reaching out to me to do extra, whether it's weights, or extra running, stuff like that. They're really taking pride in their investment and trying to make it work. That's something -- and I've bounced around a few places -- that I haven't seen. I thought that stood out a lot to me, and it's something that could help a lot of young players if they knew about it. It's something that's not well-known here in America."
In hindsight, it appears that Villarreal was the wrong club for an 18-year-old to go to, and that heading to a club in Holland would have been a better for his career. But Altidore understands that with his stock at an all-time high following the 2007 U-20 World Cup, as well as his exploits for the U.S. and the New York Red Bulls, there was no way that MLS was going to sell him for $1 million to a team in the Netherlands. And he admits that the experience did toughen him to the ways of European soccer.
[+] Enlarge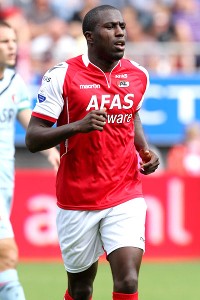 Anoek de Groot/Getty ImagesJozy Altidore says the AZ Alkmaar coaching staff puts a heavy emphasis on developing younger players.
But Altidore is happy to be in the Netherlands now, and the perception that the Eredivisie is a step down from La Liga is mitigated by the fact that he is getting loads of playing time, especially with projected starter Charlison Benschop hobbled by a heel injury. AZ is top of the table in the league and is tied for first in Group G of the Europa League. Personally, Altidore has settled in well with the team, the city, and the culture, even reveling in the eccentricities of Alkmaar's 400-year-old cheese market.
Altidore's play has made a favorable impression on observers across the pond. "AZ is not an easy club to play for," Dutch soccer journalist Erik Brouwer explains via email. "The audience is very demanding. They have played very skillful soccer the past decade, so you have to be a special player to be accepted there, and the audience accepts Jozy. They like his work ethic, technical skills and personality. He seems humble, yet no too humble, and willing to learn, which is very important at AZ. The manager, Gert-Jan Verbeek, likes a combination of physical and technical soccer, and Jozy can provide that."
Altidore's strong start has caught the eye of U.S. manager Jurgen Klinsmann as well. Through the German's first four games in charge, Altidore has been ever-present up top. Klinsmann is also noticing how a regular diet of games has benefited the forward's play.
"I think [playing regularly] is the most important part of it, that Altidore really gets now a rhythm of games, that he's not kind of on this rollercoaster anymore," Klinsmann says. "And the way he presents himself the last couple of days [in training], big difference from a couple of weeks ago."
The most impressive improvement in Altidore's game has been with his back to goal. Whereas before he was pushed off the ball too easily, he now has become more adept at holding off opposition defenders. His link play has been much more precise as well.
"I used to get nervous when the ball came to me, that the guy was going to take it from me," he says. "If I took a long touch, I'd get scared. But you kind of have the experience of how to be calm and to kind of feel out the game and where the defender is going to come. That just comes with games and experience, and it just came to me."
That ability has come in handy in Holland -- a league in which the 4-3-3 formation has long reigned supreme -- and at AZ, Altidore is being deployed as a central striker. Given that Klinsmann has at times utilized a similar formation for the U.S., the impulse is to think that Altidore will fit seamlessly into what the former German international desires. But there are some subtle differences. In the Netherlands, the wide forwards play more as true wingers, whereas with the U.S., they tuck inside to allow fullbacks to join the attack.
ESPN FC on Twitter
Don't miss a moment of the latest soccer coverage from around the world. Follow us on Twitter and stay informed. Join »
The U.S has had problems getting sufficient numbers into the attack, however, especially as it attempts to play a high-tempo style that physically taxes the team. The U.S. did a better job of this in Saturday's 1-0 win over Honduras, albeit with the help of Clint Dempsey playing as more of a second striker in support of Altidore.
So does Altidore prefer to have a second forward close by? It depends.
"In Holland, the way the team plays, the end product ends with the striker," he says. "When you have that, it makes it easier playing by yourself because the workload is being spread. But if you play a different way, where you're really a lone striker and you have to work and hold the ball up, which is understandable, you probably won't have so much success going to goal. With the national team, if we end up playing [with two strikers], that may suit us, with two guys there that are being asked to hold the ball up and playing off each other. Me? It all depends on the service, man. If the service is great, you can play alone. If it's not, then you have to switch it up."
Altidore knows full well he has a ways to go. There were times in Saturday's game when his touch on the ball while facing up to goal could have been sharper, and the end product that he's displayed with AZ has yet to reveal itself under Klinsmann. But if Altidore continues to get playing time, both at home and abroad, the goals that his ability has long promised should come. Perhaps then his cautious optimism will morph into full-fledged exuberance.
Jeff Carlisle covers MLS and the U.S. national team for ESPN.com. He is also the author of "Soccer's Most Wanted II: The Top 10 Book of More Glorious Goals, Superb Saves and Fantastic Free-Kicks." He can be reached at eljefe1@yahoo.com.
U.S. soccer correspondent
Jeff Carlisle covers MLS and the U.S. national team for ESPN FC.