Commentary
Kasey Keller's final chance at glory
Updated:
October 28, 2011, 7:13 AM ET
By
Jeff Carlisle
| ESPN.com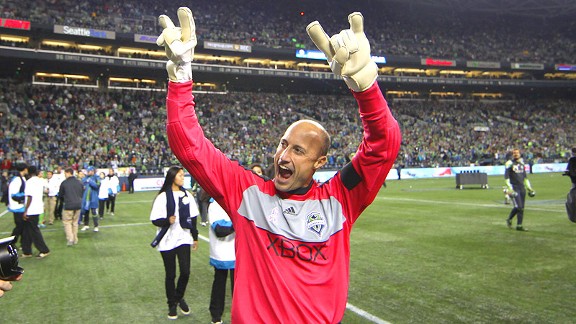 Otto Greule Jr/Getty ImagesSeattle's Kasey Keller said goodbye to the home fans in October, but he hopes to add the one missing piece of hardware to his collection before the postseason -- and his career -- are over.
As résumés go, there isn't a whole lot missing from Kasey Keller's 20-year career in professional soccer. The Olympia, Wash., native has played in almost every top league in Europe. He's won trophies at both the club and international level. Yet there is one gap that is quite noticeable. He has never won a league title, and time is quickly running out.
The 41-year-old has long stated that this season with the Seattle Sounders will be his last. Not even the 64,000-plus crowd that turned out for his last regular-season home game, against the San Jose Earthquakes, could dissuade him. Seattle will begin its playoff quest this weekend when it opens its two-game series against Real Salt Lake on Saturday. And coach Sigi Schmid is intent on sending his goalkeeper into retirement with one of those gaudy championship rings on his finger.
"There would be nothing that would make myself or the team happier," Schmid said about winning a championship with Keller in goal. "I'm excited that we've been able to be together for three U.S. Open Cup victories and gather that hardware, as well as little things like the Cascadia Cup. To ultimately raise [the] MLS Cup would just make this a Hollywood type of ending."
Yet Keller seems at peace with the possibility that he might end his career without a league championship. His competitive drive is still there. You can see it in the way he still barks at defenders and the self-loathing that ensues if a shot gets by him. But the harsh realities of playing in European leagues, in which only a handful of teams have legitimate title aspirations, are something he accepted long ago. He also grew to appreciate the fact that success is often in the eye of the cup holder. Or the survivor.
"

Just making a great save was not what I was about. That's like a guy saying he's going to miss dunking over somebody, and oh, by the way, he lost by 30 points.

"

-- Seattle's Kasey Keller
"For some of the teams I played for, the trophy of staying in the league was massive," Keller said via telephone. "If you've never been in a relegation fight, you have no idea what that pressure is. When we stayed up at Fulham and pulled off one of the greatest escapes ever, they were doing some calculations financially. It was worth more for us to stay up than it was for Manchester United to win it. Then there are the things that you just can't measure, the elation of the fans and [joy] for yourself."
The thrill of a deep run in a cup competition in many ways counted as a trophy as well. Keller won the English league cup with Leicester City in 1997 and claimed some big victories while at Millwall, beating the likes of Arsenal, Chelsea and Everton on their own grounds.
"We had these huge occasions in my time there against big teams," he said. "So there's all sorts of little things that make up a career besides winning titles."
It is those moments -- when the players, the 40,000 fans leaving the stadium and the thousands more watching on television are overjoyed at what the team has done -- that Keller said he will miss the most. The camaraderie among teammates ranks high on his list, too. But there also are plenty of things Keller won't miss.
"I won't miss the preparation before a game starting on a Friday after training," he said, "basically being able to do nothing until after the game on Saturday night. You lose [so much time] because you can't go to this lunch or this dinner and hang out with those people. That's the stuff that I truly won't miss. I won't miss the stress of 'God, if I make this mistake, if I can't come up with this save ...'"
Keller added that his pregame preparation stopped short of barricading himself inside his house, but it was "pretty darn close." He might allow himself the luxury of attending one of his kids' soccer games on a Friday. But if it took place on a Saturday? "No chance would I be leaving the house," he said.
That kind of approach might appear to border on the obsessive, but it helps explain how Keller has survived all these years, no matter the league he was playing in, the team he was playing on or the manager he happened to be playing for.
"You learn quite quickly in Europe what is expected," Keller said. "You understand that if you're out doing something, the fans, the game means so much to them. There would be 20 messages at the club the next day. 'Why was your player out to dinner the night before the game with his friends? I saw him have a glass of wine. Is that why you guys lost? Is that why you guys are terrible?' You just say, 'I'm not going to open up myself to that kind of criticism,' and then you think, 'Maybe that isn't the right preparation for the game.' And you just have to figure it out. Everyone has their own way of doing things, and you're always going to be judged on performances, but you have to just kind of think a little bit."
Keller on stigma of playing overseas
"The stigma of being an American when I started was, 'Why are we even giving you a chance?' The stigma now is, 'Yes, you're doing a good job, but we still think somebody from a different country will do a better job at a higher level.'
"I think we haven't had a lot of success when some of our players have gotten to the big, big clubs. What we're still waiting for is, look at what Javier Hernandez has done at Manchester United. We haven't had a striker go to a big club and be successful. Mexico has, Trinidad and Tobago has; that's what we're still waiting for.

"There's been a few Dutch guys who have been successful at big clubs, and a few Brazilians and a few Argentinians. Then what happens is that it's that much easier for a chairman, a coach, the money guys to say, 'I'm going to give you the opportunity to go sign that guy.'
"That's what we need is big breakthroughs, and that will push it forward." -- JC
That attention to detail extended to his practice sessions as well. Schmid was an assistant coach on the U.S. national B-team that traveled to the Toulon Tournament in 1989. Keller was the goalkeeper on a side that beat England 2-0 to finish in third place, and the way he went about things made a big impression on his future club coach.
"Keller always trained very meticulously, very clean," Schmid said. "A lot of young goalkeepers, they're jumping and diving all over the place, they're a bundle of energy and you almost want them to take a sedative. Kasey was never like that. When he would train, if he bobbled the ball, he would make sure that the save was made before he moved on to [the next repetition]. That was something that stood out, even at a very young age, and something he's maintained throughout his career."
Bill Irwin, Keller's goalkeeper coach at the University of Portland, recalled how Keller flew to Portland after a game with the U.S. national team, peeved over a goal that had been scored against him. They spent the next hour and a half going over his footwork in a bid to improve his positioning.
"If I scored on him a couple of times, we would break it down, whether it was the position of his hands or if he was stepping to the ball wrong," Irwin said. "Keller wanted to stop everything."
And if that meant making a play early so a save didn't have to be made later or making an easy save by astute positioning, so much the better. That's why when Keller talks about what he'll miss about the game, making great saves doesn't rank anywhere close to the top of the list. Given some of the stellar performances he delivered over the years, including the U.S.'s memorable 1-0 win over Brazil in the 1998 Gold Cup semifinal in which he delivered a string of otherworldly saves, this seems counterintuitive. But Keller insisted he would much rather cut out a through ball or catch a cross than dive at someone's feet.
[+] Enlarge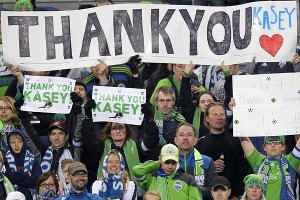 Otto Greule Jr/Getty ImagesSome 64,000 fans turned out at Kasey Keller's last regular-season home game Oct. 15.
"Just making a great save was not what I was about," he said. "That's like a guy saying he's going to miss dunking over somebody, and oh, by the way, he lost by 30 points. Then you're playing for the wrong reasons. If you wanted to be an individual, you should have played tennis or golf. If you're playing a team sport, your goal is to help your team win."
Keller will attempt to do just that against Real Salt Lake this weekend. The Sounders have achieved plenty during their brief MLS history, with three U.S. Open Cups to their name. But they have yet to taste any kind of success in the playoffs, falling to the Houston Dynamo in 2009 and the L.A. Galaxy last season. But this year's side is deeper, even if you consider the latest knee injury to midfielder Mauro Rosales, which likely will rule him out of the first leg. Keller said the team's mentality is stronger as well.
"I think last year we had a situation where we put ourselves in a deep hole, we had a great run of form to get us into the playoffs and then we had a huge collective sigh of relief like, 'Sweet, we made it,' without realizing that we really could go further," he said. "Now it is that thought of, 'Let's win the Cup, let's win this, let's win the Cascadia Cup. Let's get into the next round of the [CONCACAF] Champions League.' We're setting goals for ourselves and achieving them. Now, we're 100 percent focused on the next goal, which is to be the first [Sounders] team to win games in the playoffs."
The statement is quintessential Keller. Concentrate on the task immediately in front of you. Don't look too far ahead. Do everything you can to prepare. And if the team happens to fall short, tip your cap to your opponent and move on.
ESPN FC on Twitter
Don't miss a moment of the latest soccer coverage from around the world. Follow us on Twitter and stay informed. Join »
What precisely he will move on to after it's all over, not even Keller knows. He's mulling over opportunities in coaching, broadcasting and the front office. Perhaps he'll try all three at some point. Given his career's longevity, he's certainly built up enough contacts that he can do whatever he likes, which is one of the things he appreciates the most.
"The coolest thing about soccer and football internationally is very rarely is there a grudge," he said. "I've seen players get in fistfights on the field, and then in the locker room it's already been forgotten. It's always about the next result. Ninety-nine percent of the time I've gotten along with everybody, and the few times I haven't, it's so forgotten that you just try to think about the good times."
Keller will be hoping there will be a few more of those in the coming weeks.
Jeff Carlisle covers MLS and the U.S. national team for ESPN.com. He is also the author of "Soccer's Most Wanted II: The Top 10 Book of More Glorious Goals, Superb Saves and Fantastic Free-Kicks." He can be reached at eljefe1@yahoo.com.
Soccer
Jeff Carlisle covers MLS and the U.S. national team for ESPN FC.