Commentary
Joe Corona named to U.S. U-23 camp
Updated:
November 3, 2011, 10:01 AM ET
By
Jeff Carlisle
| ESPN.com
In life, priorities can change, and Joe Corona is living proof.
Just two months ago, Corona -- who could play internationally for any one of Mexico, El Salvador, or the U.S. -- was named to Mexico's preliminary U-22 roster for the Pan American Games. That appeared to give Mexico the inside track on eventually getting the Club Tijuana midfielder to suit up for the full national team. Corona himself said at the time that "Mexico is my priority now. It's a hard decision, but most likely I will play for Mexico."
But after failing to make the final cut for that squad, the door for suiting up for the U.S. began to open up again, and on Wednesday Corona was named to the upcoming training camp for the U-23 squad.
[+] Enlarge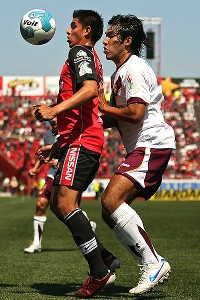 Gonzalo Gonzalez/Getty Images"I'll play for whoever wants to give me the opportunity," Corona (left) said. "I feel connected to both [Mexico and the U.S.]."
"It's very clear," Corona said by telephone. "Mexico didn't call me, and the U.S. gave me this opportunity. I'm going to take advantage of it."
The call-up represents a ray of light in what has been a tough spell for Corona recently. The midfielder started out the current season on fire, scoring in his first two games. But as the campaign progressed, Corona has seen his playing time with Club Tijuana decrease, especially after manager Joaquin Del Olmo was fired in September, and was replaced by Antonio Mohamed.
Now Corona has a chance to rebuild his confidence somewhat. The camp, to be held in Duisburg, Germany from Nov. 7-16, will be comprised of 31 players, with a mixture of domestic and foreign-based performers. U.S. U-23 manager Caleb Porter will be unavailable as he attends to his duties as head coach at the University of Akron, meaning U-20 manager Tab Ramos will run the camp in his place. But Corona is eager to don a U.S. jersey for the first time.
"I'm just going to go out and do what I do best, and that's play good soccer," he said.
Corona made it clear, however, that his ultimate international destination is still to be determined. The Olympics will not irrevocably tie Corona to a particular country. As he indicated back in August, much will depend on which country shows the most interest.
"I'll play for whoever wants to give me the opportunity," he said. "I feel connected to both countries."
Jeff Carlisle covers MLS and the U.S. national team for ESPN.com. He is also the author of "Soccer's Most Wanted II: The Top 10 Book of More Glorious Goals, Superb Saves and Fantastic Free-Kicks." He can be reached at eljefe1@yahoo.com.
Soccer
Jeff Carlisle covers MLS and the U.S. national team for ESPN FC.