Commentary
Mike Magee unlikely hero in L.A. win
Updated:
November 7, 2011, 1:36 AM ET
By
Jeff Carlisle
| ESPN.com
CARSON, Calif. -- In the 56th minute of the Western Conference final against Real Salt Lake, Los Angeles Galaxy midfielder Mike Magee took an inviting cross from David Beckham and headed it over the bar.
But he wasn't about to make the same mistake twice.
Two minutes later, Magee latched onto another Beckham cross, and this time scored on a bullet header that gave the Galaxy a 2-1 lead they would never relinquish. Los Angeles ended up defeating Real Salt Lake 3-1 to secure a spot in MLS Cup against the Houston Dynamo on Nov. 20.
Landon Donovan scored on a first-half penalty, while Robbie Keane dazzled with a well-taken third after being released by Donovan. Alvaro Saborio tallied a first-half equalizer for Salt Lake.
How unlikely a hero is Magee? He had scored only five regular-season goals. And before this year Magee had just two playoff goals in his entire nine-year professional career. Now he's more than doubled that total. What's more, he's provided the Galaxy with another attacking weapon that has served to free up space for L.A.'s more storied trio of Donovan, Keane and Beckham.
[+] Enlarge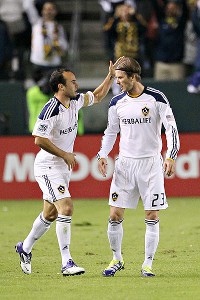 Stephen Dunn/Getty ImagesLandon Donovan celebrates with David Beckham after scoring on a penalty kick in the first half against Real Salt Lake.
"The form [Magee] has been in, I think the every time the ball goes to him, we expect him to score," Beckham said. "Thankfully, my crosses are finding him, and he's putting them in the goal when we need him to. As long as we continue to do that, we'll score goals."
But while Magee's heroics will generate much the headlines, so will RSL manager Jason Kreis for his selections at center back. Much of the run-up to the game was consumed by the status of the injured Real duo of Jamison Olave and Nat Borchers, who were both nursing quad strains. Kreis opted to start Olave but sit Borchers in favor of Chris Schuler. It's a call that will invite some second-guessing. While Schuler was solid for most of the evening, Olave looked a step slow. His usually solid one-on-one defending and decision-making was very suspect, and he was partly to blame on the last two L.A. goals.
"There were both equally as close [to playing]," RSL's Kreis said. "Nat was a little more hesitant about playing. That's why we chose to go with Olave."
To be fair, Kreis was put in a no-win situation, and on paper the choice of Olave looked better than persisting with Chris Wingert, who filled in as an emergency center back in the second leg of RSL's series against Seattle. Olave also deserves credit for simply gutting his way through a difficult situation. No doubt the RSL manager will be left wondering what might have transpired had both Olave and Borchers been healthy.
"Tonight's game was a microcosm of the season," Kreis said. "We had our disappointments. We had some moments of brilliance. We had some moments of average-ness, so we were up and down and in the middle. But one thing that never changes is our guys fought and fought and fought. … I'm extremely proud of what they did in this game and even more proud of what they did in this season."
There was little sign of what was to come early on, however. A Morales corner kick fell to Robbie Russell in the box, only for his point-blank effort to be hit straight at L.A. goalkeeper Josh Saunders. Another Morales cross in the 12th minute found Schuler with a wide-open header from six yards out, but the RSL defender contrived to put his attempt wide.
The Galaxy gradually assumed control, with Beckham and Juninho helping L.A. gain a territorial edge. Although L.A.'s goal arrived in the 23rd minute, it came under somewhat contentious circumstances. Donovan served in a ball from the left wing to Omar Gonzalez at the far post. When the Galaxy defender rose up to head the ball on goal, he was thrown off by contact from behind by Andy Williams. It's the kind of contact that ought to be called a penalty but rarely is. On this occasion, however, referee Jorge Gonzalez pointed to the spot and the ensuing penalty was slotted home by Donovan.
The lead proved short-lived, with RSL equalizing two minutes later. Morales served in a corner kick to the far post, where Olave nodded the ball back across goal for Saborio to head home from close range.
ESPN FC on Twitter
Don't miss a moment of the latest soccer coverage from around the world. Follow us on Twitter and stay informed. Join »
The rest of the half remained tightly contested. The Galaxy nearly reclaimed the lead in the 32nd minute when Juninho floated in a cross that Gonzalez nodded back to Keane. But the Irishman hit the post. Keane went close again in the 43rd minute, evading the attention of Olave, yet saw his curling effort go wide.
RSL finished the half in the ascendency. The Galaxy goalkeeper twice made awkward punches of crosses into the penalty area. The second of those eventually fell to Beckerman, who rang the post with a blast from near the top of the box.
L.A. regrouped to start the second half, creating a steady stream of chances.
"Salt Lake threw an awful lot into that game, and we thought as the game slowed down, it would favor us," Galaxy manager Bruce Arena said. "Some of the passes that we had to get behind them were terrific."
A 50th-minute counterattack saw Keane's cross fall invitingly for Barrett, only for his header to be blocked brilliantly by Will Johnson. Six minutes later, Beckham's cross found Magee in the box, but another chance went begging after his header flew over the bar.
That proved to be a mere prelude to the game-winner. Beckham shook loose on the right wing again, and just as importantly, Keane's near-post run occupied Schuler and Olave long enough to give Magee the opening he needed, powering home his header off Rimando's right hand.
"I wanted that first one back; obviously, I made a mess of it," Magee said. "The second half was a lot of fun, and to get one a couple of minutes later was a little bit of redemption."
Just like the first half, RSL quickly rebounded, as Fabian Espindola broke through on the left side of the box, but his shot caromed harmlessly off the crossbar and the danger was averted. The miss would prove to be costly, as Keane settled the match in the 68th minute. Donovan released the L.A. forward into space, and isolated against Olave, Keane faked a shot with his left foot, cut back to his right, and slotted the ball past Rimando to make the score 3-1.
"We did an excellent job of, when we did win the ball, making the first past forward into someone's feet where we could make plays," Donovan said. Throwing numbers forward "is a dangerous game to play with us with the ability that we have throughout the midfield, with Robbie, and the way Chad [Barrett] was playing. If you play that game with us you're likely going to get burned."
With the game opening up, the teams traded some glorious chances. But the combination of sharp keeping by Saunders and profligate finishing by Keane and Donovan kept the scoreline the same.
Now L.A. finds itself one game away from the trophy that has eluded the team ever since Beckham first arrived in 2007. Given the way the Galaxy -- and especially Magee -- are playing, you have to like their chances.
Jeff Carlisle covers MLS and the U.S. national team for ESPN.com. He is also the author of "Soccer's Most Wanted II: The Top 10 Book of More Glorious Goals, Superb Saves and Fantastic Free-Kicks." He can be reached at eljefe1@yahoo.com.
Soccer
Jeff Carlisle covers MLS and the U.S. national team for ESPN FC.