Commentary
U.S. finishes year off with flourish
Updated:
November 18, 2011, 4:35 PM ET
By
Jeff Carlisle
| ESPN.com
The 2011 campaign proved to be difficult for the U.S. men's national team, which finished with a losing record for the first time since 1997. But the Americans at least capped off the year with a flourish, defeating Slovenia 3-2 and providing a glimmer of hope that better days are ahead.
Coming four days after a tepid 1-0 loss to France, the U.S. at last delivered the kind of offensive performance that has been expected since Jurgen Klinsmann took over as coach in July. The win also gives the team a badly needed boost of confidence. The only downside is that Klinsmann likely won't see his A-team together again until February.
Here are five more observations from the last two matches of 2011.
[+] Enlarge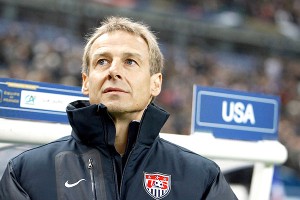 Christophe Elise/Icon SMICredit Klinsmann for a smart change in tactics against Slovenia.
1. Jurgen Klinsmann is a genius
All hail the Teutonic Tactician! OK, jokes aside, credit is due the U.S. coach for tweaking his lineup in a way that looked less like throwing random ideas at the wall to see what would stick, and more like a well-thought-out tactical plan. The midfield that was trotted out against Slovenia was much more balanced between defense and attack, and played to the players' strengths, as opposed to the defensive-heavy quartet that was fielded against France. The two-striker alignment also proved highly effective against the Slovenes, with Edson Buddle providing some badly needed support for Jozy Altidore, who too often found himself isolated in previous matches.
Moving Clint Dempsey into an attacking midfield role also proved to be an astute move by Klinsmann, as was the inclusion of Fabian Johnson on the left wing. Against France, there were a few instances when high U.S. pressure resulted in turnovers, only for the ensuing attack to be undone by a lack of attacking numbers. Against Slovenia, having Dempsey in close support of two strikers allowed the U.S. to turn these moments into clear opportunities, with Buddle's opener the direct result of Dempsey's defensive work. The Slovenia match was an authoritative step in the right direction.
2. Michael Bradley showed his quality -- again
With his club situation now sorted out, Bradley shouldn't be in the position where he has to prove much of anything. But the early matches of the Klinsmann era saw the Chievo midfielder almost frozen out completely, with several other players preferred over him.
Against Slovenia, Bradley made a resounding statement with his play. His composure on the ball made a huge difference to the U.S. offense, and the way he pinched in toward the middle also helped keep the American attack ticking over. Per usual, his work rate was impressive, as well, allowing him to help out Kyle Beckerman on the defensive side of things. Without question, Bradley should be a mainstay for Klinsmann going forward.
3. The left-back situation isn't completely sorted just yet
Given the greater emphasis on attack, it's natural that some holes would start to appear in the U.S. defense. The biggest of these was on the left flank, where some precipitous peaks and valleys have been evident in the play of Tim Chandler. His ability to get forward remains impressive, even if his distribution has been uneven. But the biggest problem over the last two games has been with Chandler's defensive positioning. Too often the Nuremburg defender hasn't been on the same page with his back-line teammates, either failing to step up with the rest of the defense and keeping opponents onside, or not being close enough to slide in centrally when Carlos Bocanegra commits to a tackle. The first Slovenian goal came about from the latter scenario.
ESPN FC on Twitter
Don't miss a moment of the latest soccer coverage from around the world. Follow us on Twitter and stay informed. Join »
During an extended camp that typically takes place before a major tournament, these kinds of kinks can be worked out. But World Cup qualifying is all about quick get-togethers for a game or two, and if Chandler continues to feature on the right flank for his club, the kind of inconsistency he's displayed recently isn't likely to go away. For that reason, it behooves Klinsmann to look for other options at left back -- one option is Eric Lichaj, once he returns from injury -- and moving Chandler back to the right side.
4. Keep playing with two strikers -- for now
The goal-scoring opportunities seem to come much easier for the U.S. when it plays with two forwards as opposed to one. Whether it's due to familiarity with such a system, who knows? But that should be the way the Americans line up in the near term.
That said, Klinsmann will no doubt keep the 4-5-1 formation in his back pocket -- and well he should. If the day ever arrives when the U.S. gets everyone healthy, there will be a glut, relatively speaking, of talented attacking types available, a group that includes Dempsey, Johnson, Landon Donovan, Brek Shea, Jose Torres and Stuart Holden. With Bradley a lock to man one of the midfield spots, there may be moments when the U.S. will be better off sacrificing a dedicated forward in a bid to get more technical players on the field, especially against the more talented teams. This won't happen for a while, however. Once World Cup qualifying starts, look for the U.S. to continue with the two-striker setup.
5. Mixed bag for Klinsmann's German-American recruits
The struggles of Danny Williams, who is normally a holding midfielder, at the right midfield position have been well-documented, with his poor play against France proving to be the low point. His performances began to cast suspicion that Klinsmann's recruits from the German Bundesliga weren't all they were cracked up to be.
But Johnson's display on the left wing against Slovenia was a case of the player performing as advertised. He provided good width to the U.S. attack, took up central positions when appropriate, and won the penalty that Altidore converted for the third U.S. goal. And while Johnson's defense needs a bit of work, he definitely looks to be a dangerous attacking option as the team heads into the new year.
Jeff Carlisle covers MLS and the U.S. national team for ESPN.com. He is also the author of "Soccer's Most Wanted II: The Top 10 Book of More Glorious Goals, Superb Saves and Fantastic Free-Kicks." He can be reached at eljefe1@yahoo.com.
Soccer
Jeff Carlisle covers MLS and the U.S. national team for ESPN FC.
Soccer on ESPN.com

Follow Soccer on ESPN: Twitter
Coverage on ESPN FC
Euro 2012 in Review