Commentary
What we learned from MLS Cup
Updated:
November 21, 2011, 1:43 PM ET
By
Jeff Carlisle
| ESPN.com
At long last, another MLS champion has been named, with the Los Angeles Galaxy claiming their third title courtesy of a 1-0 win over the Houston Dynamo. While the game was by no means a classic, the match did give MLS the iconic moment it has been waiting for -- David Beckham hoisting the MLS Cup and walking away with a championship medal.
With that in mind, here are five thoughts to take away from Sunday's MLS season finale.
1. We may have seen the last of David Beckham in MLS
After Sunday's match, with his contract set to expire at the end of the year, Beckham refused to divulge whether he'll return to the Galaxy for another season. But there is a growing feeling that Sunday's game was the Englishman's last in MLS. Beckham's well-known desire to play in the Summer Olympics for Great Britain would appear to dovetail nicely with the MLS calendar since it would allow him to enter the tournament in midseason form. But the desire to be closer to his native England, not to mention that wife Victoria is reported to want to move to Paris, appears to be swaying things in the other direction.
If that is indeed the case, it seems likely that ending his MLS sojourn on a winning note will be the enduring image of Beckham. Given the stumbles he endured during his five seasons with the Galaxy, that is a better exit than MLS could have dared imagine a few short years ago.
[+] Enlarge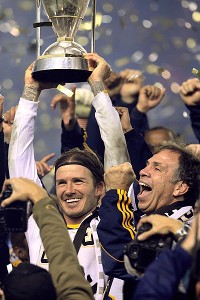 Jeff Gross/Getty ImagesDavid Beckham got the headlines, but it was Bruce Arena who deserves the most credit for the Galaxy's success.
2. Save most of the praise for Bruce Arena
Think about it: The 2008 edition of the Los Angeles Galaxy had both Beckham and Landon Donovan on its roster, and all that brought the Galaxy was 33 measly points, tied for the worst record in the league alongside the expansion San Jose Earthquakes.
But even in that dark season, the seeds of L.A.'s revival had been planted with the hiring of Arena. Since then, the impact of the former U.S. national team manager has been immense. The Galaxy have won an MLS Cup, reached the final of another and claimed two Supporters' Shield crowns. In the process, he has managed to maintain a harmonious locker room replete with huge egos and the requisite staple of American players at the lower end of the MLS wage scale. That isn't easy by any means, and when you factor in the tactical tweak of moving Donovan up top with 33 minutes to go in the final, a change that set the stage for his game winner, you can only conclude that Arena's coaching ability is the biggest reason why Beckham has an MLS championship medal in his possession.
3. One injury too many for Houston
It was bad enough that the Dynamo entered Sunday's encounter without attacking linchpin Brad Davis. The ripple effect of losing the MLS assist leader was not only felt on offense, but defensively as well, with Jermaine Taylor struggling to contain Donovan and Galaxy right back Sean Franklin. But when central defender Geoff Cameron suffered a right knee strain midway through the first half, it's fair to say that it was one blow too many for Houston. To his credit, Cameron gamely tried to play on, but the mobility of the one-time Best XI defender was compromised enough to allow Donovan to shake loose for the game winner -- a tough blow for a team that owed much of its late-season revival to Cameron's move from midfield into the center of defense.
4. Designated players are now designated champs
At last, the Curse of the Designated Player has been broken. Ever since the rule was introduced in 2007, no team with a designated player had hoisted MLS Cup. That changed on Sunday, with L.A. prevailing thanks to the considerable help of marquee players Beckham, Donovan and Keane.
Of course, given that seven out of 10 playoff teams had a DP on their roster, the odds that this streak would be broken were greater than ever. Now the question is whether the scales have tipped irrevocably in the direction of teams with designated players. Given how the league is making it easier for clubs to acquire such performers, the answer seems to be yes. Whether that evolves into a league of haves and have-nots -- which goes against the league's stated goal of parity -- will be something that MLS executives will need to keep an eye on.
5. Rivals already taking aim at L.A.
Only twice in league history has an MLS Cup champion repeated: D.C. United in 1996 and 1997 and Houston in 2006 and 2007. Given the way L.A. keeps stockpiling talent, there's no reason why it can't do the same.
ESPN FC on Twitter
Don't miss a moment of the latest soccer coverage from around the world. Follow us on Twitter and stay informed. Join »
Much will depend on whether Beckham returns. While it's safe to assume that L.A. has contingency plans, replacing Beckham's role will be difficult indeed. It has been the combination of his passing range and prodigious work rate that has allowed him to thrive this season, less than two years removed from a devastating Achilles tendon injury. Those traits will be hard to duplicate, no matter who L.A. brings on board. The likes of the Dynamo, Seattle Sounders, Real Salt Lake, Sporting Kansas City and FC Dallas will all be aiming to bolster their rosters and wrest the league title away from the Galaxy.
That said, L.A. will remain a talented side with or without Beckham, especially with Donovan and Keane set to return, although the Irishman will miss time next season due to Euro 2012. And Arena remains the master at cobbling together a side, even with three designated players eating up a considerable portion of the salary cap.
Jeff Carlisle covers MLS and the U.S. national team for ESPN.com. He is also the author of "Soccer's Most Wanted II: The Top 10 Book of More Glorious Goals, Superb Saves and Fantastic Free-Kicks." He can be reached at eljefe1@yahoo.com.
U.S. soccer correspondent
Jeff Carlisle covers MLS and the U.S. national team for ESPN FC.
Soccer on ESPN.com

Follow Soccer on ESPN: Twitter
Coverage on ESPN FC
Euro 2012 in Review