Commentary
Don't airbrush Beckham's legacy
Updated:
November 24, 2011, 3:38 PM ET
By
Jeff Carlisle
| ESPN.com
As the final whistle sounded Sunday at the Home Depot Center, Major League Soccer could rest easy. After more than four years of waiting, the league at last had its David Beckham moment.
The Los Angeles Galaxy had claimed their first MLS Cup since 2005, and Beckham, despite an ailing hamstring, had been in the middle of it all. With fans singing his praises, a clearly emotional Beckham soaked in the adulation, telling ESPN's Rob Stone, "I'm glad all the hard work this season has paid off, because we've been incredible."
[+] Enlarge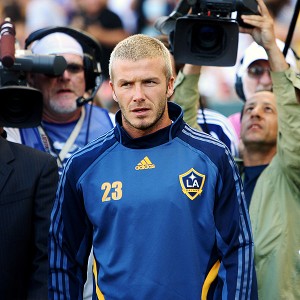 Robyn Beck/AFP/Getty ImagesEnter the spotlight: David Beckham makes his debut for the Galaxy in 2007.
The sight of Beckham hoisting the MLS Cup will leave an indelible image in the minds of those who witnessed it, MLS commissioner Don Garber among them. "I think the whole David Beckham experience would not have been fully complete without a championship," Garber said in a telephone interview. "Now we can close that chapter."
But there's one problem with iconic moments -- they tend to be accompanied by an airbrushing of history. This appears to be taking place with Beckham.
This is not to question the wisdom of bringing Beckham to MLS in the first place. Financially, the deal has proved to be a winner by almost any measure. "In signing Beckham, MLS basically made a big down payment to accelerate the global notoriety of the league," said David Carter, who serves as executive director of the Sports Business Institute at USC's Marshall School of Business. "They were willing to engage him on a variety of levels with respect to marketing; his helping market the Galaxy and the league to be this ambassador that everyone has talked about. Along the way I think that has certainly helped with respect to bringing in other players and elevating the global awareness of MLS."
Beckham's Next Move
So what's next for David Beckham? Given his worldwide popularity, his options are endless, but really it comes down to three options.
Head to PSG: The ambitious French club, now backed by Qatari owners, is prepared to make Beckham the club's highest-salaried player. And relocating to Paris not only would allow Beckham to be closer to his native England but also would fit in nicely with wife, Victoria's, business interests in the fashion world. All things considered, this is the likeliest scenario.
Remain with L.A.: Beckham insists he has enjoyed his time in L.A., especially given that the lifestyle is a bit more relaxed than in Europe. He's also made it clear that playing in next year's Olympics is a major goal of his, and MLS has long been accommodating -- sometimes to a fault -- to Beckham's international wishes. There's also the opportunity to reinforce his legacy in the U.S.
Return to London: This is a longer shot than the other two options, but the chance to head back to the city where he grew up no doubt will have some appeal. Tottenham Hotspur and Queens Park Rangers have been reported to be interested in Beckham's services in the past, with Spurs having the inside track given that Beckham trained with the club in January. --JC
But in terms of on-the-field matters, the relationship was rockier. Whenever Beckham was asked to choose between his MLS commitments and his personal desires, he did what was best for him, especially as it related to his international ambitions. As recently as January, Beckham was itching for a loan to EPL side Tottenham even though his previous loan spell with AC Milan had ended with his tearing his Achilles tendon and resulting in his missing all but 11 games of the 2010 MLS season. The Galaxy, in a rare display of backbone, quite rightly rejected their star's desire to play at White Hart Lane.
Let's also not forget that in 2009, Beckham decided that he was having such a splendid time with the Italian giants that he opted to extend this loan until midsummer, missing half the MLS regular season. To Garber's credit, he admitted the league hadn't always helped itself in the face of Beckham's offseason dalliances.
"It was frustrating that the [2009] offseason loan went further into the season," Garber said. "We also underestimated the pushback from fans as well as the risk of injury. In retrospect, I wish we hadn't done it. But it did build a closer relationship with David and eventually allowed us to achieve more of our goals."
For all the talk of Beckham's stellar 2011 campaign, the year was witness to more selfish behavior when he missed a May 25 league match against Houston to attend Gary Neville's testimonial. Granted, the two are close friends, with Neville acting as best man at Beckham's wedding, and it was ultimately Galaxy manager Bruce Arena who made the decision to allow his midfielder to go. But it was Beckham who put in the request, again showing little respect for MLS. Incredibly, Garber doesn't have a problem with it.
"Beckham is a global icon who is connected to the broader world of soccer and cultural things like the royal wedding," he said. "Some events are bigger than the league. That's the price you pay for exposure.
"I am convinced that if he was playing for Real Madrid, they would have let him go [to Neville's testimonial]. It shows respect for soccer culture, and it is those types of events that make the game so special. I can understand people scratching their head over that, but not everyone understands the importance that those games have to players."
[+] Enlarge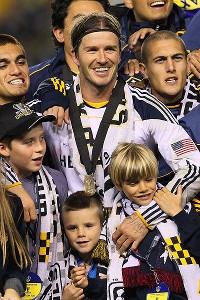 Stephen Dunn/Getty ImagesBeckham celebrated winning the MLS Cup with his sons Brooklyn, Cruz and Romeo.
With all due respect to Garber, it's inconceivable that if Beckham had made that request to Manchester United, manager Sir Alex Ferguson, or former Real Madrid and current England manager Fabio Capello would have agreed to his request. Ferguson likely would have responded by kicking another shoe in Beckham's direction. It should be noted that such events are scheduled with the European calendar in mind, so such conflicts are avoided. That doesn't mean that MLS and the Galaxy should be the ones to take a back seat and reveals that in the fifth year of his contract, they still displayed something of an inferiority complex when it came to their most famous player.
Such criticism isn't intended to cast Beckham into the role of villain. His behavior is especially difficult to reconcile when stacked against his in-game efforts this season. Given his profile and salary, he should have been the Galaxy's best player, and he was. We're talking about a player who displayed an immense level of competitiveness and had no qualms about playing injured, hardly the attitude of someone coming to MLS for a vacation.
It's possible that despite the arranged-marriage nature of his relationship with MLS, Beckham grew to appreciate the league in the end. But given how relentlessly on-message he is in his limited dealings with the media, that's difficult to gauge. It's a shame the paying public wasn't witness to more 2011-like displays by the former England captain.
Then again, with the passage of time and given the way Beckham finished out his initial five-year contract, none of his indiscretions may end up mattering, at least on the surface.
"I think ultimately because of the way it ended, the soccer perspective will also come to be known as a success," said former Galaxy general manager and ESPN television analyst Alexi Lalas. "That's the nature of images and perception. All that stuff rolled into one night where everything went according to script and, from a Galaxy perspective, as perfectly as you could want it to go."
ESPN FC on Twitter
Don't miss a moment of the latest soccer coverage from around the world. Follow us on Twitter and stay informed. Join »
But if MLS is to continue to grow after Beckham leaves -- and given the intense interest from clubs like Paris St. Germain, that could take place soon -- it's important that his impact be judged on the totality of his tenure in the U.S., both good and bad. MLS wasn't in need of saving when he arrived, and the same is true now. Certainly there is a Beckham component to many of the league's growth initiatives, but to ignore his (at times) condescending treatment of the league only obscures the smart decisions MLS has made that arguably will have a bigger long-term impact. And if Beckham is given all the credit, that will only serve to foster the false belief that the league will crumble when he's gone, a perception Garber is keen to avoid.
"The level of play continues to grow," Garber said. "The number of star players is up to 20. We've expanded by seven clubs since Beckham arrived. We've opened nine new stadiums and added lots of new sponsors. Beckham has been a part of the story, but he's not the only driver. You look at the success of the three teams in the Pacific Northwest. None of those players have Beckham on their roster."
That is the message the league should be driving home even more. And years from now, if Beckham is remembered as having helped achieve those things, even given the stumbles that dotted his stay here, that will be a worthy legacy.
Jeff Carlisle covers MLS and the U.S. national team for ESPN.com. He is also the author of "Soccer's Most Wanted II: The Top 10 Book of More Glorious Goals, Superb Saves and Fantastic Free-Kicks." He can be reached at eljefe1@yahoo.com.
U.S. soccer correspondent
Jeff Carlisle covers MLS and the U.S. national team for ESPN FC.
Soccer on ESPN.com

Follow Soccer on ESPN: Twitter
Coverage on ESPN FC
Euro 2012 in Review