Commentary
Who's the Prem's player of the year?
Updated:
March 18, 2011, 10:47 AM ET
By
Ian Darke
| ESPN.com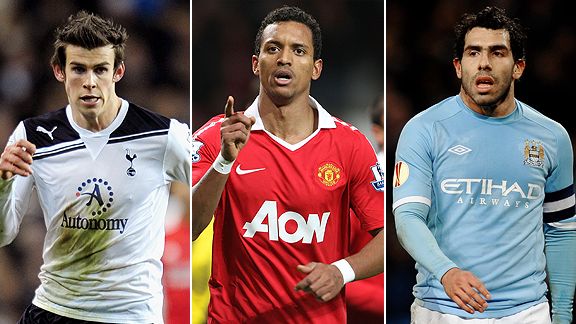 Getty ImagesGareth Bale, Nani and Carlos Tevez should be on the short list for player of the year honors.
Who wins England's coveted Footballer of the Year title this season? Not an easy decision, because there is no standout candidate.
The list of past winners reads like a "Who's Who" of the game going back to Stanley Matthews in 1948 and including Tom Finney, Bobby Moore, George Best, Kenny Dalglish, Gary Lineker, Alan Shearer, Thierry Henry and Cristiano Ronaldo. Last year, Wayne Rooney's exceptional form completed a Manchester United hat trick of wins following Ronaldo and Ryan Giggs in the previous two seasons.
As a member of the Football Writers Association, I am proud to have a vote -- and happily I don't have to make it just yet. But a short list is forming in my mind as the season boils toward its climax.
Gareth Bale: More than any other player in the Premier League this year, he is the one with the "wow factor." The way he destroyed Inter's Maicon in the Champions League will live long in the memory.
Carlos Tevez: Yes, the goals have dried up a little of late for the Argentine. But a somewhat workaday Manchester City would be lost without his inspiration and dynamism.
Nani: For a long time it seemed he would be a Manchester United flop. But he has flowered since the departure of Ronaldo and has consistently provided the creative spark to keep United in front.
Nemanja Vidic: No defender has won the award since Liverpool's Steve Nicol (well known to MLS fans) in 1989. But Vidic's rock-like displays have enabled United to pick up points even when the rest of the team's performance barely merited anything.
Samir Nasri: Quick, clever, artistic, Nasri is enjoying the best scoring season of his career. He is a key man in Arsenal's quest for the Premier League title.
ESPN FC on Twitter
Don't miss a moment of the latest soccer coverage from around the world. Follow us on Twitter and stay informed. Join »
Charlie Adam: There is nothing in the rules that says the Footballer of the Year must come from a glamour club. Adam has been little short of sensational in Blackpool's Premier League adventure.
Scott Parker: News of his Churchillian speech to West Ham players to inspire a comeback at West Brom recently summed him up. Without him, West Ham might be down already. His England recall is well deserved.
Edwin van der Sar: United's remarkable 40-year-old keeper will retire at the end of the season. But after the stellar season he's had, you know Fergie would love nothing better than to offer him another deal.
Sorry Chelsea and Liverpool fans. I can think of no one in either team who springs to mind as a candidate this season. But two Americans deserve special mention if not a nomination from this observer.
Stuart Holden has been a key figure in Bolton's surprise run in the Premier League and its run to the FA Cup semifinals. He is winning rave reviews from English critics. And the feisty Clint Dempsey is having his best-ever scoring season at Fulham.
But Footballer of the Year? If I had to make a vote right now, it would go to Bale as the player who gets fans out of their seats. Parker is next best.
Decision day comes in May.
Ian Darke is a commentator for ESPN. You can reach him on Twitter at http://twitter.com/iandarkeespn.