Commentary
EPL fans shouldn't rush to judgment
Updated:
September 19, 2011, 9:22 PM ET
By
Ian Darke
| ESPN.com
Old-school managers like Brian Clough and Sir Bobby Robson always said: "Never take any notice of the table until November."
That is not bad advice. Remember how a year ago Chelsea was destroying rival teams and being crowned champions before August was out? The Blues finished a distant second to Manchester United nine months later.
So we should not be rushing to judgment based on the opening strides of this year's marathon. But this past weekend's matches in the Premier League dropped the first significant clues about the strengths of the main contenders.
[+] Enlarge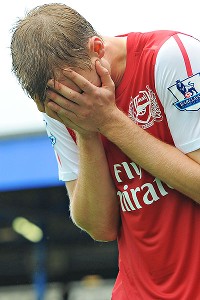 Andrew Yates/AFP/Getty ImagesPer Mertesacker had a nightmare of a match for Arsenal.
United, with maximum points in the first five league games, has made its best start in the modern era, and its average of four-plus goals per game tells its own story. Aside from the excellent form of Wayne Rooney, Nani and Ashley Young, the young man really taking the eye is the rampaging Phil Jones, who must be fast-tracked straight into the leaden England team by Fabio Capello.
Yet I felt United was flattered by the 3-1 win over Chelsea, which astonishingly missed two open goals and played with a refreshing adventure rarely seen from visitors to Old Trafford. With the clever Spaniard Juan Mata giving the team a new dimension, Andre Villas-Boas' outfit has served notice that it is capable of pushing the two Manchester clubs all the way.
Despite probably the worst miss in Premier League history, Fernando Torres showed glimpses of his old form and deftly scored, as well. He may be on the verge of exorcising the demons which have plagued him for more than a year. More worrying for Chelsea, however, is Frank Lampard. The midfielder looked way off the pace and was substituted at halftime. He may find himself on the bench far more in the months to come.
Manchester City's electric start was halted as Roberto Mancini's side blew a two-goal lead at Fulham. Perhaps significantly, City faded late in the game at the end of its first Champions League week. Can this team keep a Premier League challenge alive with such heavy European demands? It must be said that it failed the first test.
Liverpool's 0-4 reverse at Spurs, a second successive defeat, was alarming for Reds fans dreaming of a return to the top four. Even before Charlie Adam and Martin Skrtel were sent off, Kenny Dalglish's team was being outclassed all over the pitch. With Luka Modric apparently over his Chelsea flirtation and loanee Emmanuel Adebayor hitting the ground running, Spurs are looking a better bet for fourth place than either Liverpool or Arsenal. (It must be said, however, that it was despicable to see a fine young player like Gareth Bale of Tottenham pleading with the referee to show Adam a red card.)
The Gunners' defending in the 4-3 defeat at Blackburn was again wretched. New signing Per Mertesacker had a nightmare of a match. I have seen milk turn quicker than the giant German. It is hard to disagree with a prominent English sports writer who described manager Arsene Wenger as looking like a "broken man." While his team retains its creativity and goal threat, Wenger needs to hire a top defensive coach to sort out the chaos which has seen the Gunners concede 14 goals in their worst start since the early 1950s.
[+] Enlarge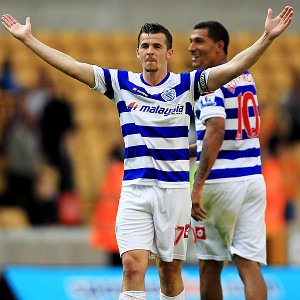 Matthew Lewis/Getty ImagesIs there no end to the crassness of QPR's new skipper, Joey Barton?
You do start to wonder if both the manager and the club might benefit if the previously brilliant Wenger took a break and came back refreshed in a year or so. He has performed wonders for Arsenal, but nothing is forever.
Finally, is there no end to the crassness of QPR's new skipper Joey Barton, who apparently went round boasting to Wolves players that he was being paid $130,000 per week -- and later tweeted insultingly that Wolves midfield man Karl Henry was a "Sunday League player."
Barton is a decent player. But he would do us all a favor by keeping his mouth shut for five minutes … no, make that five years.
Ian Darke is a commentator for ESPN. You can reach him on Twitter at http://twitter.com/iandarkeespn.