Commentary
When will Rooney get his groove back?
Updated:
August 17, 2010, 1:43 PM ET
By
David Hirshey
| Special to ESPN.com
There was a time when if you were told that Manchester United had won 3-0 as it did Monday against Newcastle United, your instinctive response would be "How many did Wayne Rooney score?" The hugely gifted Shrek look-alike was a goal-o-matic last season, notching 34 in all competitions, and would surely have added another dozen save for a debilitating ankle injury suffered in the first leg of the Champions League quarterfinal against Bayern Munich on March 31.
Did I mention he hasn't scored since? In soccer terms that is the equivalent of a geological age. By comparison, the gap between A-Rod's 599th and 600th home runs was a mere speed bump.
Oh, how Sir Alex must wish he hadn't acted so impetuously and rushed Rooney back for the second leg against Bayern when he was a hobbling shell of his former rampaging self.
Zero goals in South Africa, nada over the summer, and, against the lackluster Magpies, another big fat goose egg. It didn't matter that Newcastle played for a draw from the opening kickoff, chasing the home side's shadows. United created chance after chance. If scuffed point-blank shots counted as goals, Rooney would have had a hat trick. As it was, he was hauled off after 63 minutes of pressing to break his duck, making way for the Mexican wonder boy Javier Hernandez.
What's stopping the Rooney drought from becoming a full-blown crisis is that ManU has two old warhorses and one freshly coiffed, chain-smoking Bulgarian picking up the slack. Do any world-class athletes mask their decrepitude more gracefully than Paul Scholes and Ryan Giggs, whose combined age is roughly the same as Betty White's? Scholes controlled midfield, spraying passes down the flanks or through the seams. One sumptuous ball found Dimitar Berbatov in the box, and the suddenly energized Bulgarian lashed it into the net. Scholes ended the night with a seeing-eye cross that Giggs volleyed triumphantly into the far corner.
Scholes and Giggs' delight at their ability to shrug off the years like so many half-hearted tackles stood in direct contrast to the forlorn figure Rooney cut on the field. His once Velcro touch betrayed him on the cusp of halftime when he turned in the box to drill a close-range shot, only to see the ball skitter off his foot into Darren Fletcher's path for the Scottish midfielder to put away.
Credit Rooney with an assist and remind him that even Tiger lifted a trophy again. Oh wait.
$162 million can't buy Manchester City a single goal
Despite having almost all his nouveau riches on gaudy display, Manchester City manager Roberto Mancini neglected to inform them that in the Prem, unlike say, in La Liga or Serie A, you don't have time to read a Prada catalogue when in possession of the ball. It's not called The Fastest (If No Longer The Best) League In The World for nothing.
[+] Enlarge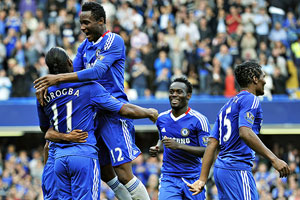 Glyn Kirk/AFP/Getty ImagesJudging from Chelsea's win over West Brom, you would have thought that Didier Drogba, Florent Malouda, and Frank Lampard spent the summer rejuvenating in Lourdes instead of being useless in South Africa.
Tottenham isn't the most turbo-charged team in the Prem, but Aaron Lennon's Mach 4 speed alone makes it dangerous in the open field. Time and again, City's slack-heeled defensive rookies Aleksandar Kolarov and Yaya Toure both seemed a yard or 3 off the pace, often tackling nothing but air. As for "The Other Spanish Attacker Named David," Silva saw slightly more of the ball than Robinho and Craig Bellamy, both of whom now reside in Mancini purgatory and remained rooted to the City bench.
Ever the cagey tactician, Mancini started three rugged ankle-shredders in midfield -- Yaya, Gareth Barry and Nigel "Karate Kid" de Jong -- to stanch the flow of the Spurs' attack, but it couldn't stop the home side from outshooting the monied arrivistes by 15 attempts to six. It was a display that led Tottenham's fast-talking manager, 'Arry Redknapp, to write off City's title hopes with 37 games still to play!
Only Joe Hart's acrobatic goalkeeping kept Tottenham from winning by three or four goals -- his reflex tip to deny Jermain Defoe's swiveling flick was the sickest of the bunch -- but unless City rachets up its game in the next few weeks, even England's New No. 1 won't be able to save Mancini's job.
Chelsea isn't as strong as last season
If you buy into the theory that you're only as good as your last game, then the Blues' 6-0 annihilation of newly-promoted-and-headed-straight-back-down West Brom can be viewed as a resounding disappointment. After all, in the last EPL match Chelsea played, it put eight past Wigan to clinch the title. And people say that the Blues are better off without Michael Ballack.
David Hirshey

For more from David Hirshey, check out his columns on all things soccer.
• The All-EPL Team, 2011-12
• Saying goodbye to Chinaglia
• Time to dethrone King Kenny Dalglish?
• In praise of Fulham
• The comeback artists
• Call it a comeback
• Death by Manchester
• The battle for third
• Spurs' title credentials
• EPL's best starting XI
• City handed first EPL loss
• Chelsea pushed to brink
• Fragile egos crossing
• City and United
• Is Newcastle for real?
• The bad-behavior derby
But seriously, is it too early to award Chelsea the trophy? Again. Judging from its total domination of Albion, you would have thought that Didier Drogba, Florent Malouda and Frank Lampard spent the summer rejuvenating in Lourdes instead of being useless in South Africa. Drogba bagged a hat trick, Malouda scored two and Fat Frank one in a customarily slick, ruthless display that bodes ill for any team that had hoped for Chelsea's dismal preseason of four straight defeats carrying over into the start of the real campaign.
Granted, not everyone will be so cooperative as West Brom, although by the time the Blues are done with their next match they may be so far ahead on goal difference that the rest of the league will give up. Chelsea's next opponent? Wigan.
Both Arsenal and Liverpool have a good shot at third place
It's rare enough when a midseason showdown involving the Big Four lives up to its insufferable hype, but to schedule one on opening day almost guarantees disappointment. These were two sleepy behemoths squaring off with more question marks than answers in their lineups. With Cesc Fabregas not even on the bench and Robin Van Persie and Fernando Torres seeing only scant action, it was never going to be pretty. In fact, a case can be made that the 1-1 draw came down to Arsenal's Spanish goalkeeper not being quite as comically inept as Liverpool's Spanish goalkeeper. After the young French striker David Ngog set Anfield alight by scoring a near post goal past Manuel Almunia, Arsenal waited until stoppage time to pull even when Pepe Reina "Robert Greened" the ball into his own net after it caromed off Arsenal's Marouane Chamakh.
Bookending the goals were incidents of a different sort, triggered by two of the bigger names making their official debuts with new clubs. Joe Cole capped a forgettable first half with a memorable hack on rookie French defender Laurent Koscielny, and while the tackle looked worse than it was, referee Martin Atkinson showed no hesitation in flashing the red card.
For Arsenal fans watching as Koscielny was stretchered off, It conjured up painful memories of Ryan Shawcross' borderline felonious assault that snapped Aaron Ramsey's right leg in two places, or for that matter Martin Taylor's late slide that shattered Eduardo's left fibula, as well as any future the striker had at Arsenal.
On both those occasions, Arsenal boss Arsene Wenger threw hissy fits worthy of a certain headline-grabbing Jet Blue flight attendant, but he was strangely muted when Koscielny was poleaxed at the end of the first half. Perhaps he realized that Cole is "not that kind of player" and had simply made a late, clumsy lunge, which is what it looked like to me.
Anyway, Koscielny was back in action after halftime and capped his erratic debut with -- you guessed it -- a sending off of his own in the 93rd minute, following a second yellow card for a handball. Comedy, all around.
Tangerines dream of a Champions League spot
If you listened to the pundits, Blackpool had about as much chance surviving in the Prem as Dolph Lundgren does in winning an Oscar for his performance in "The Expendables."
"I'm going to take a copy of the league table and retire now," said the Blackpool manager Ian Holloway, pinching himself to make sure his team's 4-0 demolition of Wigan wasn't just a figment of his comic imagination. Wigan manager Roberto Martinez, on the other hand, must wish he was back in the comfort of the ESPN World Cup analysts' booth, where life was a lot simpler, and his intelligent and impassioned performance made us all think he'd have his team ready to face last season's sixth-best team in the league below.
Maybe Martinez can chalk up his inability to break down a team favored to be relegated by the New Year to World Cup Pundit Fatigue, but how do you explain Marlon Harewood's going from a striker discarded by four EPL teams to a franchise player in the course of a week? Harewood, who washed out at West Ham, Wolves and Newcastle United after a decent run at Aston Villa, scored two goals and made a third as Blackpool ensured that it would not go winless this season.
Martin O'Neill? Who's that?
What a week for Aston Villa: from preseason European dreams to the shocking loss of its brilliant and tempestuous manager just five days before opening day. Yet, if you'd been in a coma the last week, you'd never know that Villa was in trouble. An accomplished, pyrotechnic home opener against West Ham should have eased Villa fans' fears for what lies ahead in 2010-11, so comfortable did they look in the 3-0 win.
James Milner -- target of the most tedious summer transfer saga since Cesc Fabregas' flirtation with Barca -- was his usual lively self while lawyers and agents wrangled over his switch to Manchester City, along with every other player in the galaxy. The England midfielder was dominant in the heart of the field, even scoring a superb left-footed drive to complete the rout. Milner is poised to leap into Mancini's arms any minute now and can barely contain his excitement. In fact, the Villa midfielder has issued an ultimatum to both parties that if the deal isn't consummated in the next 24 hours, he will stay put at Villa for the foreseeable future. So there.
Acting manager Kevin MacDonald -- promoted from within after a good run as reserves coach -- had the home side ready to play, seemingly oblivious to the swirling rumors about all the names, including U.S. coach Bob Bradley, lined up to replace him. Regardless of who runs this team, it's clear that it isn't the club in crisis we'd all expect it to be after O'Neill tossed his resignation grenade in its lap.
That team in trouble might well be West Ham; another listless performance like that won't help it hang on to the one quality player worth keeping: midfielder Scott Parker. With Spurs sniffing around for a transfer bargain and the rest of the Hammers in disarray, Uncle Avram may yet look back fondly on his days managing Portsmouth.
David Hirshey has been covering soccer for more than 30 years and has written about the sport for The New York Times, Time, ESPN The Magazine and Deadspin. He is the co-author of "The ESPN World Cup Companion" and played himself (almost convincingly) in the acclaimed soccer documentary "Once in a Lifetime."