Commentary
Spending, pressure mount at Man City
Updated:
August 20, 2010, 1:02 PM ET
By
David Hirshey
| Special to ESPN.com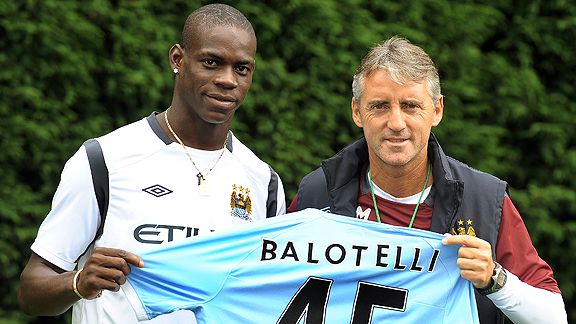 Andrew Yates/AFP/Getty ImagesThe signing of Mario Balotelli has increased Roberto Mancini's summer spending spree to $196 million.
In a week of high hilarity in the Prem with a whirlwind of comings and goings, perhaps the most comical moment belongs to Chelsea's Nicolas Anelka. Le Sulk, as he's affectionately known, was banned for 18 games by the French Football Federation for his expletive-laced hissy fit at the World Cup in which he told French coach Raymond Domenech where he could stick his baguette.
Since the mercurial striker had announced his retirement from international soccer after returning home from South Africa before France's final game, he found the news of his ban from a team he had already quit to be quite risible. Or as he put it, "I doubled up with laughter."
Here are some other things that caused me to DUWL ahead of this weekend's prominent games.
Manchester City vs. Liverpool
Have the bookies begun an official Roberto Mancini Watch yet, or will they have the good grace to wait until Monday night after Man City's ridiculously overpriced carpetbaggers fail to score for the second straight week?
If that were to happen against a robust but erratic Liverpool defense, I think we'd be looking at even money that the Not So Special One is gone before Christmas. Welcome to the New Sheik Order, where even a debonair Italian can't spend $196 million on a motley crew of head cases and big talents without winning. And by winning, I don't mean games, but the league.
David Hirshey

For more from David Hirshey, check out his columns on all things soccer.
• The All-EPL Team, 2011-12
• Saying goodbye to Chinaglia
• Time to dethrone King Kenny Dalglish?
• In praise of Fulham
• The comeback artists
• Call it a comeback
• Death by Manchester
• The battle for third
• Spurs' title credentials
• EPL's best starting XI
• City handed first EPL loss
• Chelsea pushed to brink
• Fragile egos crossing
• City and United
• Is Newcastle for real?
• The bad-behavior derby
The pressure on Mancini is self-imposed because he finally has the team he wants after this week's signings of James Milner and Mario Balotelli to pad out his bloated squad. Only a spoilsport would mention that the former got undressed by the American Steve Cherundolo in the World Cup and the latter sulked his way out of an Inter team that won just about every prize in Europe last season except the Nobel. That the Italian champions did it by spending a fraction of what Man City has over the summer points up the fundamental difference between Mancini and Jose "The Special One" Mourinho. One relies on his checkbook, the other on charisma and results.
For example, is a James Milner in hand really worth two Mesut Ozils in the bush? Mancini paid $40 million for the Aston Villa midfielder (well, $24 million plus the $16 million-rated Stephen Ireland) while Mourinho bought BOTH the extravagantly gifted Ozil and his fellow German midfield wunderkind, Sami Khedira, for a couple of million less.
And does anybody but Mancini regard Balotelli as more of an attacking threat than Craig Bellamy? At least on the field. Off it, it's probably a wash between the 20-year-old Italian who regularly feuded with Mourinho and memorably flipped off the Inter fans and the fiery Welshman who once mistook a teammate's head for a golf ball. Bellamy was so desperate to get away from Mancini's rich-boy club that he dropped down a division and left the country to return to his hometown club Cardiff City, which plays in the Championship.
Mancini still has some unfinished business -- he has yet to purge Robinho from the squad, though he does have the Brazilian show pony training solo and would gladly offload him for a month's worth of samba lessons.
At least Mancini knows what he's getting in Balotelli, having blooded him as a 17-year-old back at Inter in 2007. Is he concerned that three years later Balotelli may still not be the epitome of a mature professional?
"OK, sometimes his behavior is not good," Mancini concedes, "but he is a good man." He said that with a straight face, but will he be able to keep it this weekend against a resilient Liverpool team, which played better with 10 men against Arsenal than it did with a full 11 (no offense to Joe Cole)? Roy Hodgson's warriors won't be a pushover for Mancini's moneybags -- four of their past six meetings with the Reds have ended in a draw -- but whoever wins won't be nearly as smug as Aston Villa, which pocketed a boatload of cash plus a talented hothead in Stephen Ireland, City's Player of the Year in 2008-09, in exchange for Milner.
This was another one of those interminably tedious transfer sagas that occupied most of the summer, but at least there's a good reason it took so long. It turns out that Villa's American owner, Randy Lerner, couldn't hold his pen straight enough to sign the deal because he was … DUWL.
Arsenal vs. Blackpool
As a long-standing member of Arsenaholics Anonymous, I'm half-hoping that we struggle against the plucky Tangerines, simply because it should force Monsieur Cheapness Arsene Wenger to crowbar open his wallet and buy a goalkeeper who can catch the ball and a tough-tackling, head-banging central defender to partner the powerful Belgian Thomas Vermaelen.
[+] Enlarge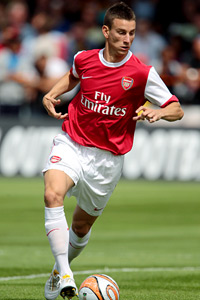 Phil Cole/Getty ImagesArsenal's summer signing, Laurent Koscielny, may soon be joined by yet another French teammate at the Emirates.
Laurent Koscielny, the defender whom Wenger hoped would be the answer, had a farcical debut last week, being stretchered off after having his legs scissored by Joe Cole and returning in time to earn two yellows in the final three minutes of the game.
It was Arsenal's good fortune that last weekend's injury du jour was to a midfielder (Samir Nasri) and not to a defender, especially now that the promising teenager Emmanuel Frimpong demolished his knee in Wednesday's training and will be rehabbing it for the next 6 to 9 months. Not that the Gunners won't miss Nasri's skill and guile, but fortunately Arsenal has enough midfield talent to cope during the month the Frenchman is out.
In fairness, Wenger has moved to fill the David Seaman-shaped hole between the posts (I know Jens Lehmann was the last decent keeper we had, but I'm sorry, I always found the German to be an arrogant clown) by chasing after 37-year-old Mark Schwarzer and offering Fulham $3 million for the Australian international who let in two near-post goals in the Socceroos' World Cup opener.
In today's transfer market, that kind of shoddy goalkeeping is worth at least another million, so Wenger may have to look elsewhere, since he can't bring himself to overpay for anyone unless they're young and French. That's why it was somewhat of a surprise to learn that the defender he's intent on bringing in --Sevilla's Sebastien Squillaci -- is French and old (30).
Wenger may get away with his miserly tactics for one more week, because the Tangerines are due to thud back to reality this weekend after that impressive 4-0 thrashing of Wigan. But make no mistake: Time, and patience with Monsieur Cheapness, is running out in North London.
David Hirshey has been covering soccer for more than 30 years and has written about the sport for The New York Times, Time, ESPN The Magazine and Deadspin. He is the co-author of "The ESPN World Cup Companion" and played himself (almost convincingly) in the acclaimed soccer documentary "Once in a Lifetime."