Commentary
Surreal scores, weekend in EPL
Updated:
August 23, 2010, 2:53 PM ET
By
David Hirshey
| Special to ESPN.com
Is it just me or did you think that maybe the U.S. Open had started a couple of weeks early when you first saw the EPL scores this weekend? 6-0, 6-0, 6-0. Were those really the results of the Arsenal, Chelsea and Newcastle games, or was it the triple-bagel that Rafael Nadal hung on some sacrificial lamb from Sri Lanka in the first round?
Here are some other questions I had from a surreal weekend in the Prem, otherwise known as the World's Most Unbalanced League.
Did Sir Alex get bitten in "squeaky-bum time"?
For once, SBT -- that tense, twitchy end game -- was no friend to the man who coined the term. Normally the beneficiary of several late, late, game-winning goals, the cranky Scot was on the receiving end when Fulham's aircraft carrier/central defender Brede Hangeland atoned for his 84th minute own goal with a 90th-minute exocet header to earn Fulham a 2-2 draw and send Fergie into a purple-faced rage.
Not only did the Cottagers revel in taking yet more points off the Red Devils -- that's seven in three home games dating back to 2007-08 -- but it was sweet revenge for new Fulham boss Mark Hughes, who was still overseeing Manchester City's expense account when United scored a soul-crushing winner in the sixth minute of added time thanks to Michael Owen's only memorable goal of the past three years.
On the home front, Clint Dempsey was subbed off after 60 minutes of tidy, forgettable work behind lone striker Bobby Zamora, but Deuce could have no complaints, as life without Roy Hodgson -- Fulham's quiet savior responsible for steering the Cottagers against all odds to within minutes of a Europa League trophy -- is proving much less traumatic than expected. While Fulham still lacks a killer foot-on-the-throat instinct, its indefatigable spirit and fondness for a fightback epitomized by the likes of Danny Murphy and Aaron Hughes is to be admired.
[+] Enlarge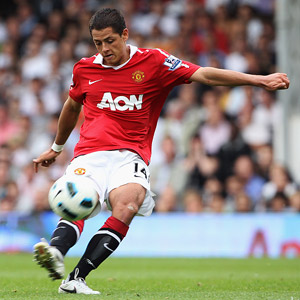 Phil Cole/Getty ImagesJavier Hernandez did little to make Man U's faithful forget how much the Reds depend on Wayne Rooney for their firepower.
Meanwhile, we saw nothing of Wayne Rooney , omitted from the game-day squad due to a stomach virus and not, as some cynics might think, a case of goalless-sickness. Wazza can take solace in the fact that fellow strikers Dimitar Berbatov and Javier Hernandez did little to make Man U's faithful forget how much the Reds depend on Rooney for their firepower. The odd pre-kickoff ritual of the baby-faced Mexican, starting his first game for United in Master Wayne's absence, didn't help either. Though "Chicharito" got down on both knees and put his hands together in prayer, he couldn't put the ball into the back of the net even with divine assistance.
At one point the camera panned to England manager Fabio Capello, who was presumably at Craven Cottage to check out bustling striker Zamora with an eye to making him into the next Emile Heskey (except, you know, with the ability to score more than once per World Cup cycle). Sitting next to the Italian was the English actor and famous ladies' man Hugh Grant. Capello and Grant have a mutual friend whose initials are DB -- and I'm not talking about Divine Brown.
How long before Chelsea scores in double digits?
Or to put it another way, how long before Roberto Martinez is back in the studio analyzing EPL games instead of coaching them from the touchline? The beleaguered Spaniard might want to take a page from Chicharito's prayer book and have all his players drop to their knees before their next match, a visit to White Hart Lane, where Spurs annihilated them 9-1 last season.
And so another weekend and another hapless drubbing for the Latics, who can't possibly be as bad as they've shown the past couple of weeks. Hugo Rodallega and disgruntled winger Charles N'Zogbia are legitimate offensive threats; if only they hadn't had to waste so much energy excavating the ball from the back of Chris Kirkland's goal. It didn't even matter that for the first 50 minutes or so the two teams were fairly evenly balanced. Tackles flew heavy and often, with England's cheating John Terry on the receiving end of several tasty ones. And then -- well, Wigan fell apart. Again. The goal differential for their past three Prem outings reads 18 goals against, zero for.
Chelsea, of course, had something to do with their capitulation. Under Carlo Ancelotti, not a man known for his attacking brio -- what Italian coach is? -- the Blues have become unrelenting monsters in the final third.
And while Didier Drogba didn't add to this past Saturday's hat trick, he did turn provider for Salomon Kalou's brace while igniting the full force of Chelsea's devastating counterattack. Chelsea is now the only EPL team to go 2-for-2 this season, and only a fool would bet against it making it three straight six-love sets next week against Stoke.
After a performance like that, does anyone even want the Villa job?
As stunning as Newcastle's recovery from last week's 3-0 defeat to Man U was, it pales in comparison to Aston Villa's complete unraveling. Just a week ago, Villa beat West Ham comfortably in its first game without longtime inspirational leader Martin O'Neill, though with England midfielder James Milner still in the team and scoring their final goal.
Sadly for Villa fans, Milner's summer-long flirtation with Man City was finally consummated early this week in a deal sending a stadium full of cash and the talented but flawed midfielder Stephen Ireland on the first train down to Villa Park. And, well, it wasn't pretty.
Is it possible that simply replacing Mr. Versatility with Ireland as the midfield hub caused Villa to self-destruct? Was Milner that critical to Villa's success? Or did interim manager Kevin McDonald lose his coaching mojo after only one week? And where does all this leave Bob Bradley?
Villa knew it wouldn't be its day when only two minutes after John Carew butchered a penalty kick that could have put it ahead, Newcastle's Joey Barton opened the scoring with a 25-yard shot more vicious than any punch he's ever thrown on the training ground. But the real revelation Sunday was rough-around-the-edges hometown boy Andy Carroll, whose poor man's Roberto Baggio haircut belies his composed and muscular presence in the box.
With two cool, crisp left-footed strikes either side of a towering header that took full advantage of his 6-foot-4 frame, Carroll put himself in the frame for a call-up to England's senior squad (he's already a regular in the U-21 team) You could even make an England case for his mustachioed partner in crime, Mr. Barton, as he did himself after the World Cup, proclaiming: "I'm as good as anyone who wears the England shirt." Should the duo both be capped, it would mark the first time that a national team had two players wear ankle bracelets during a match.
Barton's rap sheet is well-known, but he's been eclipsed on the Felon-o-meter in recent months by his 21-year-old teammate.
Out on bail following an assault charge for allegedly laying a beatdown on a fellow club-goer in December, the powerfully built striker then broke the jaw of teammate Steven Taylor during an argument in practice about some texts Carroll reportedly sent to Taylor's ex-girlfriend.
Sounds depressingly familiar, I know, though there is a difference. Wayne Bridge simply refused to shake Terry's hand, rather than punching his lights out.
If Arsenal can score six goals every week, does it really need a new goalkeeper?
It's amazing how a combination of an early goal, an opponent's red card (however questionable) and the prospect of your team coming out for the second half ahead 3-0 and facing only 10 men from a squad that finished sixth in the Championship can lift the spirits of the most fatalistic Arsenal fan.
David Hirshey

For more from David Hirshey, check out his columns on all things soccer.
• The All-EPL Team, 2011-12
• Saying goodbye to Chinaglia
• Time to dethrone King Kenny Dalglish?
• In praise of Fulham
• The comeback artists
• Call it a comeback
• Death by Manchester
• The battle for third
• Spurs' title credentials
• EPL's best starting XI
• City handed first EPL loss
• Chelsea pushed to brink
• Fragile egos crossing
• City and United
• Is Newcastle for real?
• The bad-behavior derby
In my case, I was so consumed with bonhomie and generosity toward my fellow man that I bought a beer for a Tottenham supporter. Imagine. The Spurs fan said his name was Tom -- in my experience, very few Tottenham fans give their real name at my local pub (the Kinsale Tavern on 93rd Street and Third Avenue in New York City) because they are usually outnumbered roughly 7-to-1 by Gooners from all over the five boroughs.
Anyway, Tom was simply responding to an earlier column in which I stupidly offered to buy beers for anyone who identified themselves as an ESPN.com-reading soccer fan. As Tom didn't fulfill the second requirement of the deal -- praising Arsenal -- because let's face it, he is, after all, a Spurs fan (though even I will admit that Gareth Bale's left-footed volley against Stoke was a thing of beauty), I ordered him the cheapest beer on the menu -- a $3 pint of domestic swill -- and returned to wallowing in the Gunners' vivisection of Blackpool.
I realize that Theo Walcott doesn't have as impressive a crime blotter as Newcastle's Andy Carroll, the other hat trick hero of the weekend, but Don Fabio will be kicking himself with those soft leather Italian shoes for not taking the Arsenal winger to South Africa when he sees the game tape. It's not just the trio of well-taken goals he'll admire, either, but the flurry of dangerous crosses he served up all afternoon long from the right flank, something Milner and Aaron Lennon couldn't manage all summer long.
And yes, Blackpool isn't exactly Slovenia or Algeria, but the Tangerines did show in their 4-0 dismantling of Wigan last week that they can play a fair bit of rope-a-dope -- at least when they have a full team on the field. Whatever hope they had of competing with Arsenal disappeared after half an hour once defender Ian Evatt was dismissed for hauling down Marouane Chamakh on the edge of the box following five blindingly quick touch passes by the Gunners.
So dominant was Arsenal against 10-man Blackpool that Arsene Wenger was able to give a run-out to a couple of scarcely used subs this season. Cesc Fabregas and Robin Van Persie, both struggling to regain fitness after a grueling World Cup, played the last 30 or so minutes even though neither helped himself to any of Blackpool's invitations to add to the carnage. Chamakh, however, wasn't as shy and showed in the 83rd minute why Wenger grabbed him on a free transfer this summer, soaring above the entire Pool defense to crash home his first-ever Arsenal goal.
By then, my Spurs drinking partner Tom was long gone and didn't have a chance to congratulate me, but in the 6-0 afterglow, I realized that while the Gunners still have some depth issues at key positions -- namely, goalkeeper and central defense -- performances like this one make it easier to imagine there may be a trophy in our future other than the Emirates Cup.
David Hirshey has been covering soccer for more than 30 years and has written about the sport for The New York Times, Time, ESPN The Magazine and Deadspin. He is the co-author of "The ESPN World Cup Companion" and played himself (almost convincingly) in the acclaimed soccer documentary "Once in a Lifetime."