Commentary
Manchester City's expensive egos
Updated:
August 22, 2011, 1:44 PM ET
By
David Hirshey
| Special to ESPN.com
[+] Enlarge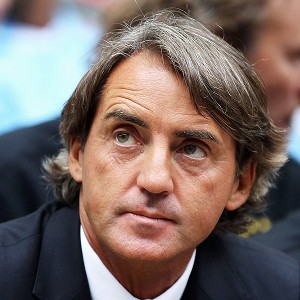 Clive Rose/Getty ImagesRoberto Mancini will need to find a balance in order to manage expensive egos at Manchester City.
Maybe Roberto Mancini just got tired of hearing the fans chant "Boring, boring City" even as Man City won its first trophy in 35 years while simultaneously finally reaching the Champions League pot o' gold . Or maybe it finally clicked that when you pay a ridiculous amount of money -- $300 million -- for an immensely talented bunch of attackers, it behooves you to give them the freedom to occasionally wander over the halfway line.
Whatever his reasons, Mancini, a manager who traditionally builds championship teams from the back, emphasizing caution and suffocating defense has taken the leg irons off his forwards and given them the freedom to express themselves. (Except, of course, for Mario Balotelli, who expresses himself way too much already).
The result has been nothing short of a Michael Bay action-fest: seven goals in two games, several splintered crossbars with near misses and more importantly a chilling statement of intent to the rest of the English Premier League -- City is no longer the league's leading bus-parking attendants looking to grind out dour 1-0 wins on the strength of its brawny rearguard and clogged midfield while throwing away scads of points on the road.
The first hint came in its opener last Monday when the Baby Blues stuck four past Swansong City, and in the process, made the Super Copa-winning Barcelona side look like a bunch of hoof and hopers by comparison. And in Sergio "Yes, I Kun" Aguero, who scored two goals and made a third in an electrifying 30 minute cameo, they had a player who would not only win the Golden Boot but have the soccer world exclaiming "Lionel who?"
Or at least that was the slightly delirious view of the portion of Manchester that doesn't worship at the shrine of Sir Alex.
But like all chimera in the EPL's first weekend, it took a day or two for the euphoria to wear off and the reality to set in. The team City clobbered 4-0 had just squeaked in from the Championship and was making its first appearance in the English top tier since 1982. Plus the Swans' entire squad cost $21.4 million less than the $63 million that City had paid to lure their super-sub Aguero, from Atletico Madrid. Oh and Swansea had lost their last five season openers, the worst record in all four levels of English professional soccer. In other words, the Swans were predestined roadkill for the retooled Mancunians.
This Sunday's opponent, Bolton, would prove to be a much better gauge of City's strength. After all, the Trotters had also opened their season with a 4-0 demolition job of a newly promoted club, Queens Park Rangers, and while they may have not done it with the same verve as City -- and certainly not with a squad that cost as much as a gold-plated aircraft carrier-- they possessed enough grit, hustle, and Kevin Davies knockdowns to give City a much sterner test. In fact, they're precisely the kind of old school, blood and thunder, English side against whom Mancini would have ordered his players to pack the penalty area and look to break on the counter. Of course, that was 150 million dollars in transfer fees ago.
Now in the Brave New World of City, where strikers are stockpiled and there is always room for another twinkle-toed $200,000 per week midfielder (what the hell is Samir Nasri going to do there? Serve tea at halftime?) the Sheikhs have apparently gone all Roman Abramovich on Mancini. They want their team to not only win but to entertain as well. And with the possible exception of the great AC Milan teams of the 90's (Maldini, Baresi , Costacurta, Nesta), what defensive juggernaut was ever really fun to watch?
That's what's so surprising -- and scary-- about Man City's New Look baby blues: right now they are playing exciting , adventurous soccer. Maybe not enough for the crowd to shout Ole every time Silva and Aguero exchange mouthwatering passes but certainly enough that you can no longer accuse City of playing traditional M (Mancini and Mourinho) ball.
It's become so exhilarating, that even Gareth Barry and James Milner, typically stolid, banal and English players, are racing past the stench of their 2010 World Cup efforts to become, dare I say it, stylish? The depth of the City pool has become Grand Canyon-esque with Carlos Tevez and Mario Balotelli, scorers of 25 league goals between them last year and troubled in their own unique ways relegated to the subs' bench. (Gee, that should be great for team bonding, huh?) If City were to get any deeper, even Arsene Wenger might lead it to a trophy. I'm sorry, I have Legionnaire's disease and that's the fever talking.
City's other Argentinian, Aguero, has been sensational creating an instantaneous and almost telepathic rapport with David Silva even though between them they're barely the size of a fully grown man. Aguero's emergence, combined with the bottemless pockets of the owners, gives Mancini leverage over his disgruntled star Tevez, who has been agitating for a move to a big club in a more desirable zip code since last December.
But just because Carlito snapped his fingers and said "check, please" in one of the two restaurants in Manchester he could find doesn't mean he will get his wish. After all, there is the small matter of his transfer fee, which City has valued at around $82.4 million. Mancini now has the luxury of calling Tevez' bluff and responding to the Argentine's diss of Manchester as a city where "there is nothing to do" for entertainment by effectively saying "If it's entertainment you're after, Carlito, how about sitting behind me watching Aguero put on a show for the fans?"
[+] Enlarge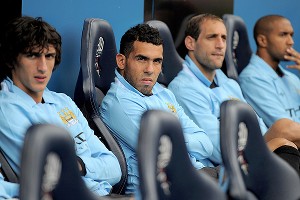 Michael Regan/Getty ImagesMan City's Carlos Tevez, second from left, is not taking his demotion to the bench very lightly.
As it happened, on Sunday Tevez came on for "Kun" in the 67th minute, and immediately weaved his way into the penalty area only to balloon a shot into the stands. Aguero, too, misfired on a couple of golden chances but unlike Tevez did not curse his fate.
Though Tevez, at 27, is only four years older than his compatriot, they seem to come from completely different generations of Argentine soccer. Tevez, snarling and outspoken, more closely resembles his idol Maradona while "Kun", El Diego's son-in-law, has a sunnier, more fun-loving temperament that manifests itself both on and off the field.
According to a story last week in the Manchester Evening News a bunch of Argentine EPL players including Aguero, his City teammate Pablo Zabaleta and Liverpool's Maxi Rodriguez took part in a go karting grand prix at the Daytona Manchester race track.
Tevez was nowhere to be seen, probably because such an enjoyable event might have caused him to sprain his face.
While it's a tantalizing prospect to imagine what a Tevez-Aguero partnership would look like, for now Mancini is content to let the revitalized Edin Dzeko spearhead his attack. The Bosnian target man, a paltry $40-million January acquisition from Wolfsberg, managed only one goal in 14 league appearances. But he worked hard on his fitness and first touch in pre-season and forced his way into the lineup ahead of Tevez and Balotelli.
He has benefitted greatly from Mancini's decision to play with fast, tricky wingers like Milner and super-sub Adam Johnson who are more than capable of delivering seeing-eye crosses onto the 6'4" Dzeko's head and feet. His well-struck half-volley in the 47th minute proved to be the winning goal as Bolton fought back to cut the margin to 3-2 midway through the second half. But as impressive as his decisive finish was, it was Dzeko's slick interplay with Aguero and Silva that typified the New Look City.
It's too early to make any grandiose predictions for City but the good news is that rather than striking each other on the training ground, Mancini's mercenaries are striking the ball into the net. Oh, there will no doubt be any number of diva-like meltdowns to come and the whole team may implode at some point and cost Mancini his job, but at least the drudgery of watching them play last season has been replaced with something approaching joy.
David Hirshey has been covering soccer for more than 30 years and has written about the sport for The New York Times, Time, ESPN The Magazine and Deadspin. He is the co-author of "The ESPN World Cup Companion" and played himself (almost convincingly) in the acclaimed soccer documentary "Once in a Lifetime."