Commentary
Rooney vs. Aguero: Who'll blink first?
Updated:
September 12, 2011, 1:33 PM ET
By
David Hirshey
| Special to ESPN.com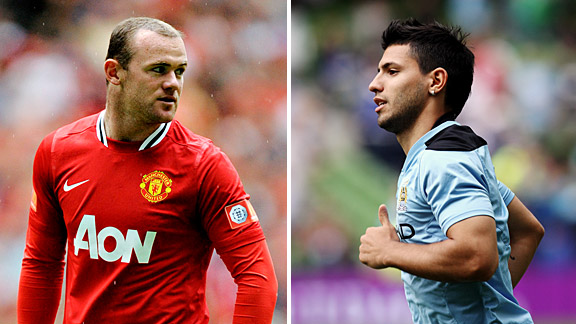 Icon SMI, Getty ImagesWayne Rooney and Sergio Aguero matched each other hat trick for hat trick as their teams continued their torrid pace at the top of the Premier League.
OK, so we're still nearly a legion of jaw-dropping slalom runs and screaming surface-to-air free kick missiles away from a reprise of last season's glorious mano-a-mano shootout between Lionel Messi and Cristiano Ronaldo, but you have to admit that Wayne Rooney and that two-headed Manchester City beast of Sergio Aguero and Edin Dzeko are doing a passable imitation of the Spanish soccer equivalent of H-O-R-S-E.
And in a very real way, the burgeoning EPL (English Premier Liga) version of that epic Iberian duel is even more inflammatory: the Manchester gunslingers ply their trade a mere three miles apart, blowing away low-table fodder with insulting ease.
ESPN FC on Twitter
Don't miss a moment of the latest soccer coverage from around the world. Follow us on Twitter and stay informed. Join »
The question is: Who'll blink first?
Like Messi versus Ronaldo, the race within the race in the north of England benefits from a striking contrast in styles. While Aguero's hat trick was a master class in poaching, each precise and cool-as-you-like side-footed finish the perfect exclamation point to his world-class midfield's slick passing moves, Rooney's treble had a feral power to it that testifies to his determination to retain his position as the most dominant forward in Manchester.
Better still for the mind warriors at United, they got to sit back and watch City's casual three-goal home demolition of hapless Wigan before lacing up and lashing five past Bolton at the Reebok. Once again, the defending champion one-upped its noisy neighbor in a near carbon copy of the previous round, when City laid waste to Spurs with five only for Sir Alex Ferguson's men to hang eight on the shell-shocked Gunners.
[+] Enlarge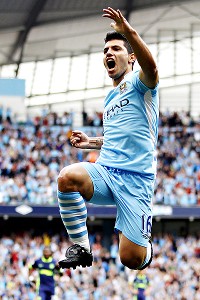 Adrian Dennis/AFP/Getty ImagesSergio Aguero scored a hat trick against Wigan.
You can almost hear Rooney shouting across the A57: "Anything Kun can do, I can do better." Of course, Wazza has never been quite that erudite, especially when caught on camera after scoring.
If they keep up this ridiculous pace, Rooney (eight goals in four league games) and Aguero/Dzeko (six each) are on course to approach the astonishing 53 goals that Ronaldo tallied for Real last season when he nipped his Argentinian nemesis by three. It should be pointed out, however, that Messi won both La Liga and Champions League trophies, so don't feel too sorry for him.
United and City are rapidly turning the early season into an eerily familiar Barca versus Real style competition. So devastating has been their form that you couldn't blame them if they decided to secede from the rest of the league. Just look at the absurd goal difference columns. While Arsenal's robust defending against the giants from Swansea lowered its GD to a far more respectable minus-7, City sits at a preposterous plus-12 after four games. United, never one to ignore the gauntlet hurled down by its nouveau-riche rival, has seen the City 12 and raised it by three. Chelsea, huffing and puffing mightily in the peloton, has an unmanly plus-4 and the other pretenders to the throne, Liverpool and Spurs, just lost to Stoke and managed the first win of the season against Wolves, respectively.
Given the velocity with which United and City have blasted out of the gate, you get a very real sense that for the first season in recent memory, everyone else will be angling for the last guaranteed Champions League spot before Thanksgiving. Everybody else except Blackburn. And Arsenal. At least that was the viewpoint of famed sibling-puncher/soccer philosopher Noel Gallagher when he mused to Talksport that the Manchester derbies would decide where the trophy ended up. But how can you trust him? He's a champagne supernova in the sky.
Aguero's early-morning treble -- I'm beginning to think that Fergie paid off the league to keep earning later kickoff times -- merely served to caffeinate Sir Alex's Babes. If Chicharito was the bargain of 2010, then Maradona's son-in-law, who cost City a mere $55 million, has staked as good an early 2011 claim to the title as is humanly possible. More importantly, Aguero understands his role as the classic center forward, letting his brilliantly talented midfield with the likes of David Silva, $amir Na$ri, James Milner and Adam Johnson handle the heavy lifting. Last season, City fans were used to seeing Carlos Tevez buzzing over every inch of the Eastlands turf in search of the ball and, while effective in its own way -- 20 goals in 31 EPL appearances -- it was still an attack that was overly dependent on one mercurial Argentine.
[+] Enlarge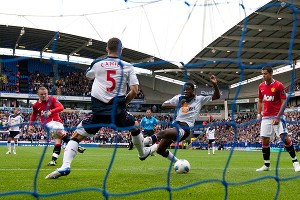 AP Photo/Jon SuperWayne Rooney has scored eight goals in four league games this season.
On Saturday, Tevez was given his first start of the season just one day after being stripped of his captaincy -- that's what happens when you snap your fingers once too often at Roberto Mancini and demand a transfer -- but he got to watch most of his countryman's circus tricks from the bench after being substituted in the 61st minute. Tevez did make the first goal for Aguero with a lung-bursting run down the left flank, but last year's Super Argie had a bigger than usual scowl on his face when he was replaced by Na$ri. (So sorry to hear about your broken finger, $amir. What happened? Did you try to lift your weekly pay packet with one hand?) Annoyingly, the mercenary Frenchman took all of 90 seconds after coming on to tee up Kun for his second goal, making it four assists in 91 minutes for the former Arsenal player. Yes, I am quite aware that this number is three more than he delivered during his entire last trimester at the Emirates this past season -- and three shy of his EPL total for the Gunners in three seasons -- the period that gave birth to the treason in his Gallic soul. But just as he was a poor homme's Cesc Fabregas at Arsenal, Nasri now plays in the immense shadow of the magnificent Spaniard Silva, whose jinking, ankle-snapping run to set up Aguero's third goal was Messi-worthy.
David Hirshey

For more from David Hirshey, check out his columns on all things soccer.
• The All-EPL Team, 2011-12
• Saying goodbye to Chinaglia
• Time to dethrone King Kenny Dalglish?
• In praise of Fulham
• The comeback artists
• Call it a comeback
• Death by Manchester
• The battle for third
• Spurs' title credentials
• EPL's best starting XI
• City handed first EPL loss
• Chelsea pushed to brink
• Fragile egos crossing
• City and United
• Is Newcastle for real?
• The bad-behavior derby
Rooney's hat trick was more ruthless and blunt than Kun's feathery touches, each goal swept past Jussi Jaaskelainen as if anyone needed further proof of his remarkable return to form. Wazza's confidence is growing as fast as his hair, and at this rate he'll finish the season with at least 35 goals and a ponytail. Statistically, Rooney billows the net every 2.5 shots compared to Aguero's one in three, but that's not the reason he is the more complete player. No United move begins until Rooney has made himself the hinge point of the attack, much like Tevez did for City last season but without the swooning homesickness. Wherever he is on the field -- and lately, he seems to be everywhere, rampaging up front, filling gaps in the middle and defending fiercely in his own penalty area -- Rooney demands the ball but still makes sure there are enough chances to go around so that Chicharito and (before he injured himself) Danny Welbeck can join in the fun. (At this rate, Dimitar Berbatov, last season's EPL goal scoring co-leader, will be lucky to play again before United's Malaysian tour next summer.)
After years of being the Prem's poster boy for bad behavior, Rooney has become the model soccer player in more ways than one. Check him out in the glossy pages of the New York Times' uber-chic fashion magazine this past Sunday (he's the fifth picture in the gallery). There he is, in a $5,000 overcoat, $585 shirt, $990 pants and $50,000 hair plugs, wearing a look of Cantona-esque imperiousness, as if he is the master of all he surveys. And maybe, just maybe, this season he really is.
David Hirshey has been covering soccer for more than 30 years and has written about the sport for The New York Times, Time, ESPN The Magazine and Deadspin. He is the co-author of "The ESPN World Cup Companion" and played himself (almost convincingly) in the acclaimed soccer documentary "Once in a Lifetime."