Commentary
It wasn't in the cards
Updated:
October 3, 2011, 1:32 PM ET
By
David Hirshey
| Special to ESPN.com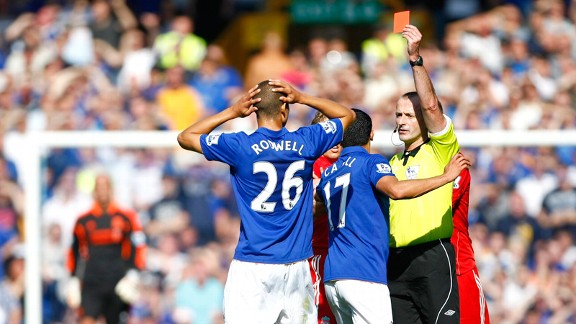 AP Photo/Tim HalesA couple of controversial calls may have marred the Merseyside (above) and North London derbies, but neither decided the outcome.
If you're an Everton or Arsenal fan who viewed this weekend's derbies through your usual coke-bottle-thick blue- or red-tinted glasses, I imagine it would be tempting to blame your despair on the rank incompetence of the two men who refereed the games.
Tempting, yes, but unfortunately wrong.
Since I am known as much for my unbiased punditry as for my luxurious mustache, whatever shards of optimism I had retained post-Cesc Fabregas-and-Samir Nasri vaporized weeks ago right after a certain 8-2 humiliation. Yes, I know Arsenal came into White Hart Lane riding a three-game winning streak, but conquering Shrewsbury Town, Bolton and mighty Olympiakos hardly qualifies as scaling soccer's version of Everest. So forgive me if I didn't swagger into Kinsale Tavern on Sunday morning and chest-bump my fellow Gooners, all the while bursting with Piers Morgan-esque bravado about how Arsenal, even in its depleted and beleaguered state, is still the lord of North London.
ESPN FC on Twitter
Don't miss a moment of the latest soccer coverage from around the world. Follow us on Twitter and stay informed. Join »
Rather, I begged Shirley the bartender (a hardcore Chelsea fan) to take pity on my impending plight and violate New York's no-drinking-until-noon law on my behalf, a request as warmly received as Bacary Sagna's visit to the sideline advertising boards that will keep Arsenal's one decent defender out of action for at least three months with a broken leg.
"Sorry," Shirley said, smirking, "I'm afraid you'll have to suffer without a beer for the first hour."
As it happened, the real misery didn't come until the 73rd minute when Wojciech Szczesny -- who, if you listen to some hysterical Arsenal supporters, had become the best goalkeeper in Europe this season --suddenly morphed into Manuel Almunia, letting a swerving 30-yard belt from Kyle Walker slip through his hands to put Tottenham up 2-1.
[+] Enlarge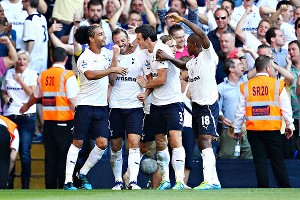 Julian Finney/Getty ImagesLords of North London: Spurs have now won three of the past four derbies with their archrivals.
Even with nearly 20 minutes to play, I didn't really see any way back for the Gunners. It's not that Spurs were playing particularly well; it's that they didn't need to against an Arsenal team shorn of confidence and pace. This was the slowest the Gunners have played in years, taking an Ice Age to move the ball up the field and leaving Walker enough time to have a pint and a meat pie before unleashing his shot. I suspect I wasn't alone in my belief that Arsenal had run out of ideas by then. How else to explain the desperate move that Arsene Wenger made in the final frantic minutes, sticking Per Mertesacker, the 6-foot-6 center back with the turning speed of an oil tanker, up front alongside Robin Van Persie to serve as a Crouchian long-ball target?
Ignoring for a painful moment the fact that Arsenal -- once the EPL's poster club for tika-taka passing and movement -- is now resorting to the same hoof-and-hope tactics that are favored by the likes of Chris Samba and Blackburn, ask yourself what Wenger's gambit says about his faith in Park Chu-Young, the Korean striker he purchased during the recent transfer window and chose not to use for either substitution after Sagna's injury. Who knows? Maybe Wenger is grooming Mertesacker to replace Van Persie when the fed-up Dutchman finally races through the Emirates exits named after Fabregas and Nasri. We'll never know whether the Per experiment was a good one, as no Arsenal player was able to launch a single ball onto Mertesacker's head for the German to display his lack of aerial prowess.
And yet, despite all these bleak truths, there are some Gooners who will persist in believing that the game was decided by referee Mike Dean's failure to spot both a borderline handball on Rafael van der Vaart's Spurs opener -- so delicately chipped in by Emmanuel "I still have many friends at Arsenal" Adebayor -- and the over-the-top exuberance of his goal celebration, a full sprint into the clutches of delirious Tottenham supporters, which could have be deemed worthy of a yellow card by some by-the-book officials. Since VDV was already on a yellow, you could argue -- as Arsene Wenger didn't, to his credit -- that Spurs should have also have been down to 10 men with over half the game still to play.
Similarly, let's not blather on too much about Martin Atkinson's boneheaded decision to send off Jack Rodwell for his this-is-a-Merseyside-derby love-tap (but hardly Karl Henry-esque) challenge on Luis Suarez, ultimately giving Liverpool a man advantage for three-quarters of the weekend's other derby against Everton.
[+] Enlarge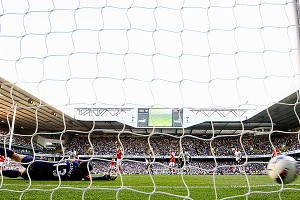 Julian Finney/Getty ImagesMissed it by that much: Wojciech Szczesny couldn't stop Tottenham's game-winning goal.
Granted, Atkinson's howler tilted the field in Liverpool's direction and diminished the entertainment value of what to that point had been a feisty helter-skelter game, but it also served as a convenient fig leaf to obscure Everton's larger problems. Bereft of any semblance of a cutting-edge attack -- now that Mikel Arteta and his helmet hair are part of the Arsenal death spiral and Landon Donovan is happily feeding Robbie Keane in LA -- Everton manager David Moyes' best option may well be loanee Royston Drenthe, picked up for a few quid from Real Madrid during the transfer window. Compare that to the profligate Reds, who have splashed out over $100 million in less than nine months to give birth to a squad with a genuine array of game-changing options -- even if too many of those choices are British. While Everton epitomizes the working-class ethic of its manager, and while Marouane Fellaini, Tim Cahill, Leighton Baines and Tim Howard are legitimate EPL talents, the gulf in class is similar to the gap between the teams' respective owners' pocketbooks. And no ridiculous Atkinson whistle was going to subvert that reality. I really don't believe Everton would have beaten Liverpool on Saturday with its full XI on the field, no matter how many coins and assorted projectiles the Goodison crowd aimed at Suarez and Craig Bellamy. Maybe all that loose change could have been spent on a better striker.
Despite a diving Howard save of Dirk Kuyt's rather lame penalty kick and a fierce, battling resistance, the Toffees were never going to contain the dynamism and street-fighting savvy of Suarez -- though his comical playacting is reaching Cristiano Ronaldo levels of irritation. Add the long-awaited sign of a pulse from Andy Carroll, and you have the difference-making gloss on another rough-and-tumble Merseyside derby.
David Hirshey

For more from David Hirshey, check out his columns on all things soccer.
• The All-EPL Team, 2011-12
• Saying goodbye to Chinaglia
• Time to dethrone King Kenny Dalglish?
• In praise of Fulham
• The comeback artists
• Call it a comeback
• Death by Manchester
• The battle for third
• Spurs' title credentials
• EPL's best starting XI
• City handed first EPL loss
• Chelsea pushed to brink
• Fragile egos crossing
• City and United
• Is Newcastle for real?
• The bad-behavior derby
These days, that's the way the Anfield beach ball bounces, and the depressing reality for both losing derby teams is that each faces a long season of numbing mediocrity unless they can somehow cauterize the sucking wounds at the heart of their squads. For Arsenal, the absence of on-field leadership remains telling -- there wasn't a player in red who seemed either willing or capable of matching recent West Ham transplant Scott Parker's lung-busting effort and verbal authority. Even with enough national team captains to form a baby UN on the Emirates' training ground, this is a team that's about as fluid as the early Tin Man from "The Wizard of Oz." I'm thrilled that Wales thinks highly enough of Aaron Ramsey to give him the armband, but in Arsenal colors the 20-year-old midfielder remains a shadow of his pre-Shawcross-horror-tackle self. And what is there to say about a defense that still looks New York Red Bulls-shaky other than Carl Jenkinson couldn't make my co-op coed team?
Well, at least the Arsenal fans and their manager took the moral high road in dealing with the seething atmosphere at the Lane. Oh, wait. Has it really come to the point that Gooners can't come up with a more clever chant than wishing that Adebayor had been killed in the ambush of the Togo team bus on the eve of the 2010 African Cup of Nations? I didn't think it was possible that Arsenal fans could lower themselves to the depths of ugliness of their Spurs counterparts, who continue to serenade Wenger with their vile ditty about his alleged sexual predilections. But I guess that's what happens to a once-proud team when its despised rival can realistically harbor visions of the top four and you are comfortably mired in 15th place.
[+] Enlarge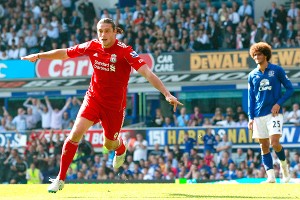 AP Photo/Tim HalesAndy Dandy: Carroll scored his first goal of the season against Everton.
The Fernandy Carroll Watch -- Week 2
Due to popular demand -- thanks to the three of you who enjoyed the original segment -- we continue our public service of tracking how the $135 million pair of strikers is working out, because it's always fun to watch rich people struggle.
Andy came out ahead this weekend because he scored a goal -- his first in the league this season -- while Fernando didn't make Chelsea's bench because of last week's red card that earned him a three-game suspension. However, Nando's hair color is still 27 percent more attractive than Carroll's. Countering this is the fact that Andy's hair -- while a less appealing hue -- is 44 percent longer than the Spaniard's. Fernando's hair band and Andy's ponytail scrunchie have finished in a statistical dead heat. So, in terms of amortizing their respective investments, Chelsea owner Roman Abramovich has recouped approximately .004 percent of his total layout, while Liverpool owner John Henry has gotten back a slightly less horrific .007 percent of his cash. Roman came out ahead in one area this weekend, however: Unlike his fellow billionaire, the Russian oligarch did not slip on his yacht and hurt his neck. So all in all, we'll call this week's Fernandy Carroll Watch a total wash.
David Hirshey has been covering soccer for more than 30 years and has written about the sport for The New York Times, Time, ESPN The Magazine and Deadspin. He is the co-author of "The ESPN World Cup Companion" and played himself (almost convincingly) in the acclaimed soccer documentary "Once in a Lifetime."