Commentary
The battle of the hotheaded heroes
Updated:
October 15, 2011, 7:57 AM ET
By
David Hirshey
| Special to ESPN.com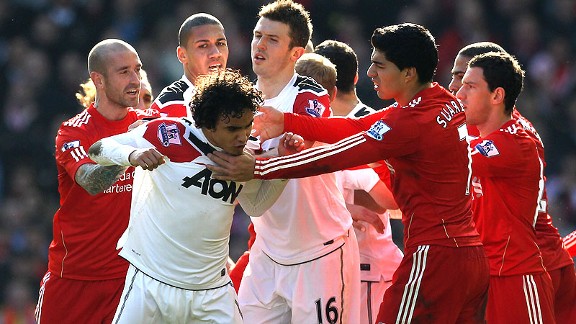 Alex Livesey/Getty ImagesThe last Premiership match between Liverpool and Manchester United featured a skirmish between opposing players, an indication of the heated rivalry between the English sides.
Over the decades the names on the backs of the jerseys have changed, but two things have remained the same about the Liverpool/Manchester United derby: (1) Sir Alex Ferguson's nose is always purple, and (2) the game brings out the best and worst from the best.
Big players like to carve their initials into the folkloric trunk of England's greatest rivalries -- and sometimes the opponent's shin. Think of the pantheon of soccer illuminati who have brought the thunder to this magnificent bone-shredding free-for-all. From Kenny "The King" Dalglish versus Mark "The Mullet" Hughes in the 1980s; to Roy "Kean-o!" Keane, Paul "The Guv'nor" Ince and Eric "Kung-Fu" Cantona bashing heads with Robbie "I didn't inhale" Fowler, Neil "Razor" Ruddock and Danny "Why am I bald if I'm only 24" Murphy in the '90s; all the way through to the likes of Little Mikey Owen (on both sides), Stevie "G" Gerrard, Rio Ferdinand, Nemanja Vidic and red-faced Jamie Carragher in the new millennium, the volatile mix of skill and passion has combusted into an explosion of memorable encounters. There's the 3-3 draw at Anfield in 1994 that saw United go 3-0 up after just 24 minutes, or the 2-2 result in October 1995 in which the Scousers dominated but couldn't prevent Cantona from scoring the equalizer from the penalty spot in his first game back after his long ban for showing off his Cobra Kai talents and kicking a heckler in the stands. There's Berbatov's virtuoso hat trick in a 3-2 win last season, or Liverpool's sublime 4-1 romp at Old Trafford in which Vidic was sent off and the Reds were so rampant that even legendary Kop flop Andrea Dossena got on the score sheet.
And, as if this marquee conflagration needed any more gasoline, Mr. LeBron "Wait, you can't use your hands at all?" James will be attending his first soccer match as minority owner of the mighty Reds, the team he has cherished since he first heard about them last year.
[+] Enlarge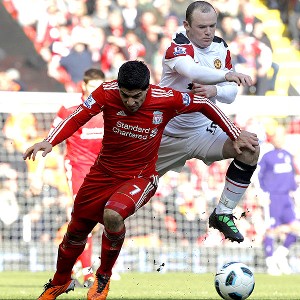 Press Association/AP ImagesRooney and Suarez have started the 2011-12 season in fine form, as each leads his team in goals scored.
So, who will leave their mark on Saturday's snarl-fest at Anfield? And by "mark" I don't necessarily mean a five-inch gash above the knee. While the prematch headlines have featured the long-awaited return of Liverpool's spiritual leader, Gerrard, to the starting lineup after a six-month absence, the game is really about The Battle of The Hotheaded Heroes -- Wayne Rooney and Luis Suarez, otherwise known as Wazza versus El Pistelero or "Baby-Doll Hair" versus "Bucktooth McGee."
It's a marquee matchup that wouldn't look out of place in the UFC's Octagon. It's the best English player of his generation versus arguably the best striker in South America not named Messi or Aguero. It's the unhinged former Scouser versus the shoulder-biting loco Uruguayan.
Gentlemen -- and I use the term inaccurately -- It. Is. On.
Here's the good news: They're both eligible to play for as long as they can stay on the field. That's no mean accomplishment when it comes to these two human volcanoes. Just this week, Rooney offered up his latest display of grace under pressure when he kicked Montenegro's Miodrag Dzudovic to earn a red card and a richly deserved holiday from the annoying group phase of Euro 2012. With that one petulant swing of his right leg, Wazza all but ensured that England will fail to realize its destiny of crashing out of the quarterfinals on penalty kicks. Not that Sir Alex could give a toss whether his prodigal son plays at all this summer in Poland and the Ukraine as long as he maintains his blistering start to the EPL season -- nine goals and two assists in seven games.
Suarez, meanwhile, is on a mini-tear of his own, scoring four goals in seven games for the Champions League-berth-chasing Reds. Ironically, Suarez would have been in more danger than Rooney of missing Saturday's showdown had referee Martin Atkinson dealt as harshly with the Liverpool striker's shameless playacting as he did with Everton's Jack Rodwell, who he sent off for a hard but legal tackle on the Uruguayan 20 minutes into the Mersyside derby. All that was missing from Suarez's comical flop-and-roll routine was Cristiano Ronaldo's saucy wink that followed another moment of Rooney lunacy -- his 2006 World Cup stamp on Ricardo Carvalho in, you guessed it, England's quarterfinal loss to Portugal.
[+] Enlarge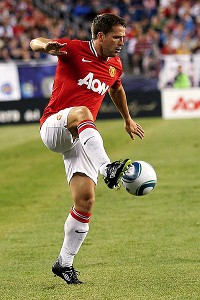 Jim Rogash/Getty ImagesMichael Owen has appeared on both sides of the heated rivalry between the Premier League giants.
Both men have a history of tainting their impressive CVs with acts of baffling self-destruction, and Ferguson and Dalglish will be hoping their tempestuous forwards don't implode this weekend. I have a feeling that King Kenny will be praying just a little bit harder, such is Suarez's importance to the Great Anfield Reclamation Project (GARP).
Without him, for all team owner John Henry's spending in 2011 -- or overspending, as he admitted this week -- the Reds are still prone to slink back into their dour, Roy Hodgson-esque ways. Like Rooney, Suarez is hardwired to do whatever it takes to win, even if it casts him in the role of pantomime villain. Who can forget his audacious handball on the goal line -- although in those circumstances, who among us wouldn't have done the same -- that denied the feel-good Ghanaians a spot in the semifinals of the 2010 World Cup, and was followed by the Uruguayan leaping for joy once La Celeste scraped through on penalty kicks?
Rooney, of course, also displayed his ferocious appetite for victory in South Africa, when after a turgid 0-0 draw with Algeria he informed the sideline camera of just what he thought of the England fans who jeered his performance.
But that seems a lifetime -- or at least several tabloid scandals -- ago. It's hard to remember a United side more reliant on Wazza's prodigious finishing. For all their formidable offensive weapons -- Chicharito Hernandez, Nani, Danny Welbeck, Berbatov et al -- they all seem surprisingly eager to defer to the indefatigable Rooney up front, content to play provider and ride his finishing mojo like Liverpool did for so long with Fernando Torres.
But to do that, Wazza needs to stay on the field for the entire 90 minutes. What are the odds of that happening Saturday? Better check with Daddy Rooney's bookie.
David Hirshey has been covering soccer for more than 30 years and has written about the sport for The New York Times, Time, ESPN The Magazine and Deadspin. He is the co-author of "The ESPN World Cup Companion" and played himself (almost convincingly) in the acclaimed soccer documentary "Once in a Lifetime."