Commentary
Keeping up with the Manchesters
Updated:
November 7, 2011, 3:06 PM ET
By
David Hirshey
| Special to ESPN.com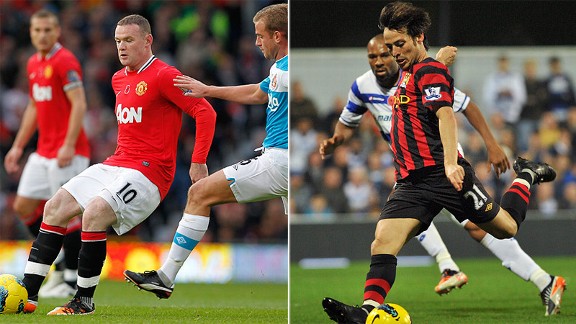 Icon SMI, Getty ImagesBoth United and City stumbled but held on for hard-earned victories as the pressure builds atop the Premier League table.
What a relief to amble down to my barstool this weekend and be greeted with a Prem I actually recognize. Not to say the days of 5-3 at the Bridge or 5-1 at White Hart Lane weren't welcomed, but to see those kinds of merciless beatdowns every week hurts the soul of a soccer fan, even one as unbiased as I. So kudos to Liverpool for giving us that most English of scores: a 0-0, at home, to barely promoted Welsh giant Swansea.
And yet, amid a relatively mundane set of results, teams continue to surprise. Newcastle's businesslike 2-1 win over Everton kept it third in the table -- 11 games unbeaten -- though back-to-back-to-back matches against City, United and Chelsea should serve as jarring reminders of the Toon's true station. Then there's Arsenal, which reversed last year's home debacle and thrashed West Brom, extending its unbeaten run to seven games in all competitions, and Spurs, which somehow prevailed over old manager Martin Jol's feisty Fulham side to stretch their undefeated streak in the Prem to eight and stay level with Chelsea in fourth. Albeit with a game in hand. All of which should warm the cockles of Harry Redknapp's recently repaired heart. (See how ecumenical I've become?)
For all the talk of unbeaten runs and blistering form, though, the table still looks depressingly familiar, as the two Manchesters overcame stuttering performances to continue their private party atop the Prem.
Is United getting defensive?
Even for a still-pissed-about-the-8-2 Arsenal fan, it was difficult not to mist up a little at the emotional tsunami that washed over Sir Alex Ferguson at Old Trafford on Saturday. Love him or loathe him -- and I'd say the world outside of Liverpool is equally divided -- you can't deny his extraordinary accomplishments over the past quarter-century.
That said, judging by the fulsomeness of the tributes being lavished on Sir Alex, you'd be forgiven for thinking they were a prelude to canonization (although that 1999 final against Bayern would certainly qualify as his miracle). Cristiano Ronaldo called him "one of the most important people in the world." Former United and French World Cup-winning keeper Fabien Barthez said, "I think about him every morning," which is somewhat disturbing considering he could just as easily think about his former supermodel girlfriend, Linda Evangelista. But the real kicker was this garland from West Ham manager Sam Allardyce: "Perhaps the gentlest gentleman who ever lived." Get in line, Gandhi and Mandela.
David Hirshey

For more from David Hirshey, check out his columns on all things soccer.
• The All-EPL Team, 2011-12
• Saying goodbye to Chinaglia
• Time to dethrone King Kenny Dalglish?
• In praise of Fulham
• The comeback artists
• Call it a comeback
• Death by Manchester
• The battle for third
• Spurs' title credentials
• EPL's best starting XI
• City handed first EPL loss
• Chelsea pushed to brink
• Fragile egos crossing
• City and United
• Is Newcastle for real?
• The bad-behavior derby
I guess Big Sam's spasm of amnesia caused him to miss the 25 years of mind games, ref-baiting and purple-faced hairdryer attacks on his players that Saint Alex had become infamous for. It probably boded well for United's match Saturday that Fergie's former protégé and center back, Steve Bruce, couldn't wait to fall into the arms of the "gentlest gentleman" like a worshipful puppy eager for his mentor to rub his tummy -- which, in Bruce's case, would look right at home in a Newcastle crowd.
The Sunderland manager was eminently qualified for his role as sacrificial offering. Not only had Bruce failed to win at Old Trafford in his past 17 attempts, but his club hadn't tasted victory in Manchester since 1968. There was no reason to think this visit would follow a different script.
Yet Bruce made his old boss endure 15 whole minutes of squeaky bum time before Wes Brown decided to pay homage to his ex-manager by steering one into his own net. Granted, Sunderland played above its usual hoof-and-hope level, but the more unsettling half of the equation is that SAF's Red Devils have completely lost their early-season swagger since their Man City proctology exam.
While Roberto Mancini has been emboldened to unshackle the Man City attacking beast, unleashing David Silva & Co. on all comers -- the Sky Blues have responded with 14 goals in their past four games -- Ferguson has turned strangely cautious. Though it has compiled four consecutive shutouts, United has shed the "wow" factor that had become Sir Alex's recent signature.
With the precocious 22-year-old Tom Cleverley still out with a pesky ankle injury, United has no one capable of playing the quick and precise passes that Danny Welbeck and Chicharito feast on. Michael Carrick, Park Ji-Sung and Darren Fletcher aren't right for the job, while Ryan Giggs is too old for it. All that remains is Wayne Rooney, and the Great Midfield Experiment, now in its second consecutive week, produced mixed results this time around.
ESPN FC on Twitter
Don't miss a moment of the latest soccer coverage from around the world. Follow us on Twitter and stay informed. Join »
While Wazza was once again Man of the Match from his center-mid conductor's podium, United's attack looked impotent shorn of his rampaging runs. This is not to say that Rooney couldn't reinvent himself as a faster, less-awkward-tackling Paul Scholes, but the fact that Ferguson is willing to deprive his front line of Wazza's finishing mojo -- nine goals in 10 Prem matches -- shows United's desperation for a midfield leader.
It's part of Sir Alex's excellence that he experiments fearlessly, but he will quickly need to figure out Rooney's most influential role and stick with it if he hopes to cap his 25th anniversary with the ultimate honor: another EPL trophy.
Don't be fooled by City's stumble
When Edin Dzeko proclaimed that QPR had proved to be City's toughest away challenge to date, it was less postgame flattery and more a statement about how the Sky Blues have simply steamrolled their competition. Mancini's legacy will not be about statues or eponymous grandstands, but rather forged by how much silverware he can cram into a dust-gathering Eastlands cabinet.
[+] Enlarge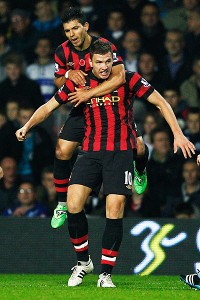 Paul Gilham/Getty ImagesWhat a relief: Edin Dzeko celebrates with Sergio Aguero after scoring against QPR, an away match that the Bosnian said was the team's toughest away challenge to date.
Nothing less than one trophy will suffice, although two would be nice and might earn him a solid gold Rolls-Royce like the kind driven by his boss, Sheikh Mansour. And while it's way too early to vouchsafe that City will win either an EPL or Champions League title, this team is finally evincing that most Ferguson-esque of traits -- a gritty resilience that even petro-billions can't buy.
City's latest victim was a spirited QPR gang that harassed and pressured Mancini's men as aggressively and relentlessly as they did in their 1-0 win over Chelsea two weekends ago. But unlike their Blues brothers, City didn't respond to QPR's in-your-face defending by kicking and screaming its way to two red cards before halftime. Instead, City remained calm after Jay Bothroyd's opening goal, until an unstoppable header from Yaya Toure in the 74th minute enabled it to maintain its five-point lead at the top.
While it was far from the kind of bravura performance required to knock the Uniteds and Barcas from their lofty EPL and CL perches, it was a serviceable effort after a midweek game on the continent. Silva, the man anointed the league's player of the year less than a third of the way into the season, looked ordinary in the first half, overhitting simple passes and failing to imprint his genius on the game. In fact, you could argue that the best midfielder on the field for the first 45 minutes was Joey Barton -- who, last I checked, couldn't even earn an England call-up, let alone breathless comparisons to Xavi or Andres Iniesta.
But of course, Silva is simply far too talented to be contained for an entire game, especially when shadowed by a pair of journeyman center backs such as Danny Gabbidon and Anton Ferdinand. And his goal -- an elegant shuffle in the box to bamboozle his marker before lashing home and giving City a 2-1 lead early in the second half -- made the gulf in class manifest.
As I've noted before, Mancini deserves credit for going against every catenaccio-worshipping fiber in his body and trusting his band of attacking mercenaries. After all, few teams can cope with the Sky Blues' speed and precision on the counter, even though, as QPR showed Saturday, it leaves them vulnerable at the back (it was the third time in 11 matches they conceded two goals in a Prem game).
Both home goals were the fault of the promising but raw Stefan Savic, whose performance all but assured that City will spend untold millions in the January transfer market to bring in more reliable cover for its defensive bedrock, Vincent Kompany, who was suspended for the QPR game. In the meantime, Mancini must be delighted that the decisive goal was set up and scored by two nominally defensive-minded players marauding forward. Aleksandar Kolarov's perfectly flighted cross allowed Toure to rise up above Gabbidon and pound a ferocious header into the net.
I wonder what kind of gas mileage you get in a gold Rolls?
[+] Enlarge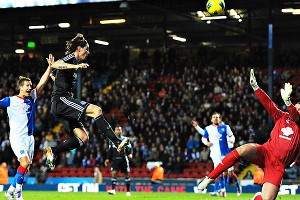 Andrew Yates/AFP/Getty ImagesMissed it by that much: Fernando Torres blew a point-blank chance (again), this time against Blackburn.
The Fernandy Carroll watch: Chapter 3
What a difference a month doesn't make. When last we left our favorite $135 million two-headed goal-scoring minnow, Fernando Torres had a slight edge in the underachievement sweepstakes. After all, he had to sit out a series of Chelsea Prem matches because of a three-game suspension, while the Big Ponytail, Andy Carroll, caught fire, scoring his first EPL goal of the season for Liverpool -- a smartly taken hooked volley against Everton -- in his seventh game before bundling home league goal No. 2 against West Brom last weekend.
But on Saturday, neither man felt compelled to score despite their teammates' outstanding efforts to make it as easy as possible for them. It took Carroll only seven minutes to butcher his chance, racing into the box to thud Stewart Downing's cross against the bar, when the empty net all but screamed for a simple side-footed finish. Not to be outdone, Torres came bounding off the bench with Chelsea leading 1-0 in a tense match at Blackburn and promptly shanked his sitter in the 91st minute, blasting the ball into orbit from 3 yards out.
On the scorecards, it was a split decision, but the Prem Flop of the Year belt returned to Carroll as his egregious miss arguably cost his side two points.
On the bright side, his jersey sales are through the roof in Wales' second-largest city.
David Hirshey has been covering soccer for more than 30 years and has written about the sport for The New York Times, Time, ESPN The Magazine and Deadspin. He is the co-author of "The ESPN World Cup Companion" and played himself (almost convincingly) in the acclaimed soccer documentary "Once in a Lifetime."