ESPN.com's all-Prem team (so far)
Updated:
December 23, 2011, 3:03 PM ET
By
David Hirshey
and
James Tyler
| Special to ESPN.com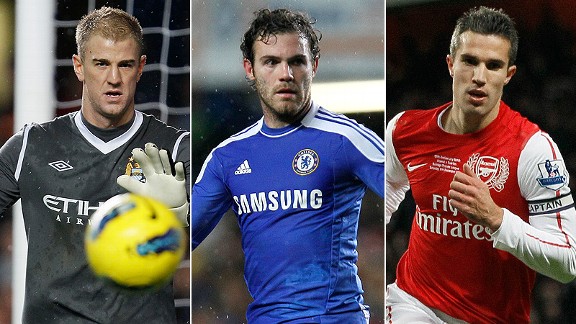 AP PhotoAs the Premier League season heads toward its midway point, we pick the Best XI for the first half of the campaign.
'Tis the season around the ESPN.com soccer offices: that magical time when we stage our semi-annual battle over the Prem's current best XI. Naturally, this war of wills does not occur on the company premises, as a plethora of pints, pontificating and punches is required. But after bruising our livers and sternums, we've managed to cobble together the Most Excellent team at the season's midway point.
With several top players having injury issues (Lucas Leiva, Jack Wilshere, Stevie G since the late 1990s), extended scoreless stretches (Wayne Rooney, Luis Suarez), or simply age-induced suckage (Ashley Cole, Rio Ferdinand), our choices were more contentious than in previous years, but we'd bet that even Sir Alex could get this squad to the Champions League knockout stage.
Oh, and one other caveat: Just like in the natural ebb and flow of an EPL game, plenty of players excel in one half of the season and vanish in the second, except for Andrei Arshavin, who routinely disappears from August to May. For a case in point, Stuart Holden was rated as the Prem's best player this time last season before injuries curtailed his breakthrough.
As always, your opinions are welcome, but remember that this is a time of peace and love. Just ask Suarez and John Terry.
Keeper: Joe Hart, Manchester City
The Taylor Twellman lookalike may not keep many clean sheets -- six in 17 Prem games this season -- but he's got the proverbial ice water in his veins, the one keeper whose bad days or sporadic howlers never move his emotional needle. Now that Roberto Mancini has released his greyhounds, City's defensive vulnerabilities have been on greater display. But in recent weeks, Hart has raised his game in response. Six saves against the Gunners, including a 90th-minute pure-reflex parry to deny Thomas Vermaelen's thundering half-volley. Another half-dozen at Anfield to prevent Liverpool from taking all three points. So much of David Silva's wizardry and Mario Balotelli's Why-Always-Him goals mean little without Hart's acrobatics between the posts. If you still need proof of his bad-assery, check out his Oakland Raiders get-up for the club holiday party.
On the bench: Tim Krul (Newcastle), Michel Vorm (Swansea)
Right back: Kyle Walker, Tottenham
You have to be good to vault in three years from non-league Northampton Town to man-marking Zlatan Ibrahimovic into irrelevance for England. Yet for 21-year-old Walker, his dizzying ascent into the Spurs first team makes complete sense. As an attacking full-back, Walker's speed and crossing ability (eat your heart out, Theo Walcott) have filled one of Harry Redknapp's problem positions, removing the names Vedran Corluka and Alan Hutton from the bile ducts of every Spurs fan. With the completeness of his game in evidence, young Walker has emerged as Micah Richards' and Glen Johnson's primary threat in the England starting lineup. His solitary goal -- an unstoppable 25-yard thunderbolt of a game-winner in the North London derby -- was one that even RvP would applaud.
On the bench: Micah Richards (Manchester City)
[+] Enlarge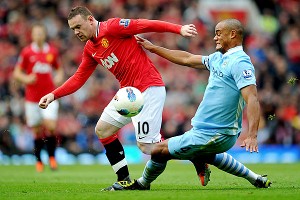 Laurence Griffiths/Getty ImagesVincent Kompany has become the leader of City's ego-laden squad.
Center back: Vincent Kompany, Manchester City
Fast, strong in the air, agile for a big man (6-foot-3) and devoid of the drama and tabloid attention that dog plenty of his better-paid, higher-profile teammates, Kompany is the acknowledged leader of City's ego-laden group, a far cry from the player whose conduct and character were openly criticized and questioned by the then-Belgian manager Dick Advocaat in 2009. Even Balotelli listens to him, perhaps because he is the only Belgian who can tear apart a phone book with his bare hands.
On the bench: Daniel Agger (Liverpool)
Center back: Phil Jones, Manchester United
Not even Sir Alex expected him to be this good this early, but United's injury woes have forced the young tyro from Blackburn into the heart of the lineup. Rarely has $26 million looked like such a bargain, but United's (and England's) future captain brings an unflinching commitment to every moment. Fabio Capello, a man who knows a thing or two about the defensive arts, has made straight-faced comparisons of Jones to defensive icons Franz Beckenbauer and Franco Baresi. In spite of hyperbole worthy of any English paper, there's no denying that the 19-year-old has been a revelation, enabling us to overlook his silly blond highlights and unfortunate choice of karaoke songs. The fact that SAF can also play Jones in other positions, including right back and in midfield, only adds to his potential.
On the bench: Thomas Vermaelen (Arsenal)
Left back: Jose Enrique, Liverpool
The Reds have been lacking for a quality left back since the Clinton administration, and given Kenny Dalglish's proclivity for signing brand names (Andy Carroll, highly rated England U-21 anchor Jordan Henderson, pugnacious Scot Charlie Adam), you expected him to fill the John Arne Riise-shaped void with yet another marquee player. Instead, he stole Newcastle's best player while everyone was still questioning his sanity for shelling out $50 million for the most overrated Magpie. Enrique is an astute, no-nonsense defender with immaculate ball control who fits King Kenny's pass-and-move ideal. Two assists is a small return for a fullback who likes to get forward, but he's an integral part of the Prem's meanest defense -- LFC has conceded 13 goals in 17 games -- and compared to fellow newbies like Stewart Downing, he was cheap. With Ashley Cole and Patrice Evra having noticeably down seasons, Enrique practically picked himself for this team.
On the bench: Benoit Assou-Ekotto (Tottenham), Leon Barnett (Norwich City)
[+] Enlarge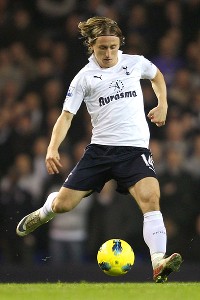 Scott Heavey/Getty ImagesWithout Luka Modric, Spurs would be like Stoke … only in prettier kits.
Midfielder: Luka Modric, Tottenham
And to think he almost crossed town to join Chelsea. Say what you want about Harry Redknapp (and we enjoy saying plenty), the man has an eye for his soccer horseflesh. Modric has been nothing short of sensational, with control and distribution skills that would make Wal-Mart executives weep. Ever since indefatigable Scott Parker joined the club and assumed the bad-cop, ball-winning duties alongside the tiny Croat, Modric has reveled in his newfound freedom as both expansive passer and creative schemer. Without him, Spurs would be Stoke in prettier kits.
Midfielder: David Silva, Manchester City
Look past the numbers, amazing as they are -- five goals, eight assists, 43 shots and several game-changing moments from midfield -- and ponder just how much the Spaniard has evolved at the heart of Mancini's team. All City attacks and counters spring from the jet-heeled Silva, the Spaniard with a "mine in his left foot" (according to Spanish paper El Pais). Silva has already surpassed his goals and assists from last season in half the time, and his kinetic interplay with Sergio Aguero, Balotelli, Edin Dzeko and Yaya Toure -- and stunning in-game vision -- are breathtaking to behold. Considering that he's 5-foot-7, he's handling the physical rigor and punishing tackling of the Prem far better than Cristiano Ronaldo ever did. That he's unable to command a full-time spot in the Spanish national team is either terrifying or cause for a Hague tribunal.
Midfielder: Juan Mata, Chelsea
If you've ever found yourself curled up in the fetal position, intimidated by the assembly line of great Spanish players, here's another excellent reason for your Ibero-phobia. With three goals and seven assists in 14 Prem games, Mata is the future of Chelsea, according to Andre Villas-Boas' ambitious blueprint: a technically gifted, high-octane close dribbler with superb passing range and the ball skills to roast any defender. It's not easy to dislodge Frank Lampard, the longtime hood ornament adorning the Blues' engine, but Mata has adjusted quickly to the EPL and has seemingly shrugged off the melodrama of "team in crisis" and "Villas-Boas for the sack" to become a key component of the new-look Chelsea. Playing with speed and 360-degree "Exorcist" vision, cueing counterattacks and generally doing everything (except taking penalties) much faster than Lamps, he's yet another reason England has no chance to lift a trophy at Euro 2012 this summer.
On the bench: Cheik Tiote (Newcastle), Scott Parker (Tottenham), Leon Britton (Swansea), Joey Barton (QPR), Clint Dempsey (Fulham)
Forward: Demba Ba, Newcastle United
Ba's 13 goals in 16 Prem games are probably 13 more than most people thought he would manage, especially after goal-allergic Stoke balked at signing him last season given his history of knee injuries. Dynamic, quick, a nightmare for defenders both aerially and on the ground, he was exhumed from the wreckage of West Ham. Think the St James' rabble even so much as remember Andy Carroll now that Super Ba is around? Of course, they might pine temporarily for the Magic Ponytail (who did serve manfully in black-and-white stripes) when Ba heads to the African Cup of Nations in January. On second thought, probably not.
Forward: Robin van Persie, Arsenal
We know, you're stunned.
[+] Enlarge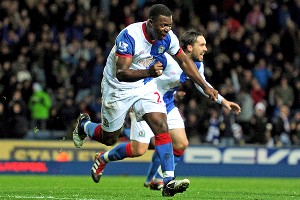 Chris Brunskill/Getty ImagesFeed the Yak: Perhaps the only thing standing between Steve Kean and the unemployment line is Yakubu's goal-scoring form.
Forward: Yakubu, Blackburn Rovers
This season's version of DJ Campbell or Peter Odemwingie, the offbeat, small-market hero is doing everything in his power to guide a struggling side to safety. It's not having the intended effect, despite Yakubu's pleas for angry Rovers fans to leave Steve Kean alone, but those same disgruntled supporters can't deny the success of Feeding The Yak: 10 goals in 12 games, and one of the better shot-to-goal ratios among leading scorers (his have come from a paltry 31 shots, making Suarez, with five goals on 73 shots, look positively Heskey-esque). Simply put, when the tubby, underappreciated Nigerian gets the ball with the goal at his mercy, he generally seals the deal, leading his under-fire boss to not only believe his managerial job is safe, but also that Yak could be the first Rovers player to score 20 Prem goals in a season since the glory days of Alan Shearer.
On the bench: Mario Balotelli (Manchester City), Emmanuel Adebayor (City), Sergio Aguero (Manchester City), Luis Suarez (Liverpool), Bobby Zamora (Fulham)
Senior Editor, ESPN FC
James Tyler is an ESPN editor for soccer.
Soccer on ESPN.com

Follow Soccer on ESPN: Twitter
Coverage on ESPN FC
Euro 2012 in Review