Prem's All-Disappointment team (so far)
Updated:
December 30, 2011, 4:11 PM ET
By
David Hirshey
and
James Tyler
| Special to ESPN.com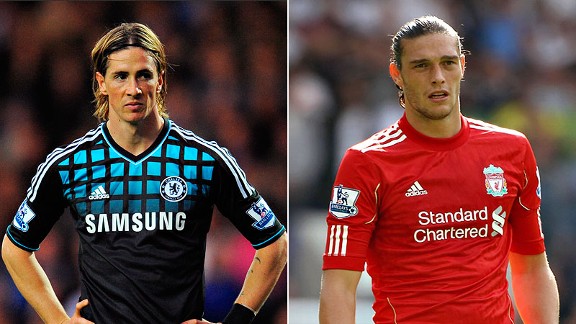 Getty ImagesNo surprise that Fernando Torres and Andy Carroll made our All-Disappointment team.
This is not a list of players who are awful. If that were the case, we'd post the entire Blackburn team sheet. (Seriously, how can Steve Kean still have a job? He must have incriminating photos of the Venky's boys dressed up as Japanese schoolgirls -- just a theory.) Rather, here's a roll call of the players for whom the gap between expectations and results this season has been wider than Gervinho's forehead. (You can also check out our best starting XI.)
[+] Enlarge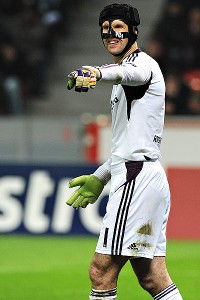 Patrik Stollarz/Getty ImagesIt's a bird, it's a plane ... no, it's just Petr Cech, who seems low on confidence this season.
Keeper: Petr Cech, Chelsea
The EPL's mask-wearing, nose-shielded Czech looks like a demented version of Batman -- without the superhero performance. He's two thigh pads away from looking like Patrick Roy. Nineteen goals conceded in 16 games might not seem terrible -- especially when various pratfalls by John Terry, Ashley Cole and David Luiz have left Cech more exposed than Lindsay Lohan -- but recording only four clean sheets is unacceptable for a keeper who has long prided himself on the spotlessness of his linens. His most recent gaffe -- spilling Hugo Rodallega's soft 88th-minute shot into the path of Wigan's ambling Jordi Gomez for an easy equalizer -- was the tentative mistake of a man whose self-belief tank looks to be running on empty.
Defender: David Luiz, Chelsea
The distance from cult to clown can be measured in months at The Bridge. Not long after arriving at the club from Benfica in January, Luiz rifled in an elegant game-winner against Manchester United, an effort that vaulted him to instant icon status. Yet his big hair can't hide his wildly inconsistent play. Yes, he's only 24 years old, but his $25 million price tag shows what a bargain Sir Alex secured in Phil Jones, a player five years younger. Tellingly, Luiz has featured in just six Prem games this season, which speaks Fernando volumes as to the level of trust AVB has in his precocious Brazilian. When he does get on the field, he has picked up cards at a Cattermolian pace, with bookings in four outings. With JT's advancing age and rapidly filling court docket, Chelsea cannot afford a long-term work in progress.
Defender: Nemanja Vidic, Manchester United
Vidic may seem like an unfair choice, because it's not that he's played poorly this season, he's been injured. But we threw him in here because he's the great Nemanja Vidic, damn it! He's not supposed to get injured. He's from Serbia, remember? He's supposed to "murder ya"! How's he going to do that if he's suddenly developed a skeletal and ligamental system made of the finest van Persie glass? Coupled with the rapidly aging Rio Ferdinand, Vidic's frailities give all non-United fans hope. We also pray that he doesn't recover quickly, track us down and murder us.
[+] Enlarge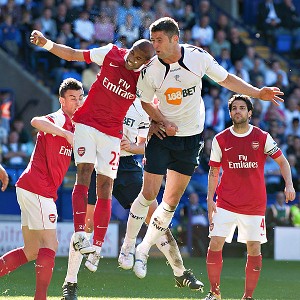 Icon SMIGary Cahill has marshaled a defense that has leaked 41 goals in 18 games, the worst mark in the league.
Defender: Gary Cahill, Bolton
Twenty-five million dollars for Cahill? Hard to believe that Bolton almost suckered a certain French manager into paying that ransom. The key word is "almost." In a season to forget for Owen Coyle, not pulling the trigger on a Cahill transfer deal over the summer will probably go down as his biggest misstep. Cahill has marshaled a defense that has leaked 41 goals in 18 games, the worst mark in the league. Luckily for Owen and Gary, Chelsea seems happy to ignore his current form (even though they dropped five on Cahill & Co. on Oct. 2) and has agreed to sign the player for a reported 7 million pound transfer fee (though they have yet to agree to personal terms).
Defender: Roger Johnson, Wolverhampton Wanderers
For those of you who missed it, Wolves are still in the top flight. Mick McCarthy thought he'd found his defensive talisman when he bought the Birmingham City center back for around $10 million in July. Though Johnson had overseen the Brummies' relegation last season, he was recognized for his poise and influence in a defense that conceded 47 in 38 games in 2009-10, when Alex "Yawn" McLeish's side had finished an eye-opening ninth. Despite being handed the captain's armband, Johnson has been a horror show in gold and black. It's true that he's played out of position at right back several times, and shuffled around to fit Wanderers' needs, but as the supposed linchpin of the Prem's fourth-worst defense (32 goals in 17 games), he's failed to live up to even the most modest of expectations. And Wolves defines the very meaning of "modest."
Midfielder: Stewart Downing, Liverpool
Though the ex-Villa midfielder has played well in stretches under Kenny Dalglish, the fact remains that he has four more assists for England in 2011 than he does for Liverpool. Or, to put it another way, he's racked up zero for the Reds. Not a great return on an initial investment of $28 million. Jordan Henderson's performances have been equally fitful, but given the 27-year-old Downing's experience and established pedigree at Middlesbrough and Villa, King Kenny expected a more immediate impact from his new wide man. And now that Luis Suarez is facing a nine-game ban -- eight for the Patrice Evra incident, and one for flipping the bird to Fulham fans that he'll serve Friday when the Reds face Newcastle -- Liverpool will need Downing more than ever. In other words, they're in trouble.
Midfielder: Adel Taarabt, QPR
While it's not Adel's fault that his name looks like a really bad Scrabble rack, he is to blame for almost everything else. Such was his influence and artistry in helping the West London club get back to the Prem (19 goals, 16 assists and 144 shots in 43 league games) that QPR fans were dismayed this summer when Neil Warnock openly offered last season's League One MVP to Paris Saint-Germain. And yet, Taarabt's 2011 has been so full of arrogance and disinterest -- as club captain Shaun Derry calls it, "wasting talent" -- that it's easy to see why Harry Redknapp jettisoned the ex-Spurs prodigy back in 2008-09. His conduct with QPR this season has regressed to the point that, after being subbed off against Fulham in the middle of the 6-0 humiliation, Taarabt took the bus home instead of gutting it out with his teammates. As it turned out, catching that bus was the Moroccan's only successful link-up of the season.
[+] Enlarge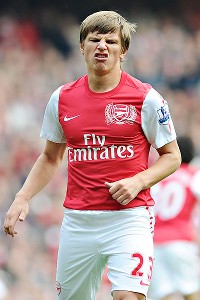 Stuart MacFarlane/Getty ImagesWhat happened to the Andrei Arshavin of Euro 2008?
Midfielder: Andrei Arshavin, Arsenal
You know an Arshavin cameo when you see it: 15 minutes of tricky through balls, three should-have-been-on-target-but-ended-up-closer-to-the-corner-flag shots from the edge of the box, and 20 minutes of aimless meandering punctuated by a shrug of the shoulders when he's dispossessed. Lately, Arsene Wenger has tried him as an impact sub, though his only impact has been to make the fourth official lift the illuminated board above his head, signaling his exit from the game. It's not even that Wenger broke his hermetically sealed piggy bank to sign him after Arshavin lit up Euro 2008. Heck, Arsenal supporters just want to see him score more than a single goal in a calendar year. For these pathetic efforts, we are honoring the diminutive Russian by making him captain of the All-Disappointment team. It may be the one thing he's earned this season, other than the continued derision of the Gooner faithful.
Midfielder: Charles N'Zogbia, Aston Villa
Apparently the French for "Arshavin" is "N'Zogbia." How McLeish could not love this guy is beyond us, as he's a perfect fit in the Scot's sparkle-free style of play. Zero goals and one assist in 16 Prem games have been McLeish's reward since he signed the Frenchman from Wigan for $15 million, and the media's already comparing him to one of Villa's worst-ever players after six months. On Tyneside, he was nicknamed "Charles Insomnia" by Joe Kinnear, but perhaps the former Magpies manager was a bit confused. N'Zogbia doesn't stay awake; he puts his teammates to sleep.
ESPN FC on Twitter
Don't miss a moment of the latest soccer coverage from around the world. Follow us on Twitter and stay informed. Join »
Forward: Fernandy Carroll, Chelsea/Liverpool
Let's see: $130 million, 27 games, four goals, two assists. We repeat: $130 million, 27 games, four goals, two assists.
Forward: Hugo Rodallega, Wigan
Yet to score in 13 Prem appearances, he spent the past three games as an unused bench-warmer (aka "pulling a Torres"). You know it's not good when you can't even hold down a regular spot for one of the worst teams in the league, but Rodallega, long thought to be the one shining hope for the Latics (19 goals over his past two Prem seasons), simply isn't cutting the mustard any more. Hell, he's not even making a dent in the ketchup. Which makes Roberto Martinez's vehemence that the Colombian won't be sold in January even more puzzling. Still, Martinez is a bit of a mad genius, so maybe Rodallega and his glorious cornrows will suddenly start lighting it up in the new year.
Forward: Carlos Tevez, Manchester City
Sadly, one of the most electrifying Prem players of the past few seasons has devolved into a Pampas parody in which the off-field sulking and whining have eclipsed any of the breathtaking goals or MVP-worthy effort that he put in for both sides of Manchester. Roberto Mancini is sitting on a world-class talent so insufferable that nobody else wants him. Even though Milan and PSG have kicked the tires on the Argie bulldog, would anyone be surprised if Tevez ends his season much like it has been thus far: three Prem games, zero goals, zero assists, six shots and 10,000 tabloid headlines?

Soccer
James Tyler is an ESPN editor for soccer.
Soccer on ESPN.com

Follow Soccer on ESPN: Twitter
Coverage on ESPN FC
Euro 2012 in Review