Commentary
All aboard the Spurs bandwagon?
Updated:
January 13, 2012, 2:02 PM ET
By
David Hirshey
| Special to ESPN.com
It is a measure of this gloriously demented season that Arsenal fans (OK, me) walked around this past week thinking that everything was now possible: Thierry Henry would continue scoring vintage 2004 goals, win the Ballon d'Or as a write-in candidate, lead Arsenal to the title and even shave off his ridiculous beard.
"I see you're still smiling," said my friend Tom on Wednesday morning when I ran into him on my way to work two days after Henry sweetly sidefooted home the match winner in FA Cup action. "Nostalgia is a wonderful thing, but personally I prefer winning trophies."
Did I mention that Tom is a Tottenham supporter who, even in his team's darkest days -- say, the past 51 years -- has worn his smug Spurs heart on his sleeve, along with their odd-looking crest? Did I mention that Tom sickens me?
And now, with Spurs on a once-every-half-century rampage that has seen them rise from the Prem-ordial muck to lie joint-second in the table with Manchester United, Tom's mug was the last thing I wanted to encounter. It was a cold, harsh reminder that once the Henryesque mist falls from Gooner eyes, Arsenal is left with a team struggling to gain a foothold in the top four while gazing up at the vapors of our justifiably despised North London rivals. The Gunners are nine points behind the goblins of the Lane and, to make it even more terrifying, Tottenham is showing no signs of regressing to its usual Europa League level of play.
[+] Enlarge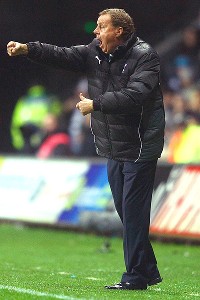 Richard Heathcote/Getty ImagesHarry Redknapp's Spurs side has lost only one league game since August and sits level on points with Manchester United in second place in the Premiership.
Perhaps most impressively, Spurs have resisted the latest Prem craze of turning to the past to reinvigorate the present. In the past week alone, we've witnessed two club legends and Robbie Keane exhumed from the EPL crypt in the desperate hope that sentiment and nostalgia will trump speed and power. Not to be outdone by Arsene Wenger turning one of Arsenal's bronzed statues into a living, breathing, goal-scoring 34-year-old Frenchman, Sir Alex Ferguson cajoled 37-year-old Paul Scholes out of retirement to bolster United's bedraggled midfield. On top of that, Aston Villa boss Alex McLeish persuaded Keane, the nomadic Irish striker, to do one of his hilarious goal-celebrating somersaults from his boyhood club, L.A. Galaxy, all the way to the locker haunted by the ghost of Emile Heskey.
Who's next? Eric Cantona kung-fu-kicking his way from the French presidency to Old Trafford to forge a molasses-slow attack with Scholes? Andriy Shevchenko limping back to Stamford Bridge to combine with Fernando Torres in what would be Roman Abramovich's nightmarish partnership in profligacy? Or, better yet, Kenny Dalglish calling his own number and finally giving Liverpool a striker who can actually score goals?
Whatever the motivation for these grandly reaching transfer window reunions -- a painfully thin and expensive talent pool? the impending specter of "Financial Fair Play"? EPL hipster irony? -- the one team not looking to add world-class relics is Tottenham. And what makes it all the more shocking is that no one usually enjoys sailing the high seas of January piracy more than the ol' wheeler-dealer himself, Harry Redknapp, who last season pulled off the most cunning transfer haul by bagging Rafael Van der Vaart for a paltry $12 million. But even Redknapp has his limits -- and apparently they preclude acquiring the glamorous dead-ball and merchandising skills of one David Beckham. Redknapp told the British press that while he welcomed Becks to train with Spurs, he had little interest in a short-term loan. Perhaps Redknapp has resisted the lure of "senior citizen" signings because he already has the best 40-year-old in the league in goalkeeper Brad Friedel.
All of these paeans to Tottenham are, of course, revolting and cause me no end of agita because they are a violation of the natural order of life. This is Spurs, for Christ's sake! They simply aren't supposed to be this good. It is not in their DNA to play with the swashbuckling conviction of a team that feels it belongs in the title conversation and -- how can I write these words? -- may well hijack it in the end.
ESPN FC on Twitter
Don't miss a moment of the latest soccer coverage from around the world. Follow us on Twitter and stay informed. Join »
How did a team that not so long ago boasted Peter Crouch up top, and still wheels out Roman Pavlyuchenko, make these astonishing strides?
Isn't this essentially the same club that delayed its season start due to local riots, right before the two Manchesters tried to turn Spurs into a carbon footprint? What happened to the glorious preseason talk about ripping the Luka Modric-sized heart from their beating chests and transplanting it into Chelsea's midfield? Where was the descent into the pit of gloom that should have accompanied the eight goals conceded in their first two games?
Simply put, White Hart Lane has so far been immune to the kind of internecine dramas that have bedeviled all the teams around them – Roberto Mancini versus Carlos Tevez, Alex Ferguson versus Wayne Rooney, Andre Villas-Boas versus Frank Lampard and Kenny Dalglish versus the world.
In other words, all the things that could have gone wrong haven't. Gareth Bale has not devolved into a one-hit Champions League wonder, Van der Vaart isn't sulking at never playing a full 90 minutes; even Emmanuel Adebayor has abandoned the worst of his puerile me-first ways. Next you'll be telling me that Redknapp has actually displayed some in-game tactical acumen.
With just one measly defeat in the 18 Prem games since the end of August, a largely healthy squad to rotate and no more annoyingly irrelevant Europa League knockout games in Ukrainian gulags, Redknapp's Lilywhites have emerged as Manchester City's scariest rivals. The delicious irony of this competition is that the Billionaire Blues are paying most of Adebayor's stratospheric wages, and the Togolese striker has rewarded Spurs with nine goals and six assists so far. Layer in the inspired addition of midfielder Scott Parker (I thought West Ham only gave away their best players to Chelsea?), the rapid ascendance of right back Kyle Walker and the world-class pace and talents of Bale, and it's clear that Tottenham is no flash in this year's Prem pan.
[+] Enlarge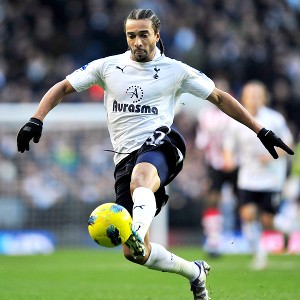 Glyn Kirk/Getty ImagesBenoit Assou-Ekotto's first goal in two years sealed Tottenham's midweek win over Everton.
And then there's the likes of Benoit Assou-Ekotto, self-proclaimed soccer critic, whose casual, cool-jazz style of play belies the thunderous surface-to-air 30-yard screamer he unleashed against Everton in midweek, his first goal in over two years. Though Aaron Lennon has struggled with injuries and inconsistent form, Assou-Ekotto's elevation to arguably the league's best left back has enabled Spurs to remain dangerous on both flanks.
While Fergie splashed out $27 million on teen-idol goalkeeper David de Calamity, Redknapp shrewdly claimed Friedel on a free transfer from Villa. And though the young Spaniard should eventually come good, Big Brad has eight clean sheets in 20 Prem starts this season and a calm, assured disposition that renders him impervious to the comical flaps of Heurelho Gomes but, more importantly, gives the attack-minded Spurs even greater license to pelt forward. Given the various landslides of "club in crisis" headlines pointed at Chelsea, Manchester United and Arsenal, Tottenham has snuck up on the blind side of its main rivals before they had a chance to take their threat seriously.
Of course, there are still 18 games to go with trips to the Emirates, Anfield, Stamford Bridge and the Etihad on the horizon, not to mention the unwanted attention from Redknapp's impending trial on tax-evasion charges -- but the simple fact that Tottenham is this close to the summit is making me queasy.
Now, can someone please pass me the Maalox?
David Hirshey has been covering soccer for more than 30 years and has written about the sport for The New York Times, Time, ESPN The Magazine and Deadspin. He is the co-author of "The ESPN World Cup Companion" and played himself (almost convincingly) in the acclaimed soccer documentary "Once in a Lifetime."
Soccer on ESPN.com

Follow Soccer on ESPN: Twitter
Coverage on ESPN FC
Euro 2012 in Review